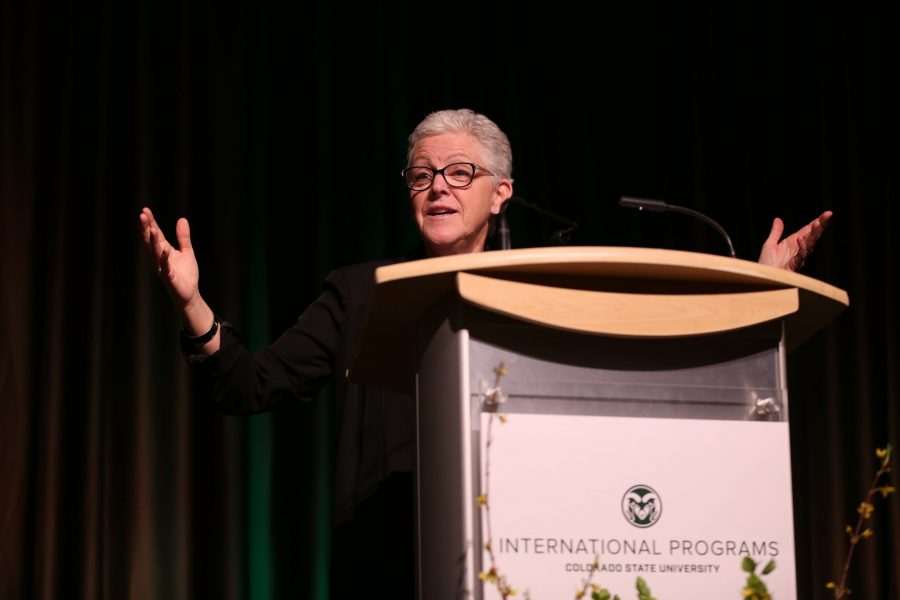 How to be environmentally optimistic in the current political climate was a focus on former head of the Environmental Protection Agency, Gina McCarthy's, speech Wednesday night. 
McCarthy spoke to students, faculty and the Fort Collins community attendees at Colorado State University in the Lory Student Center.
Bill Ritter, the director of the Center for the New Energy Economy at CSU and the former governor of Colorado, introduced McCarthy as a real hero in American politics and public life.
"Gina is serving people at the state and at the federal level, making every attempt to be to serve in a manner that really reaches to cross the aisle from one side to the other," Ritter said.
McCarthy began her speech with a joke, since there were more than 1,000 people who attended the event.
"You guys like looking at the screen or looking at me," McCarthy joked.
McCarthy said looking back on the 47-year-history of EPA in delivering clean air, clean water and healthy places, it is an uncertain time now. 
"I really want that progress to continue," McCarthy said. "This country is the best place in the world to live not because of the strongest economy, but because our economy is great because we live in beautiful places like Colorado, so the uncertainty now is whether or not that is going to continue." 
McCarthy said she has great anxiety at times, because all of that progress may be up in the air.
"Honestly, I am here tonight because I really want you all to take a step back because I do that every single morning myself," McCarthy said. "Because I am bound and determined that I am not going to be a 'grumpy Gus.'"
McCarthy asked people to stop thinking the world is going to change just because of the current state Washington D.C. 
"I'm not suggesting you that you don't need to make changes and keep pushing, but I am suggesting when Washington is asleep, the sleepy dog wakes up," McCarthy said. 
McCarthy said partisan politics is dividing America today and it is not true that Republics do not like environment. She pointed out that Theodore Roosevelt started the National Park System, Richard Nixon created Environmental Protection Agency and George H.W. Bush was behind the Clean Air Act of 1990 – all three were or are Republicans. 
McCarthy said although the Trump Administration is suggesting a need for a rollback in basically all environmental legislation that occurred under the Obama Administration, the Trump rollbacks are not going to succeed.
Rather than rollbacks, McCarthy said she is more concerned about the attack on science itself.
"If there is ever reason why the United States is leading, it's been our ability to innovate, our resilience in (being) human beings and every solution has been based on science," McCarthy said.
McCarthy emphasized the importance of maintaining science progress and remembering what is a fact and what is not. McCarthy said scientists need to say what normal people can understand.
"Climate change is not just a threat to polar bears, but to human health, to the safety of our communities, to our mental health as well," McCarthy said. "It is a threat to national security."
McCarthy pointed out that current administration will not succeed in repealing environmental policies that have been made because it takes a rule to undo a rule, which is difficult. 
At the end of the speech, McCarthy encouraged people to be active citizens, vote and speak up.
"What you really need to do most is put on your big girl pants, put on your big boy pants, put on your gender neutral pants, and get moving – take action, have faith in the United States of America and be obnoxious," McCarthy said.  
Several CSU students asked questions during the question and answer session after the speech, one of which was Max Brown, a senior environmental health major.
Brown asked how to change other people's minds and facilitate communication when they do not agree.
McCarthy answered this question by pointing out two important things. The first was to not focus on ideologues, but what can people can accomplish together, which is beneficial. The second is to have more face-to-face communication, instead of being addicting to social media. 
Jim Cooney, vice provost for International Affairs at CSU, said he was so pleased with the energy. Cooney said he really liked McCarthy's message.
"It is so easy these days to have negative messages about what is happening with EPA and climate change," Cooney said. "I think the direct benefit of these positive messages will be (evident) tomorrow. Faculty and students can share the energy and optimism."
Collegian reporter Yixuan Xie can be reached at news@collegian.com or on Twitter @YixuanXie1.