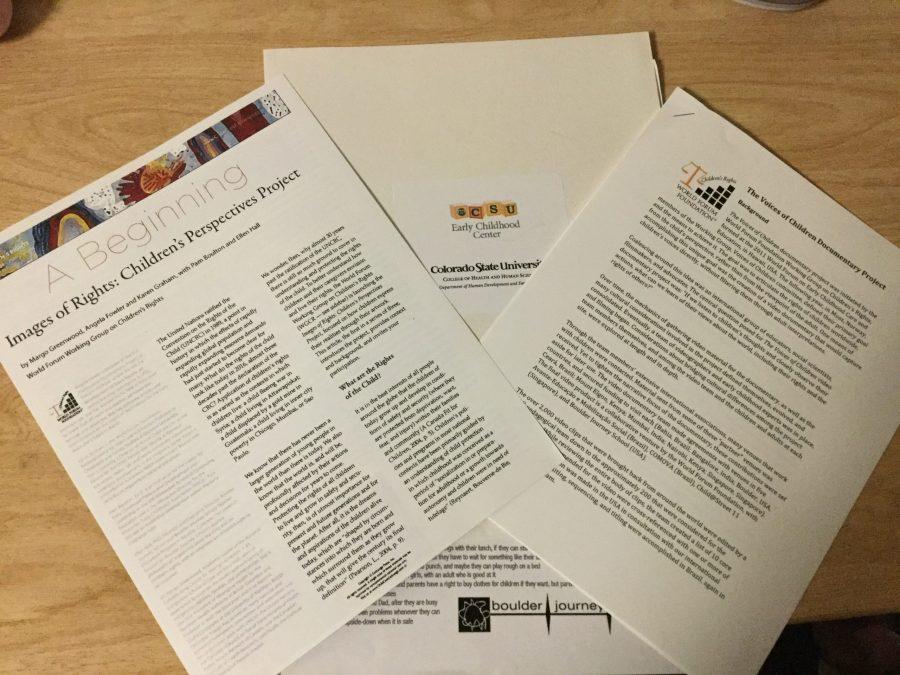 The Early Childhood Center — an establishment focused on teaching, research, and service about and for children— hosted Sam Hall, administrative director of The World Forum Foundation, Thursday afternoon to screen his organization's new documentary "Voices of Children."
An audience of around 50 students and faculty of Colorado State University, as well as teachers and parents of children at the ECC, filled a small room of the off-campus building in order to discuss the day's theme of children's rights. The event was sponsored by the ECC, Boulder Journey School and the children's rights working group of the WFF.
Beginning at 2 p.m., the event started with an introduction from ECC Assistant Director Elizabeth Fannon, explaining how she had seen the documentary before and worked to bring it to the ECC. She then introduced their guest, Sam Hall.
Hall was quick to describe his organization's motives, using his opening statements to explain how the WFF works to connect educators around the world and change policies for young children.
Hall described the path to his position as part of the children's group in the WFF, as well as his involvement in Boulder Journey School— both organizations have a focus on children's rights around the world.
Hall explained a movement by UNICEF and United Nations, known as the Convention on the Rights of the Child, to define the rights of children in all nations. According to Hall, 196 countries have ratified the Convention, and the United States' refusal to do so is a motivator for his organizations' movement to spread their message.
"Children are … thought of as future citizens of the world and not current citizens," Hall said to preface the film. "Future citizens do not have rights; current citizens have rights. We view children as current citizens."
The documentary showed a handful of children from nine separate destinations. These places included Singapore, India, Brazil and Kenya, as well as Boulder, Colo.
Children in this film were asked questions about their feelings and views on the world, inspiring answers such as a young boy in Singapore claiming adults should laugh more and another in India lamenting the pollution on the streets.
As Hall explained, viewers would "not see adult's interpreting children's messages." He explained the documentary's aim to encourage conversation and recognize children's unique perspectives.
"Be ready to grow or learn about yourself and teaching practices," Hall said later of his hopes for viewers' experience of watching the film.
Hall also made sure to suggest lenses for audience members to view the film through, specifically that of "the three P's," described as provision, protection and participation, which Hall suggested were fundamental rights of children.
"These three can work together or conflict," Hall said. "You'll be able to see in the documentary how there are moments where you need to choose which one is more … important."
The documentary itself, however, was not the focus of the event. Hall and Fannon encouraged an atmosphere of discussion, often breaking the room into small groups to speak on their definitions of children's rights before and after the documentary was shown.
Hall said his focus rested with the hope that children are heard.
"Embrace the power of listening to children because they have a lot to say when you listen," Hall said in response to a question on what he hopes all people to understand— even those who have yet to see the documentary.
Collegian news reporter Charlotte Lang can be reached at news@collegian.com or on Twitter @ChartrickWrites.