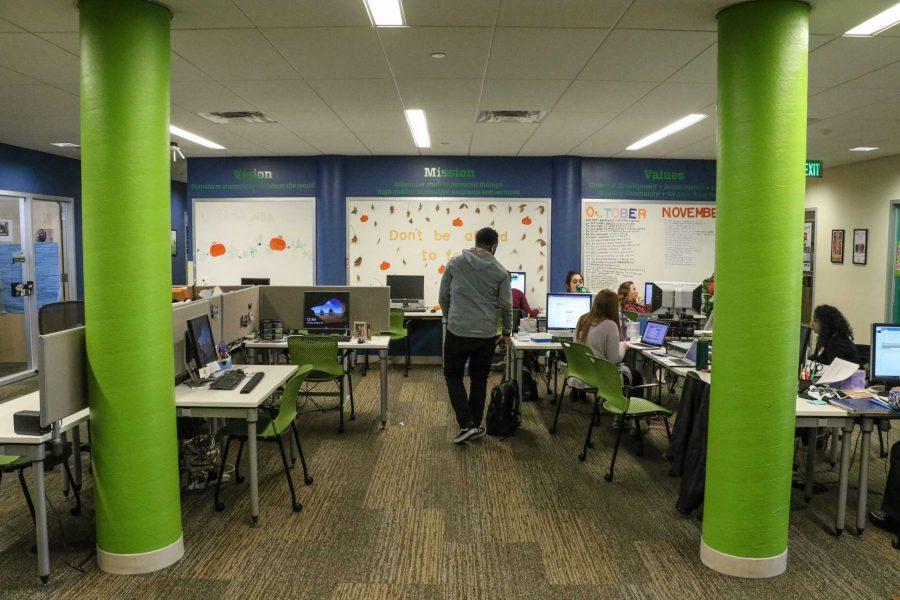 Colorado State University welcomed over 45 new student organizations this semester, adding to the more than 450 student organizations already in existence, according to the Registered Student Organization Team and the Student Leadership Involvement Community Engagement Office.
The new organizations include: 
Alpha Kappa Alpha Sorority, Incorporated 
American Choral Directors Association
American Society of Mechanical Engineers at Colorado State University
College Ministry at Faith
Colorado Ocean Coalition at CSU
Colorado State University Student Chapter of the American Mathematical Society
Commuication Studies Club at Colorado State University
CSU 4×4 Club
CSU Game Developers Association
CSU Knitting and Crochet Club
CSU Speech and Debate Society
Curiosity Saves the Universe
Dance Student Advisory Committee
Divine Women of Leadership
Doctor of Veterinary Medicine Class of 2021
Electronic Frontier Alliance at Colorado State University
Energy Club at Colorado State University
Fermentation Society
Fibers Guild
Fraternity and Sorority Life Programming Board
Freeski Team of CSU
Liberal Spiritual Fellowship
Logging Sports Club at Colorado State University
Master of Visual Arts Association
Model United Nations
Mountain Horns
Omega Psi Phi Fraternity Inc.
Peanut Butter Plan at CSU
Political Science Club
Professional Fraternal Council
Quincy Gill
Rad Rafting Rams at Colorado State University
Ram Recovery @ Colorado State University
Ranch Horse Team at CSU
Rocky Mountain Wolf project at Colorado State University
Secular Society at Colorado State University
Society for Leadership and Enterprise in the Engineering Profession
Stat Alliance at CSU
The (Blank) Monologues
The Denver Scholarship Foundation Scholar Club
The Positive Psychology Club at CSU
Tri Beta Honor Society:Epslion Chi Alpha
Turning Point USA at Colorado State University
UNICEF Club at CSU
United Nations Association at CSU
Vine Life at Colorado State University
Zero Waste Team @ CSU
Zeta Phi Beta Sorority, Inc.
Julie Koffler, the president of the Fermentation Society, started the club along with several fellow transfer students this year. Koffler said she started the club to get to know other people in her major and practice fermenting outside of class.
Most members are fermentation science majors and have in interest in home brewing, wine making, distilling and food fermentation in general. However, club membership is not limited to fermentation science majors.
"Anyone who's interested in any type of fermentation, such as making Sambuca or pickling things, we can definitely help people out with that," Koffler said.
Koffler said her club has a wide range of activities planned for this semester, such as going on brewery tours and hosting guest speakers.
 Another new student organization is Curiosity Saves the Universe.
"I wanted to sow people the idea that it just takes a bit of curiosity to shift ideas towards different things and change how we view what happens in the world because business as usual doesn't work so we need to think of new ways to solve problems, and I feel like curiosity will be the answer to it," said Sean Washington, president of Curiosity Saves the Universe in an interview with the Collegian.
Washington pointed to examples of how curiosity has caused a paradigm shift in the past, such as when divers first discovered coral bleaching in the ocean or when Edison created the lightbulb.
Washington said his club plans on doing different trips, in which one is going to the Denver Aquarium and also plans on hosting events such as the Carnival for The Corals, where they plan to teach people about coral reefs and coral reef bleaching.
Many of Curiosity Saves the Universe's members are biology majors with an interest in environmental sustainability but is open to people of all majors.
The Logging Sports Club has a rich tradition dating back to the early 1990s, but is reinventing itself this semester with a host of new activities and competitions.
"A lot about this club is not just about the sport but it's also about maintaining those historical ties moving forward," said Ethan Doyle, president of the CSU Logging Sports Club
Doyle said they practice in six main events that include chopping events, sawing events, and chainsaw events. They also take part in cultural events such as caber toss, axe throwing, and log rolling. Doyle also mentioned that his club is a competitive sports club and meets three times per week.
"In this club, there's something for everyone, people tend to thinking that you have to be this big hulking man," Doyle said. "But, in contrast there's some events where if you're bigger, smaller, man or woman, whatever it may be, you will have different advantages and skills."
Collegian reporter Danny Sonnenberg can be reached at news@collegian.com or on Twitter @dannyjsonnenberg.