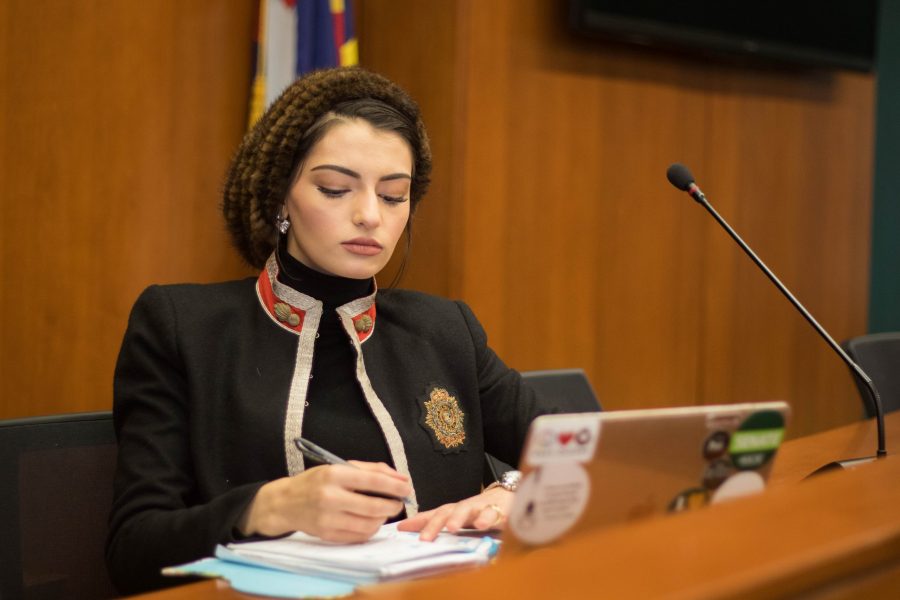 Colorado State University Sophomore Merall Sherif is turning a vision into a reality with the creation of the Women's Caucus.
"It's sort of my new passion project," said Sherif, who serves as the power chair and Associated Students of CSU senator from the Women and Gender Advocacy Center and the vice chair of the University Issues Committee and Health Network liaison for the Student Fee Review Board. "Part of the vision for this and the mission is to be able to create a framework that is welcoming to women to get even more women involved and excited about servant leadership, student government and representation."
Although the Women's Caucus is still in the provisional and conceptual stages, there is a sign-up sheet for people who are interested in joining the Caucus, and Sherif encourages people to personally contact her or visit her at her Lory Student Center office to talk about joining or discuss any ideas.
There will be two provisional meetings about the Women's Caucus Feb. 26 and Feb. 27 in the conference room of the ASCSU Office in the LSC.
According to Sherif, the Women's Caucus seeks to foster a sense of community and empowerment among women-identifying servant leaders involved in all branches of ASCSU.
Furthermore, the Women's Caucus provides an opportunity to cultivate a confidence with which to traverse professional environments beyond one's ASCSU experience.
Through the Women's Caucus, women-identifying people are encouraged to take more leadership positions in student government. 
"I absolutely love student leadership," Sherif said. "I personally am an intersectional feminist, and so for me, a lot of my missions in my work is to make sure under-served communities and their particular issues are highlighted."
Inspired by the Feminist Thought and Activism Conference held by the WGAC in March, Sherif had the idea of using this conference as a model and implementing it into ASCSU to create a constructive, empowered body that can serve every student on campus.
"We want to build community, we want to create safe space and positive constructive energy, we want to use the Caucus as a space for women-identifying people to build political networks with which to share their ideas," Sherif said. "Creating that groundwork is going to allow the creation of more inclusive and diverse works and projects. That's really my goal."
Sherif's roles in student government also inspired her to create the Women's Caucus.
According to Sherif, ASCSU members have the unique privilege and prestige of being able to represent, recognize and support students and their ideas, and this allows for many students to get involved in bigger social conversations.
"There's a national trend of dialogue happening way beyond ASCSU and CSU, and I want our organization to participate in that dialogue, because I feel like we have a responsibility to do that as an institution of higher learning that is supposed to build perspectives and engage in larger social conversations," Sherif said.
But, the underlying inspiration for creating the Women's Caucus comes from Sherif's passion for serving students.
"I represent all 33,198 members of this campus and those are all my constituents, so those are all the people who I am responsible for making their voice heard and for considering them as a whole," Sherif said. "With that comes a lot of responsibility, but that's where my passion comes from."
Sherif's overriding goal with the Women's Caucus is to create a platform for women-identifying people to share their ideas and concerns with other people from diverse backgrounds in a safe community setting.
"I just really want everyone to know that I'm here and that I'm a resource, and this is my job and that every time I interact with one of my constituents and hear their input, it makes me that much better at doing my job." Sherif said. "The input I'm giving is that much more representative."
Collegian reporter Matt Bailey can be reached at news@collegian.com or on Twitter @matnes1999.