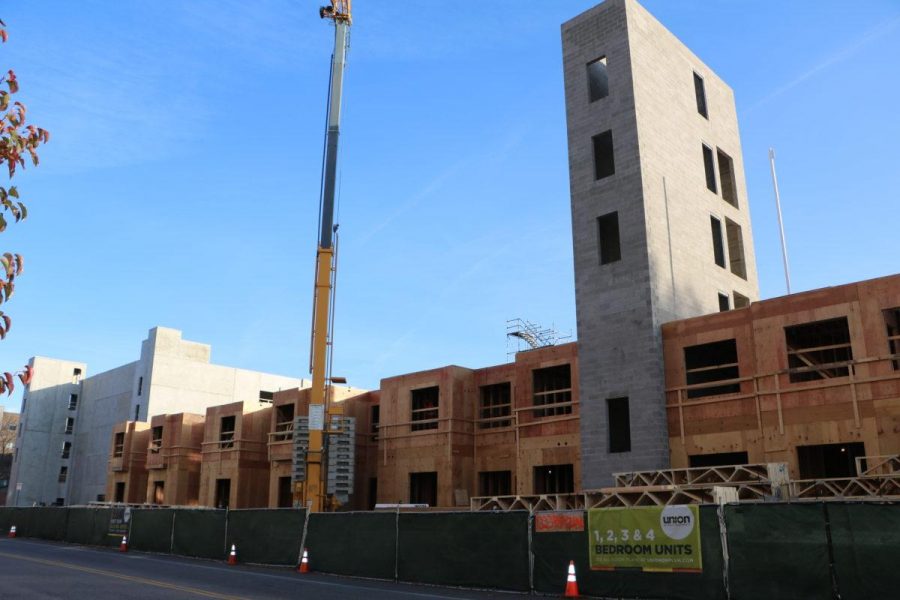 Much like the rest of the City of Fort Collins, the Campus West area of Colorado State University will be seeing new buildings coming up within the next few years. 
Currently, there are three larger scale projects being constructed in Campus West, which are planned to be housing residences for students as well as community: Union on Plum, Union on Elizabeth and the Hub on Campus.  
The Union on Plum apartment complex, located at 1323 W. Plum St. will consist of one, two, three and four-bedroom apartments that are less than a mile from campus. The residents of these apartments will have access to "world-class amenities & inclusive living," according to the Union on Plum website. 
Dino DiTullio, a partner working with Education Realty Trust Inc. on the Union on Plum apartment complex, said that the multi-family building is expected to be completed by August 2018 and will cost around $28 million to finish completely. 
DiTullio added that as of right now, students and the community should not expect any heavy traffic delays because of the project. 
"The heavy lifting is all done," DiTullio said. "The parking garage is finished, and that was tough on traffic, but we tried to get it done before school started. You shouldn't see any traffic delays." 
DiTullio also said that even though it is almost winter, they do not expect any major delays because of the weather. 
"Sometimes you fight the weather, but now that the building is up you can usually find plenty of work to do, even during storms," DiTullio said. 
Leasing for the Union on Plum apartments began Fall 2017, and those wishing to lease can visit the Lokal leasing office on 1201 W. Plum St. 
The Union on Elizabeth, which is currently under review, is planned to be laid out similarly to that of Union on Plum, with community housing of one to four bedrooms. The project is also planned to have a retail aspect, which will occupy the first floor of the building.  
Construction has not begun on this project yet, however the building is planned to be delivered in August 2019 and will cost around $54 million to finish. 
Both Union apartment complexes are going to be completed by EDR with assistance from DiTullio. 
"We are excited to be doing both of these projects in Campus West, and we are excited to get them occupied," DiTullio said. 
The Hub on Campus is under review, however is planned to be a student-oriented project that will be mixed use. The project will include 142 housing unites and 12,400 square feet of retail space. It is planned to be located one block west of the CSU campus, facing west Elizabeth Street between City Park Avenue and Constitution Avenue. 
Chad Matesi, the Principal & Executive Vice Presidebt of development for Core Spaces has stated that the project is planned to begin construction in Fall 2018 and is targeted to be finished in Summer 2020. 
Jason Holland, the city planner assigned to review the student housing developments in Campus West, said the plan for the housing additions to Campus West is to maintain the mix of buildings that it has now. 
"The intent of the Elizabeth corridor is to maintain a mix of businesses, housing and other uses in close proximity to transit routes," Holland wrote in an email to the Collegian. 
Holland added that a major factor to the construction in Campus West is accessible transport to campus. 
"While we also recognize that many students need cars and that the developments need to provide parking, another focus in the Campus West area is to encourage a convenient and walkable district and a mix of uses, with services and housing close to the University, and that students use alternative means of transportation including transit, bicycles and walking," Holland wrote.
With this focus on transportation, the Union on Elizabeth  proposes a bike and pedestrian-only corridor through the site, connecting Plum Street to Elizabeth Street as well as a new bus stop along Elizabeth Street in front of the development, according to Holland. 
The Union on Elizabeth development is currently under review and will go to the Planning and Zoning Board before construction begins. 
"Really the buildings themselves are just a part of an overall vision for the corridor to contribute to a vibrant, attractive corridor with high quality housing that is sensitive to the context of the area and supports transit," Holland wrote. 
Collegian reporter Austin Fleskes can be reached at news@collegian.com or on Twitter @Austinfleskes07.