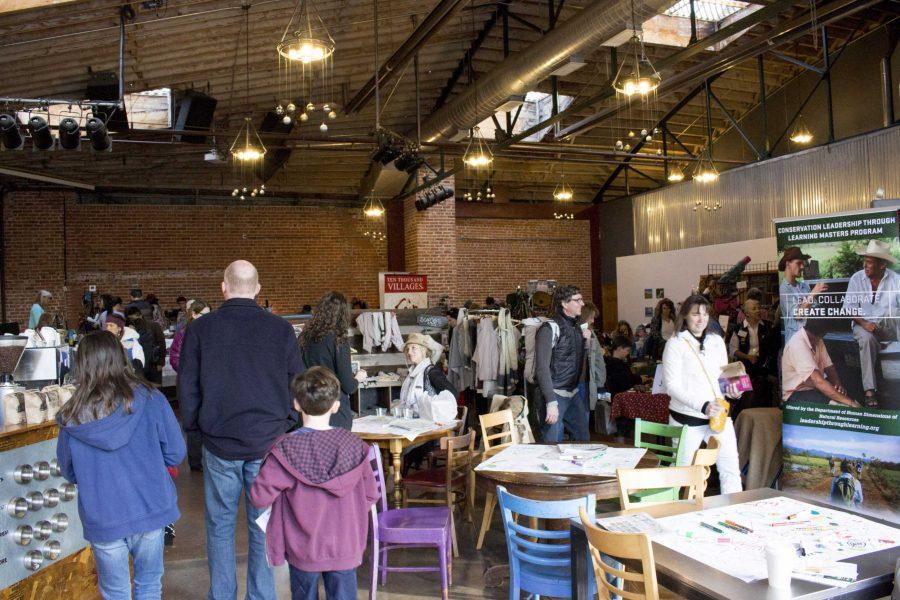 It is not just a market—it's a market with a mission.
Seventeen vendors gathered at Everyday Joe's coffee shop Dec. 2 in an annual alternative market designed to connect holiday shoppers with social and environmental justice organizations.
Known as Market with a Mission, the one-day event provides citizens with an opportunity to be socially engaged through their holiday gift-buying.
"It's really a retail event with a higher purpose," wrote Brett Bruyere, co-coordinator of the event and assistant professor in Colorado State University's Human Dimension of Natural Resources department, in an email to the Collegian. "The activities are really just being a conscientious shopper, and thinking of each transaction not as just a financial transaction or a gift-giving transaction, but one that can have a positive impact."
Vendors included environmental and social justice organizations. Several Northern-Colorado-based nonprofit organizations such as Ten Thousand Villages and Artisan Thrive were present, along with some national conservation nonprofits who shipped in their merchandise.
The event, now in its second year, was organized in partnership between 21 students in the HDNR non-for-profit administration and conservation class (NRRT 463), the Global Village Museum, Everyday Joe's Coffee House and Dining for Women.
Participating students spent the semester researching individual nonprofits to understand how to develop and run such organizations, according to Sarah Walker, a teacher's assistant for NRRT 463. The same nonprofits were then represented at the Market.
"(The organizations) are from all around the world," Walker said. "(The market) was this idea of think globally, act locally—making that actually a possibility."
According to Walker, the market was full of people for the majority of the day it was open.
"A lot of the individuals (who) came to shop talked about…how excited they were that they could come to a place and have socially-just options to shop for," Walker said. "The cool thing about the Market is that you can go and you can shop responsibly and sustainably, but at the same time, you get to talk to the people who run the organization."
The overarching mission of the market is to get people thinking more strategically about their donations, according to Bruyere.
"I … think Fort Collins under-achieves in terms of the philanthropy; we are very middle-of-the-pack when compared to other communities nationwide, yet we have a much higher average household income and education attainment," Bruyere wrote. "So the event is, in part, to challenge our community to be philanthropic in one of the simplest ways possible: by doing something they already do (shop) but just with a little more intention."
Bruyere wrote that, while the turnout Saturday was decent, there is capacity for plenty more shoppers.
"(T)his event could be much bigger and more lucrative for the vendors given the resources in this town," he wrote. "And, being more lucrative translates into … having a bigger impact on women, youth, wildlife species and similar deserving beneficiaries."
While the next Market is not for another year, Walker recommends improving individual philantropy by getting to know the nonprofits people contribute to.
"Understand what their impact is and what they're trying to do and what their goals are for the future so that you're an engaged donor," Walker said. "(That way) you can really feel confident and proud of (what) your generosity is going toward."
Collegian reporter Samantha Ye can be reached at news@collegian.com or on Twitter @samxye4.