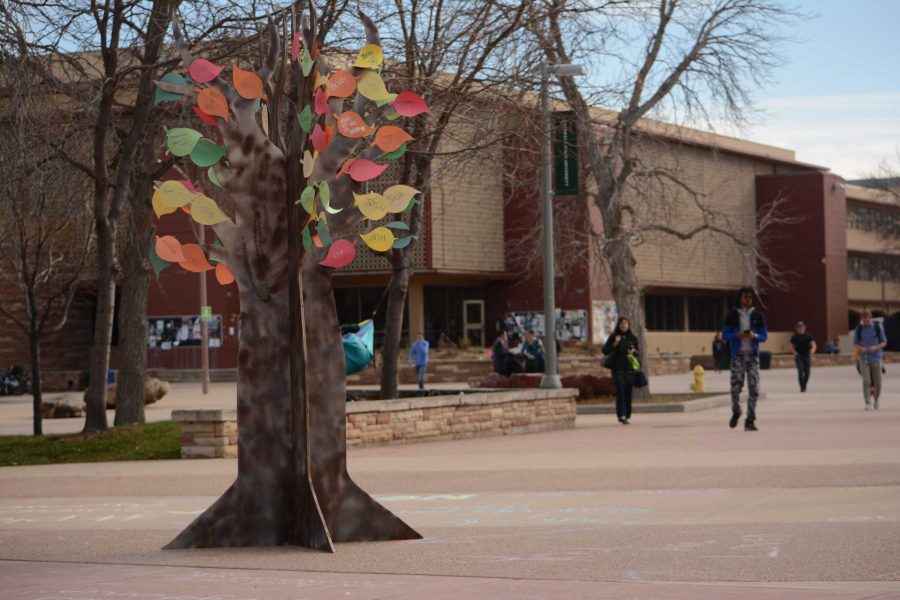 Members of the Social Welfare Policy class want you to remember students at Colorado State University who have been impacted by suicide.
The students of CSU's Social Work 410 Social Welfare Policy class gathered on the Lory Student Center Plaza Nov. 14 to raise suicide awareness with their event "Planting Hope." The students constructed a tree for people to add individual's names who have been lost to suicide in order to bring awareness of the reality of suicide and remembrance for those who have been impacted within the community.
The class focuses on issues and processes shaping social welfare institutions, and is designed to help students prepare for social work, according to the CSU Baccalaureate of Social Work Student Handbook. 
Senior social work majors Aja Lee, Mikaela Kendall and Gina Malnati in the 410 class were among those who organized the project.
"… (Suicide) is just not being talked about," Malnati said. "We want to spread the word, make it something that's comfortable to talk about with people … We just want to create a safe space for this to be a discussion."
In keeping with the visual representation of the tree, which carries the names of those who have committed suicide on its leaves, the class handed out seeds in order to encourage hope moving forward, according to Lee. The group also gave out suicide awareness ribbons and buttons in order to spread the message and wrote "messages of hope" in chalk on the Plaza. 
"We really like the idea of an art display because we wanted to be approachable without triggering," Malnati said. "We like the idea of just asking if they want a button or something like that to kind of create awareness without making anyone feel targeted."
The project also emphasizes providing resources for those who may need to talk about their own loss or suicidal feelings. 
"We also have several different resources at our table for students, faculty, anyone can use on campus. There's the counseling services, there's the victim assistance team and Tell Someone," Lee said. 
According the group's Facebook page, the goal is to reach out to CSU's students and faculty on campus continuing to encourage conversations about the reality of suicide and to make resources offered accessible.
Kendall said it was important to the group to create a space where people can remember those they have lost as well. 
"It's so easy to see people as their final moments, when in reality there's so much more to those people," Kendall said. 
Malnati also said regardless of the many fears and anxieties around the topic of suicide, it is important for people to engage in the topic. 
"People think talking about suicide is going to make someone more likely to, but research has found it's more the opposite," Malnati said. "Creating that conversation and talking about uncomfortable things makes people feel like they're not alone."
Overall the class hopes to promote further dialogue on campus about the realities of suicide by raising awareness, according to Lee.
"I hope that CSU can kind of open up the conversation, because before someone told us in our class, I had no idea we had lost that many students," Malnati said. "I think it's something that needs to be talked about more, especially on college campuses. We're really just trying to spread the word and make it approachable." 
Resources:
Tell Someone: Call (970) 491-1350.
National Suicide Prevention Lifeline: Call 1-800-273-8255.
CSU Crisis Intervention: Call (970) 491-7111.
Text message crisis line: Text 741-741.
Collegian reporter Natalia Sperry can be reached at news@collegian.com or on Twitter @Natalia_Sperry. 
Editor's note: In a previous version of this article, it was noted that seven students committed suicide this academic year. This number reflects the research done by the social work class and was not verified by the University. There has been one student who committed suicide this academic year, according to CSU, and one student death is still under investigation.