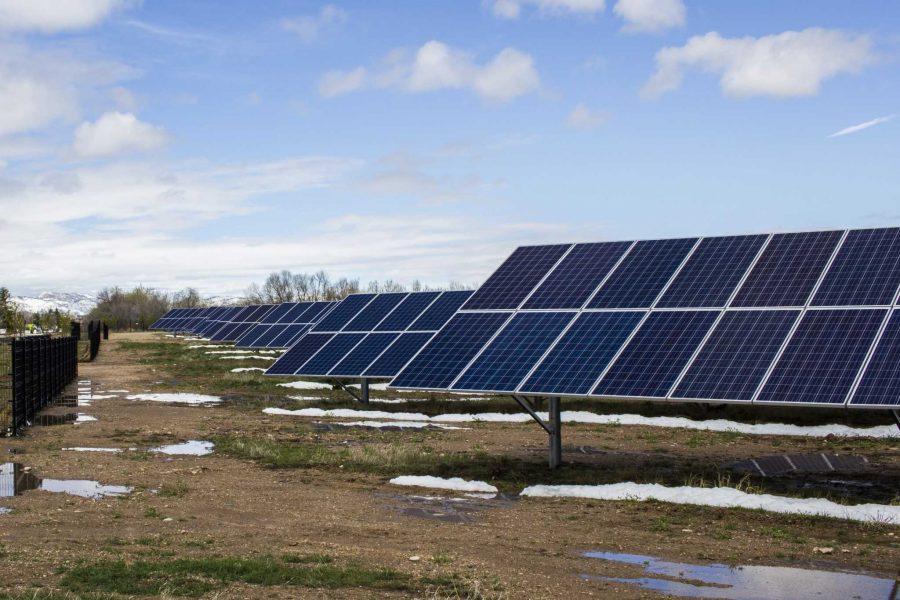 Clean energy is coming to low-income communities in Larimer County with the volunteer efforts of Colorado State University students.
CSU's Student Sustainability Center and the Energy Club volunteered for two consecutive weekends at the Coyote Ridge Community Solar Farm, a new solar grid located near the Larimer County landfill. The solar grid is dedicated to providing energy to low-income communities and is the largest in the country of its kind.
"This is a community solar project, and that idea is that if people aren't necessarily able to install solar panels on their homes themselves … they can buy into this community solar (farm) for a minimal or reduced charge on their bills," said Michael Sommers, student ambassador at the CSU Energy Institute and a co-founder of the Energy Club.
The Coyote Ridge project started in August as a collaboration between the Colorado Energy Office, GRID Alternatives and the Poudre Valley Rural Electric Association.
It is the seventh project to benefit from the $1.2 million grant made by CEO to GRID Alternatives in 2015 as part of a statewide initiative to bring solar energy to low-income communities and demonstrate how the solar model can be used to cut energy costs for utilities' highest need customers, according to the state's press release.
GRID Alternatives was selected by the Colorado Energy Office due to its emphasis on providing low-cost solar power for low-income families.
"Part of our mission is to make solar technology accessible to low-income communities, and the other part is making job training accessible to some of those same folks," said Allison Moe, the workforce development manager for the community volunteer program for GRID Alternatives Colorado.
The company was founded following the 2001 California energy crisis and provides hands-on installation experience for those seeking jobs within the environmental sector and for community volunteers, like Madison Wood, associate director of engagement for the Student Sustainability Center.
"We were working in conjunction with the CSU Energy Club, but when we got there, there were people from all over: Boulder, Mines, energy and environmental activists, companies and clubs here in town," Wood said. "It wasn't just young college people. It was everybody (from the community)." 
The Energy Club, which is new to campus this year, used this as one of their first activities to introduce members to solar energy while giving back to the community, according to Sommers.
"One of the pillars of our mission statement in the club is to provide opportunities for members to contribute to the local and global community through volunteer projects and activities," Sommers said. "I think GRID Alternatives did a really great job of providing some training opportunities for the membership as well, which meets another pillar of our club: to educate members."
The student volunteers attended a training session prior to working on the grid to learn the basic engineering of the panels, wires and electrical safety as well as the socio-political aspects of the project. Wood and Somers' volunteers replaced and re-installed damaged panels, assisted in wire-management to ensure that there were no loose or hanging cords for nearby wildlife to interfere with and installed new panels. 
"In a project like this, we could save some cost as well as time, and engage people in the community that this was impacting," Moe said. "We had days out there where there were 50 or 60 volunteers, and they would install over 1,000 panels on our best day."
The 1.95-megawatt solar array stretches about 387,500 square feet, over half of which will serve qualifying low-income households, affordable housing providers and nonprofit organizations. This makes it the largest community solar array of its kind in the nation, following the upward trend of the GRID projects' growth.
"There's an environmental justice aspect because these low-income communities are inconvenienced with high utility prices, and they deserve a break," Wood said. "Even if it wasn't for low-income communities, solar makes sense. But, this is an act of environmental justice, because you're serving those marginalized communities."
The remaining energy generated by the array will go to subscribers of the Poudre Valley Rural Electric Association, a distribution cooperative that covers 2,000 square miles of service territory in Larimer, Weld and Boulder counties. 
"It was the first project we've done of that scale, (that) any GRID office in the country has done," Moe said. "We were so glad to be able to get so many people from the community involved. Volunteers make this project possible in a fast way that we wouldn't be able to do otherwise if we were a company with a more corporate model."
Collegian reporter Natalia Sperry can be reached at news@collegian.com or on Twitter @Natalia_Sperry.