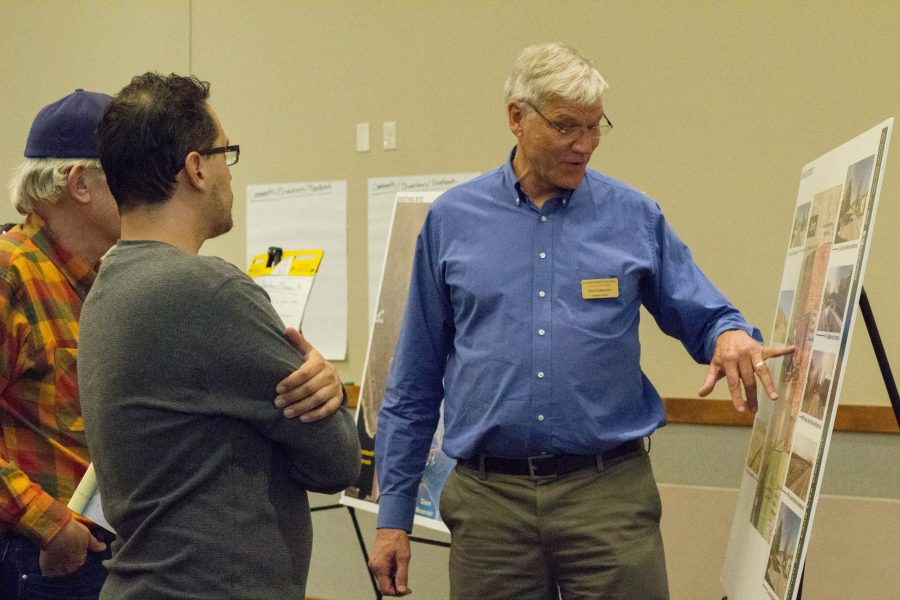 Hughes Stadium is the first piece of land in Fort Collins history to receive "pre-developmental" input from community members prior to its redevelopment. 
Approximately 80 Fort Collins citizens, many of whom live within a two-mile radius of the property Hughes Stadium rests on, attended the Hughes Redevelopment Listening Session at Drake Centre from 6 to 8 p.m. on Wednesday. The session was hosted by Colorado State University and facilitated by CAA ICON Venue Group.
Laid out in five informational sections, about a dozen presenters met with citizens to discuss concerns and ideas surrounding the redevelopment of the 160-acre parcel of land surrounding Hughes Stadium.
"Concerns tonight were more about the development's impact on infrastructure and schools," said Fred Haberecht, Assistant Director of Facilities Management at Colorado State University. "During the first night, there was a greater emphasis on open space, and those are the two major themes. I think part of tonight too and the other night was just informing people about the process." 
What is definite about the Hughes redevelopment project is that CSU plans on selling the property to a developer and demolishing Hughes Stadium, but it is unknown what will happen to the land thereafter.
The purpose of the Hughes Redevelopment Listening Session was for citizens to voice their concerns about the direction of redevelopment.
According to Dan Loosbrock, a senior director from CAA ICON, there were three guiding concerns throughout the night: maintenance of trail access, maintenance of open space and potential housing development. Multimodal access around the redevelopment site was also a major point of concern.
"The city has already had it in their plans that if this property would be redeveloped, there's part of a larger transit network that would need to be expanded," said environmental graphic designer and landscape architect Jessica Kramer.
According to Erika Benti from the alternative transportation division of CSU Parking and Transportation Services, there was a lot of concern surrounding vehicular traffic congestion that would be present in the area if housing development occurred.
Along with concerns, citizens were prompted to write their redevelopment ideas on large pieces of paper posted around the room. By the end of the session, there were dozens of ideas, which ranged from turning the land into parking to preserving the land as open space to creating a mountain bike park.
One pre-written proposal, from Randy Shortridge of Fort Collins based-Principal (AU) Workshop, presented the idea of turning the land into a "giant terraced horticultural/botanical research greenhouse… with a bowl-shaped, rain-capturing fabric, translucent lid."
Another big reason why the listening session was held was for citizens to understand the intricacies of the redevelopment process. For one, Hughes Stadium is not the only characteristic of the property that needs to be considered.
"(There is) also the frisbee golf course, which is actually a detention area," Loosbrock said. "That's currently under lease for another four years with the city. That lease is transferable. So that lease could go with the development partner. Besides that, there's a lot of general open space, a lot of existing trees, a lot of existing boulders that have been placed both for the intended use previously as well for general landscape and architecture."
However, the frisbee golf course, trees, and boulders are not going anywhere anytime soon. The developer selection process will not produce a developer until mid-2018, and the development process will only just begin during that time. Until then, there are many steps in the pre-development phase.
"CSU needs to write a formal request to the city to annex," Haberecht said. "The county has to be receptive to that process. We heard today that the county is receptive, and is basically indicating: go through this process. Until it is annexed (a transitional annexation which doesn't have with it any densities), then that comes later when it goes through the whole city process."
According to Haberecht, the Hughes redevelopment process could be comparable to the development process of the 320-acre Rigden Farm, which began in 1998 and is still ongoing. The Hughes redevelopment project is unique in the sense that the property is the only parcel of land in Fort Collins history that is going through the developmental process with "pre-developmental input."