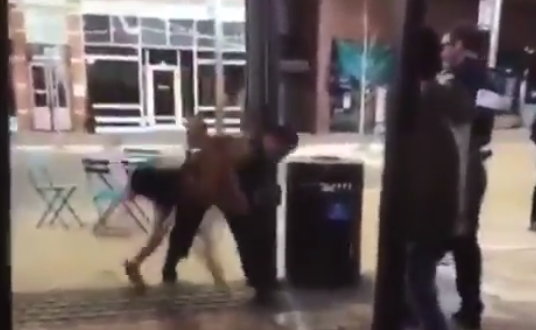 The officer involved in April's viral Old Town arrest video was returned to full duty on June 1 after an internal investigation conducted by Fort Collins Police Services.
The arrest of Michaella Surat, a 22-year-old Colorado State University student, by Officer Randall Klasmer occurred outside of Bondi Beach Bar on a Thursday evening. Police were initially dispatched to handle a situation arising between two men near Bondi Beach Bar.
Surat, a girlfriend to one of the men in the escalating situation, became concerned about her boyfriend and went to check on him, according to the Coloradoan.
Police told Surat her boyfriend had to stay at the scene, but she was allowed to leave, according to a statement made by Fort Collins spokeswoman Kate Kimble to the Coloradoan. Surat did not leave the area and physically obstructed and struck an officer, according to Kimble.
Surat was then slammed face first into the ground by Klasmer as part of an approved arrest control maneuver. Surat told Good Morning America that the maneuver left her with bruises, a concussion and numbness to the chin which resulted in difficulty eating.
Klasmer was placed on paid administrative leave on April 13, a week after the controversial Old Town arrest took place, while the incident was investigated.
According to a press release from FCPS, the investigation included interviews with Klasmer, four witnessing officers and three community witnesses. Surat chose not to submit a statement, though she was given the opportunity to do so.
Video footage from the officer's body camera, the Bondi Beach Bar and Old Town Square were also reviewed during the investigation. The footage was reviewed by a sergeant, lieutenant, and assistant police chief, as well as the Citizen Review Board.
Both the Citizen Review Board and administrative investigation concluded that Klasmer should be relieved from his administrative leave, since he did not violate any policies during the arrest in Old Town.
The body camera footage will be released when the District Attorney's prosecution ends. The Chief's office intends to hold a press conference when the footage is available for release, and FCPS plans to hold public conversations about community views regarding the arrest and tactics program and about existing procedures.
Collegian reporter Nicole Towne can be reached at news@collegian.com or on Twitter @nicole_towne21.