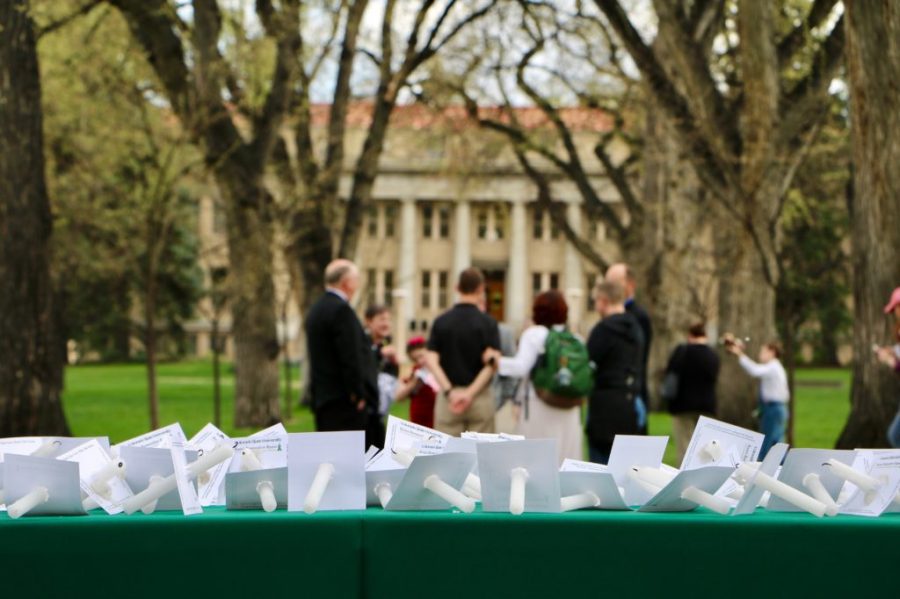 Around 100 people attended Rams Remember Rams, a Colorado State University community remembrance ceremony, at the Oval Monday evening.
The ceremony is an annual event that is held to honor CSU students, faculty, staff and retired employees who died during this academic year.
The event began on the north steps of the Administration Building at 5 p.m., where President Tony Frank stood to address the crowd. Participants were given candles and green ribbons as a symbol of remembrance.
According to an article in SOURCE, the candles are "a symbol of hope and a way of showing solidarity with one another and the people being remembered."
As Vice President Blanche Hughes and Provost and Executive Vice President Rick Miranda read the names of those who recently died, participants lit each other's candles as a sign of solidarity.
"They live on in our memory," Frank said after the list had been read and the Alma Mater was sung.
The list included Courteney Seaman, a student who died in a car accident in February during an ice storm, as well as John Clark Pratt, former chairman of the CSU English Department. Those who died in the Armed Forces were remembered as well.
The following members of the CSU community were honored at the ceremony:
Employees
Gordon Niswender
Marilyn "lyn" Karius
Donald Piermattei
Adele Howe
Lowell Eugene Jenkins
James Harris
William Dean Kruse
John Clark Pratt
Russell "Rusty" Alan Scott
George Dennison
Cecilia Ann Martin
Duane Leroy Blake
Ralph Tedrow Will
Christopher John Schmit
James Robert Slusser
Jann "Paula" Benson
Joseph Maga
Merle Dean McElwain
Robert Lee Jones
Auli Summerhays
Paul Lucian Wedgewood
Beverly Jane McQuinn
Liang-Shing "LS" Fan
James Harley Doyle
Ronald A. Ryder
Tom Sutherland
Chuck Parker
Jonathan Ored Carlson
Elmar Rudolf Reiter
Martin Antony Dankowski
Richard Bessen
Dwayne Lee Dinkel
Richard Gay Israel
Sandy K. Danielson
Robert Britten Johnson
Frederick Kenneth Clark
Charles "Chuck" P. Hibler
Jodie Beth Bell
Pamela Kay Occhiuto
Sarah Falcon
Julian Flores
Arthur H. Cash
Kim Dahleen
Students
Courteney Ann Saeman
Elissa Joyce Hale
Jie "Roger" Luo
Thomas Rugland Evans
Ashley Marie Doolittle
Eva Denali Will
Jacob Daniel Ekstedt
Others/friends of the University
Gene Markley
John L. "Jack" Carmichael
Dawn Weimer
Facilities Management
Martin Dankowski
Paul Wedgewood
Kim Dahleen
Robert "Bobby" Jones
"Grief is the price we pay for love," Frank said, quoting Queen Elizabeth II's remarks after the 9/11 attacks.
Participants turned towards the Oval for a moment of silence while two members of the Armed Forces played ceremonial music on trumpets. The song played, known as "Taps," is a bugle call played during flag ceremonies and military funerals.
"Colorado State is better because they were with us," Hughes said.
With a salute from the Armed Forces members, the candlelight processional was lead by Frank, Hughes and Miranda to the center of the Oval. Here, Frank gave his final remarks.
"Let us leave here with a light that cannot be extinguished," Frank said. "Let us keep it burning bright, delivering it to those in darkness."
After placing his candle on a table in the center of the Oval, Frank silently walked back up the steps of the Administration Building.
Community members followed, placing their candles on the table while an a capella group sang "Somewhere Over the Rainbow." The ceremony concluded with the option for reflection in the non-denominational Danforth Chapel.
Rams Remember Rams began in 2014 and it takes place every spring semester. The event is non-religious and is open to everyone in the community.
"This event says something about our campus," said John Henderson, the Assistant Dean of Students and Director of Parent and Family Programs. "We are a Ram family. Once a Ram, always a Ram."
"It's important to take the time to reflect on those we have lost," Henderson said. "Rams remember Rams, but Rams also support other Rams."
The ceremony is a single event that includes everyone as opposed to a series of events, according to Henderson. This, as well as the candles, were meant to represent a sense of solidarity within the community.
"We are in this together," Henderson said.
Collegian news reporter can reached at news@collegian.com or on Twitter @jenn_yingling.