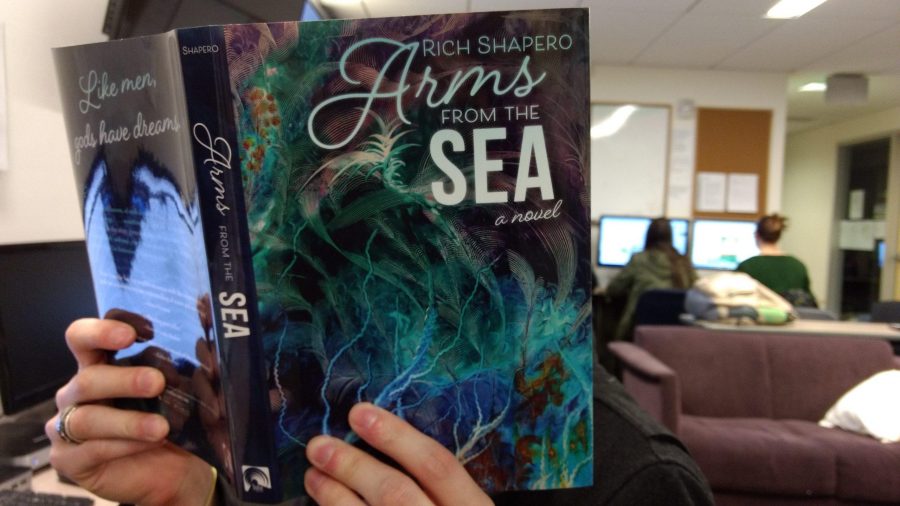 TooFar Media, a company that aims to distribute new forms of art to college campuses, passed out a free book called Arms from the Sea at Colorado State University last week.
 The novel, written by Rich Shapero, aims to reinvent the novel by integrating music and visuals, said Emily Danziger, director of experiential marketing at TooFar Media. TooFar Media has produced a total of four books. Danziger said each book has its own art collection and soundtrack. All of the visuals can be found on an the company's app and relate to certain passages in the books. The soundtracks are all original and recorded specifically to align with the text as well.
"It's art for art's sake," Danziger said. "The purpose of these projects are to reinvent the novel. They fuse fiction with music and stimulating visuals that coincide with the novel." 
 Danziger said representatives were passing out the book in order to expose students to the project. 
"Because this is a new project we are trying to get as many people exposed to the new art form as possible," Danziger said. "College students is a large audience that our product would be enjoyed by and that's why we are touring several campuses."
 Carter Cashion, a senior English major, was interested enough to give it a read.
"The fiction itself was pretty simple, it was mostly abstract images and what I thought to be sexual references," Cashion said. "It reminded me more of a day dream, there wasn't any concrete imagery."
Cashion said he thought the author was describing himself in an abstract way. 
"I wasn't really sure what to take away from it," Cashion said. 
Danziger said there is another novel in production and the music is currently being recorded. Rich Shapero, the author of the book, was unavailable for comment. 
"For some reason, I've always wanted to live in a different world," Shapero wrote on his website. "My thoughts always get warped toward a place and a state that I imagine is better than the one we're born into."
Shapero wrote on his website that he has no commercial motive for distributing the book. 
"I want people to see what I've done," Shapero wrote. "I'm like a street musician playing for whoever might have the interest to stop and listen."
Cashion said targeting college students is not the strongest marketing strategy. 
"It doesn't sound like a strong plan, but hey, I ended up with a book," Cashion said. "It's cool that they tour college campuses, but I'm not sure how they afford to print all of these books. I feel like they may not be taken seriously handing out free copies. For me to go out and buy the book I would need a little more than this."
Collegian reporter Drew Smith can be reached at news@collegian.com or on Twitter @dc6smith19.