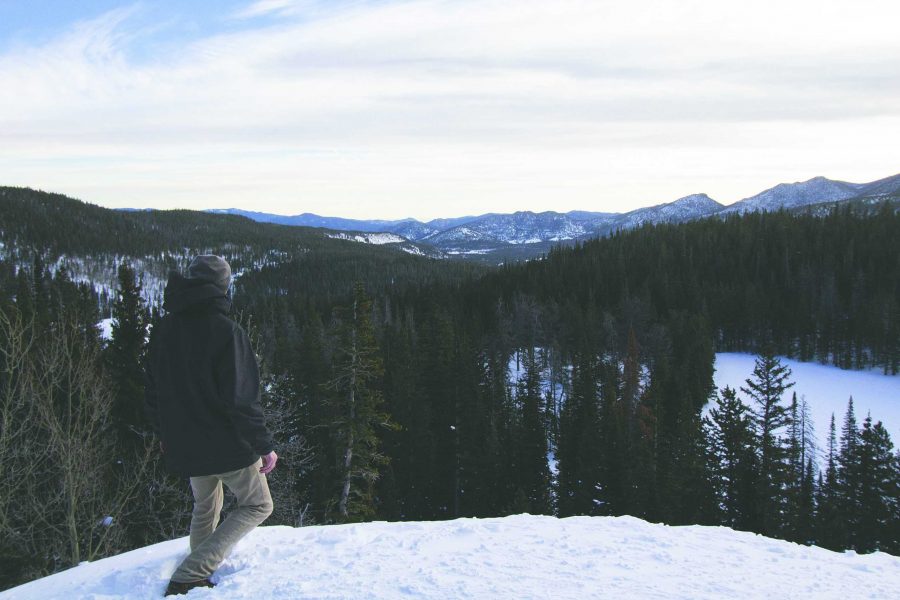 Since 2012 Rocky Mountain National Park has seen an increase in its number of visitors by 40 percent. From just 2014 to 2016 RMNP saw an increase of 32 percent.
According to Kyle Patterson, Public Information Officer for RMNP, there are multiple reasons for this increase but it is most likely tied most to the increase in population along the Front Range. According to the United States Census Bureau the Front Range Corridor saw an increase in population of nearly 10 percent from 2010 to 2015.
"Larimer and Weld counties are the fastest growing counties in Colorado and we are the nearest national park and easy to get to, we're very accessible," Patterson said.
She added that many of those people are not from Colorado.
"One of the main reasons (people) are moving to Colorado is because they love what Colorado has to offer, such as public lands, open space and recreational activities," Patterson said. "Many of the people that are moving here already have those interests, they want to go see their national parks whether it's their first time or their tenth."
Along with setting overall records for number of visitors the park also saw unprecedented levels for all months of the year.
"Back in the day there might have been a time where we said 'our peak visitation is from Memorial Day to part of September,'" Patterson said. "But now that visitation is year-round and we're hitting record levels every month."
Patterson said when the park started to see a skyrocketing of visitors in 2015, jumping by 21 percent and surpassing 4 million visitors for the first time, and it had difficulty handling the large crowds.
"We basically were on our heels in 2015 because you're seeing this level of visitation and you can't necessarily respond quickly at that level," Patterson said. "Our staffing and infrastructure is set for kind of the old mode l… and now that has changed dramatically in the last five years."
In the winter of 2015 the park had a brief moment where the staff looked at the numbers and started to try to come up with a way for the park to accommodate the growing number of visitors.
To facilitate this the administration had listening sessions with all of the staff and came up with four areas that needed to be addressed.
The four areas were:
visitor and staff safety
resource protection
operational capacity
visitor experience
With these in mind the staff went into 2016 a little bit more on their toes.
"We know where our highly congested areas are, particularly during the summer," Patterson said. "So we started moving forward with some short term measures in 2016 where we knew that there were a lot of problems and issues based solely on vehicle congestion."
Some measures placed in 2016 and 2017 include restricting vehicle access in the Bear Lake Road corridor, Wildlife Basin area and the Alpine Visitor's Center.
These restrictions, although they often were implemented at around the same time every day, were not based on time but rather weather and road conditions and how many people were trying to get into the area.
Patterson gave the Bear Lake corridor as an example of when they limit access.
"What we started doing is once the parking lot's filled and once we started feeling a lot of congestion on the road, we started restricting vehicle access," Patterson said. "Some days that would be at 10:30 a.m., some days that would be at noon. Once we started implementing that we restricted access basically every Friday, Saturday and Sunday late June through September."
She added that after this policy was added there were less complaints from visitors and it set expectations for a lot of people. Any visitors who were not able to get up to the area would have to take the hiker's shuttle that runs from Estes Park to the corridor.
While the Park is only working on short-term fixes right now they are planning on implementing more long-term policies in the future because the current solutions are affecting the rest of the park.
Patterson used the analogy of a glove for the park and the short term policies as pressure on the glove. She said when access is restricted in one area, use in other areas is pushed that would otherwise not be as popular.
"We need to look at this on a park-wide level and what that means for visitor use throughout Rocky Mountain National Park," Patterson said.
Collegian reporter Stuart Smith can be reached at news@collegian.com or on Twitter @notstuartsmith.