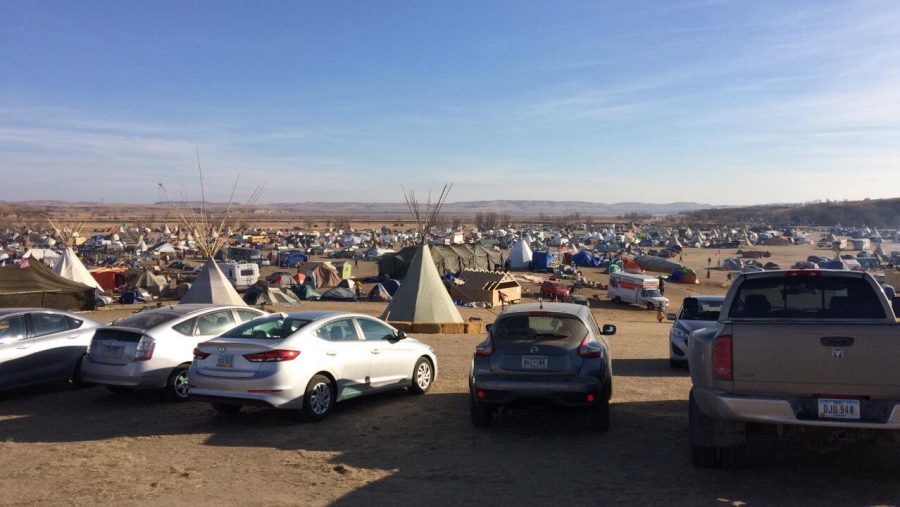 [new_royalslider id="553″]
The U.S. Army Corps of Engineers announced Dec. 4 that it will not grant the easement to cross Lake Oahe for the proposed Dakota Access Pipeline. This decision is a victory for the thousands of people who have been protesting the pipeline at its site on the Standing Rock Indian Reservation in North Dakota.
A press release from Standing Rock Sioux Tribal Chairman Dave Archambault II expresses gratitude to the Obama Administration.
"In a system that has continuously been stacked against us from every angle, it took tremendous courage to take a new approach to our nation-to-nation relationship, and we will be forever grateful," Archambault II wrote.
The Facebook group Fort Collins Stands With Standing Rock sent a statement to the Collegian.
"This is a moment to reflect on the resilience and strength of Native American people," the group said. "It is a moment to celebrate the victory of non-violence over violence; peace, prayer, love and community over environmental destruction and greed,"
Cullen Lobe, a sophomore undeclared major with an interest in journalism at Colorado State University, is one of many celebrating the night.
"It definitely just shows what can happen when all ages and all types of people come together and work so hard in the freezing cold," Lobe said. "Not only is this a fight for human and indigenous rights, it's a fight for the climate and mother nature."
Lobe drove to Standing Rock on Nov. 20 and stayed for four days. He remembers Nov. 20 was a night of violence; Lobe describes being gassed four times. He says the protesters shouted back "We love you!" while being gassed.
"I really do hope that with this massive victory comes accountability for what happened that night. 100-percent-unarmed people were really brutally attacked with a multitude of different weapons," Lobe said.
Although excited about the decision, Lobe shared fears that the Dakota Access Pipeline would be undeterred.
"I really hope DAPL listens to this order, but they have had permits denied before and they just kept building," Lobe said.
Like Lobe, Colorado State University instructor Benjamin Schrader shared his fears that DAPL would not honor the decision.
Schrader teaches both political science and ethnic studies at CSU and felt compelled to go to Standing Rock for the entirety of his fall break.
"I think one of the things that we see here is this continuing struggle and harsh and disgusting ways that we've treated Native Americans in this country," Schrader said. "And, I was inspired to go up and learn and stand with the folks there at Standing Rock."
Schrader is an Army veteran who served for four years, including one year in Iraq. He trekked to Standing Rock with a small delegation of veterans. His Army background helped him identify the tactics that were being used against the protesters.
"A lot of them were military tactics that we used in the military," Schrader said. "There was even military gear that we didn't even have access to that were there. It was just kind of shocking to see how militarized the actions were."
Among other tactics, Schrader witnessed the use of water cannons in freezing temperatures, which he described as "criminal."
Much of the group Schrader traveled with had experience with direct military action; while at the protest site, they used this experience to put on a direct action training to help protesters know what to expect when confronted by the police.
The group also spoke to county commissioners in North Dakota, and read a statement from the father of the young woman whose arm had been severely damaged by a concussion grenade.
Several members of the group stayed behind to reach out to the larger group of veterans that were coming later and to ensure that all groups knew what the tribal elders wanted. The larger group brought with them huge amounts of media attention, which may have been a factor in the Army Corps of Engineers' decision Dec. 4.
"While I think this is a win, I think we need to be very cautious and pessimistic still," Schrader said. "Because, the only thing that would happen to them if they decided to drill under the river without a permit would be a fine."
Schrader fears this fine would be no problem for the pipeline construction company Dakota Access, which is a subsidiary of the Dallas corporation Energy Transfer Partners. He believes the only way to effectively end the pipeline would be a federal order to cease and desist, with federal marshals physically stopping construction.
"Sadly, I think that a lot of this is a dog and pony show because the holidays are coming up," Schrader said. "So, maybe they'll take a break and wait for Trump to come into office. So I think we need to be remain on guard, and not be complacent."
Collegian Reporter Tatiana Talesnick-Parafiniuk can be reached at news@collegian.com or on Twitter @TatianaSophiaPT.