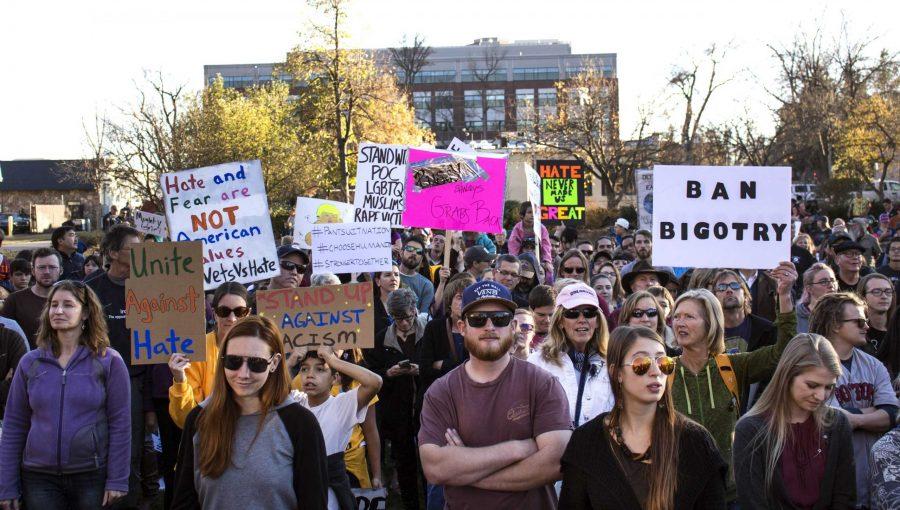 Over 1,300 people attended a peace and solidarity rally Saturday afternoon at Civic Center park to bring together the Fort Collins community in response to the election results. The rally was hosted by Fort Collins for Progress. The group changed the original name from Rams Against Trump, to be more inclusive, though the rally was originally described as anti-Trump.
About 100 attendees carried signs with phrases including:
I'm Still With Her
One Person, One Vote
Ban Bigotry
Stand Together
Choose to Love
Love Trumps Hate
Stand Together
There Is No Space For Hate In The White House!
Build Bridges, Not Walls
Aaron Kolb, a senior environmental engineering major and rally organizer, said the event needed to be something more than a anti-Trump protest.
"We had seen in the media what had happened with other anti-Trump protests," Kolb said. "Some of them were peaceful, but we had some of them that had devolved into chaos and riots. We wanted this in Fort Collins. We knew that we were better. We knew that we could do better."
Israa Eldeiry, a senior social work major and member of the Muslim community, spoke about how differences between people should be accepted.
"We are all different, and that is okay," Eldeiry said. "We need to acknowledge and embrace the differences that we have. Our skin colors, our origins, our beliefs should not be an excuse to treat each other differently or alienate one another, and they should not be ignored."
Eldeiry also encouraged attendees to redirect their emotions to seek change.
"Although we can't change the reality of Tuesday's election results, we can come together and use our frustrations and our passions and our motivation as a catalyst for change," Eldeiry said. "We can use this as a platform to create social change and social reform."
Brea Banks, a psychologist for Fort Collins youth, spoke about how the results of the election had a major impact on all members of the community, but encouraged attendees to continue to act when they disagree with politics.
"We are not all in the same place," Banks said. "The outcome of this election has impacted us in different ways. Some of us have come in with privilege and others with marginalized identities stacked onto each other."
"There are so many things to fear, so many things to worry about, but today is November 12," Banks said. "Living and breathing this (the election) every second is not going to be beneficial. Be there for one another. Lean on your community. Focus on today. And as you have done so this week, continue to engage."
Banks said it meant a lot to her to speak to the community.
Colleen Floyd and Maya Johnson, two rally attendees visiting from the University of Wyoming, said hateful comments from students in the dorms motivated them to attend the rally.
"We live in the dorms, and on Tuesday night in the middle of the night, we had some very hateful speech said to us," Floyd said. "We were called very horrible names, we heard a lot of slurs, and we felt like we had to do something. We had a day to mourn, basically, and then we just knew that we needed to get active."
Floyd said she and Johnson started a silent protest on their campus by wearing turquoise, since the color for sexual assault awareness is teal.
Johnson said coming to the Fort Collins rally made her feel more supported.
"Wyoming is extremely conservative," Johnson said. "Growing up with everyone around me having different views, it feels so good to be here surrounded by people who feel the same way as me. I feel so protected and safe."
Pastor Andy Boesenecker of Mustardseed House Churches spoke about how some Americans disagree with marginalized identities.
"An alarming number of Americans have been emboldened in their false claim that you don't belong here, and that because of the color of your skin or who you love or where you were born or how you worship, you don't deserve the same rights and dignity and safety that other citizens of this country do," Boesenecker said.
Boesenecker said people who have relied on fear and hate in order to rally the masses have forgotten something fundamental about the country.
"To be Muslim is to be an American," Boesnecker said. "To be woman is to be an American; to welcome refugees is to be an American; to be LGBTQQIA is to be American; to be an immigrant is to be American; to be Latino is to be an American; to be a veteran of this great country is to be American; to be Black is to be American; and to be disabled is to be American."
John Kefalas, a member of the Colorado Senate, also encouraged attendees to engage with state politics. He said it is the people's fundamental responsibility to keep people involved in government responsible.
"With what is happening at the national level, what happens at the state level is perhaps even that much more important, so you need to be engaged," Kefalas said. "You need to be continuing to peacefully exercise your first amendment right, which is the right to assemble."
Reporters Haley Candelario and Logan Crizer can be reached at news@collegian or on Twitter @H_Candelario98 and @logloc19.