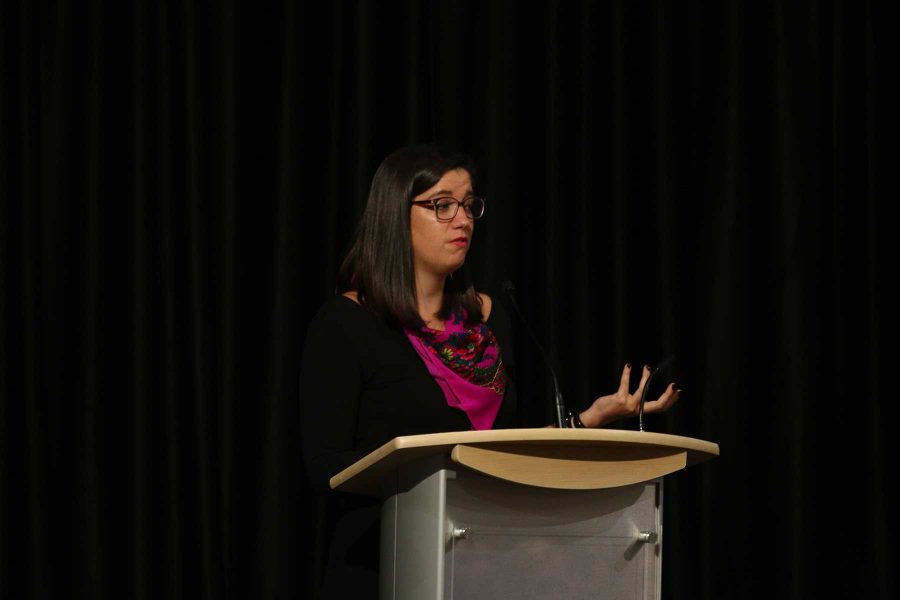 A member of the Cherokee Nation, Adrienne Keene, came to the Colorado State Campus on Thursday evening to speak on racism, cultural appropriation and Indigenous social media.
Keene, author of the Native Appropriations blog, hosts and engages in discussions of stereotypes and cultural appropriation of Native people within popular culture music, fashion and film. She works towards re-framing how contemporary Native cultures are seen and portrayed.
"It's hard to measure the impact of talks like this, it's always really powerful for me to think about that over 100 people were able to see and hear about the work that I do," Keene said. "When I was in Mississippi at Ole Miss, a professor there had forwarded me a paper that one of her students had written for my talk, and that was powerful to read and hear."
Keene after attending Harvard Graduate School of Education holds a Ph.D. in culture, communities and education. She is also currently an assistant professor in the American studies department at Brown University.
The keynote address, held in one of the ballrooms of the Lory Student Center, drew in over 100 people, more than double the expected attendance.
The event was sponsored by the CSU Native American Cultural Center and RamEvents.
CSU masters student and Native liaison for the office of financial aid, Heidi Stuckert, attended the event to better understand the culture.
"I feel like the Native community, the narrative and stories we have are false and ground in media and stereotypes," Stuckert said. "This speaker offered a counter voice to that as Natives."
Keene addressed the Dakota Access Pipeline, and the growing tensions that surround the further construction. Keene talked about how, after she spent time standing in solidarity against a pipeline that will go through the sacred territory of the Standing Rock Sioux Reservation and put a main source of drinking water at risk, she was disappointed to see the appropriation of the Native culture during the weekend of Halloween.
Many people posted pictures to social media dressed as the protesters that call themselves "water warriors" for Halloween and wore headdresses, thinking that it would represent standing in solidarity.
Appropriation of Native cultures, symbols, and traditions was also a highlight of Keene's address when she discussed how many clothing outlets sold clothing disrespectful to the Native culture.
Keene said she uses the opportunities that she has to speak on campuses about how using the symbols, headdresses and designs that inherently went against Natives culture, reduced what they stood for and believe in into something that can be bought or sold.
With the controversy surrounding the recent election and the high publicity status of the Dakota Access Pipeline, Keene spoke on how important the Native American Heritage month of November is for college students that identify within the Native cultures, and to create spaces that can have shared languages.
She discussed how while living in the dorms she was not allowed to smudge, which is a cultural practice of burning sage, because it would set off the smoke detectors in the dorms.
Creating groups on campuses and providing a space for Natives to be heard is an important aspect of overcoming legislation that can be crippling to cultural practices on campus, Keene said.
"I think it's important for folks to feel solidarity and to feel validated, especially for Native people," Keene said. "It truly is racism that this is rooted in colonialism and this has deep significance and impact in our communities."
More information on Native American Heritage Month events at CSU can be found at the Native American Cultural Center website.
Reporter Karissa Miller can be reached at news@collegian.com or on Twitter at @KarissaMiller17.