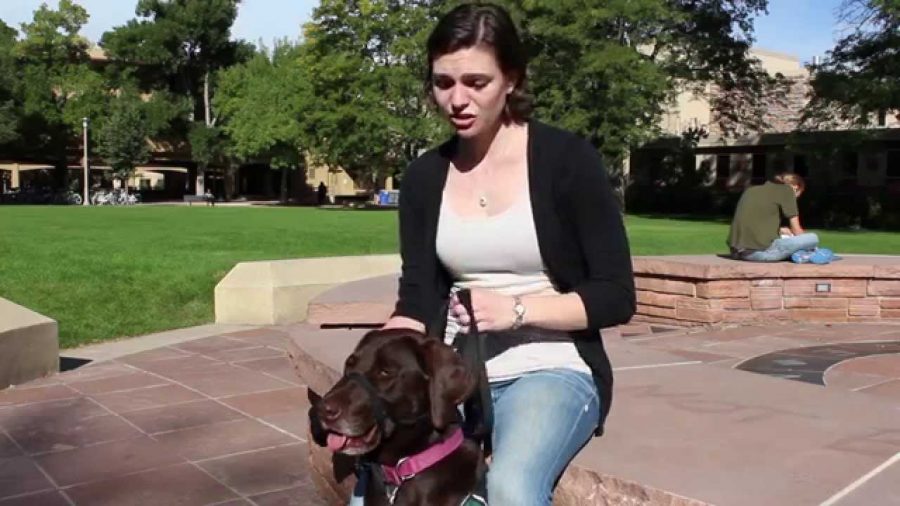 This semester, policies and guidelines regarding emotional support and service animals are being reiterated in Colorado State University's campus community.
"The policy (regarding assistance animals) is a combination of several different policy statements that were already in place, and provides more explanation and guidance for the campus community," said Dr. Susan MacQuiddy, Director of Counseling Services at CSU Health Network. "The rules around service animals and emotional support animals come from federal and state laws, and are not unique to CSU."
MacQuiddy mentioned that one new policy addresses the issue of misrepresentation by individuals claiming to need assistance animals when they really do not.
"There is a new state law that goes into effect on January 1, 2017," MacQuiddy said. "(The law) makes it illegal for individuals to intentionally misrepresent themselves as entitled to an assistance animal."
Additionally, CSU plans to introduce a more detailed policy for emotional support animals next semester. While the policy is anticipated to remain the same, MacQuiddy said that the update will clarify confusion and better guide students on emotional support animals.
Dr. MacQuiddy stressed the importance of knowing classifications for assistance animals.
"An emotional support animal is an animal that alleviates identified symptoms or effects of a person's documented disability," MacQuiddy said.
According to Rose Kreston, Director of Resources for Disabled Students at CSU, emotional support animals are usually for long term conditions diagnosed by a qualified health professional as part of a treatment plan.
"Home sickness is not a significant mental health condition while chronic depression is," Kreston said. "One is short lived while the other is long term and usually is accompanied by support from a therapist."
Requests for emotional support animals in University housing must be approved as an appropriate accommodation by Resources for Disabled Students. Appropriate documentation from the student's healthcare provider must be provided. The health care provider must describe the relation of the emotional support animal to a student's health.
"In other words, how does the animal fit in the context of a treatment plan?" Kreston said. "Online certificates are not valid, in fact, they are a scam."
Sophia Friskey, sophomore at CSU, owns a Chilean rose hair tarantula named Florence as a registered emotional support animal.
"I had to get approval from my medical doctor and psychologist," Friskey said.
Friskey said that initially people had a hard time understanding that an emotional support animal could be something other than the "fluffy golden retriever type" in order to be emotionally supportive, but after time, more people understood why Friskey likes having Florence around.
"Because anxiety, depression, or other mental disabilities are things people have a hard time understanding, a lot of people don't think emotional support animals are necessary," Friskey said. "It's not like you have a wheelchair or physical sign that you are facing struggles in your daily life."
An emotional support animal stays in an individual's home and does not accompany the individual to classes or where animals are not allowed. In contrast, service animals accompany their handlers in public and everywhere they go.
"An emotional support animal can be any domesticated animal," said Kreston. "But, there are only two types of service animals: dogs or miniature horses."
Kreston said that to date, no miniature horses have been registered as service animals at CSU. She also stressed the importance of knowing that while service animals are working, they are not to be considered pets.
"Service animals have been trained to perform a specific task for a person with a disability," said Kreston. "For example, a guide dog for someone who is blind, a hearing dog for someone who is deaf, a seizure alert dog for someone with epilepsy."
Kreston said that bad behavior by a dog brought to campus, including service dogs, could be considered a violation of student conduct since the owner of the dog is ultimately responsible for the actions of their dog.
"Students who bring their dogs to campus are a risk to legitimate service dogs," said Kreston. "If one should show aggressive behavior toward the service dog, it can ruin the service dog's training and therefore take a vital accommodation away from a person."
There is no requirement that a service dog be marked as such, but RDS does encourage students to have an outside signifier to help others identify that the dog is a working service dog.
"Training a service dog for a specific task can be expensive, up to $30,000 for a guide dog, for example," Kreston said. "Dogs are trained not only in obedience and performing tasks, but to not be distracted by other dogs, and they are not to be petted while working as that can distract them from their duties."
Kreston said that she believes those who are bringing their dogs to campus aren't thinking about the risk and what it may mean for a person who has a service dog.
"At the present time, it appears that there is a lot of confusion regarding the differences between a service dog and an emotional support animal," Kreston said. "That leaves it wide open for abuse, which we see frequently."
CSU's specific policies regarding service animals and emotional support animals can be found in the Colorado State University Policy Library under Policy ID #8-8002-001.
For more information on Colorado's current law regarding misrepresentation of entitlement to a service animal, please see Colorado HB16-1426.
Reporter Jessie Trudell can be reached at news@collegian.com or on Twitter @JessieTrudell.