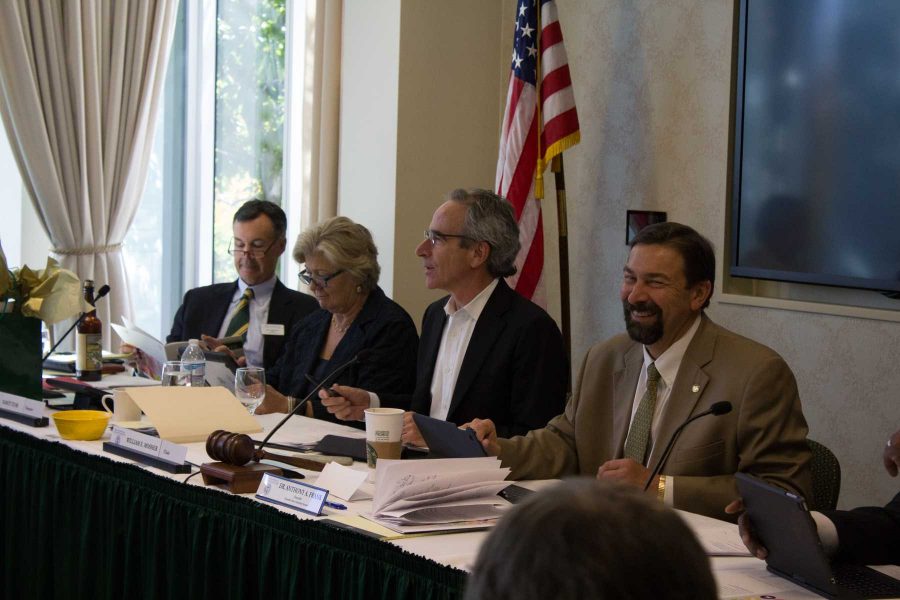 Colorado State University considered raising resident undergraduate tuition by 3 or 5 percent on Thursday during the CSU Board of Governors meeting in the Lory Student Center.
In anticipation of no change to state funding of higher education, the board was presented with two different scenarios for changes in resident undergraduate tuition—both increases.
If the board chooses to raise tuition for resident undergraduates, with no change to current state funding, students taking 15 credit hours could face a hike of $164 or $274 per semester in base tuition.
Base Tuition per semester for 15 credit hours: no change to state funding
Current rate: $5,483
3 percent increase: $5,647
5 percent increase: $5,757
*this model does not include student compensation from the Colorado Opportunity Fund.
While CSU does not anticipate an increase to higher education funds from the state, two options were presented to the board in case there was an increase: raising resident undergraduate tuition by 3 percent if the state increases funding by 2.5 percent, and raising undergraduate tuition by 1 percent if the state increases funding by 5 percent.
How state funds could influence resident undergraduate tuition:
Current base tuition: $5,583
Change in state funds
Tuition increase
Tuition dollar amount
2.5 percent
3 percent
$5,647
5 percent
1 percent
 $5,538
*Per semester, based on 15 credit hours, does not include Colorado Opportunity Fund stipend
According to the preliminary FY18 incremental Education and General Budget, CSU would gain about $7.4 million in resources if tuition increases 5 percent.
Total resources by change in tuition and state funding:
Change in state funds
Tuition increase
CSU resources
no change
3 percent
$4.5 million
no change
5 percent
$7.46 million
2.5 percent increase
3 percent
$7.47 million
5 percent increase
1 percent
 $7.5 million
*based on preliminary documents presented to the Board of Governors.
In addition to the uncertainty regarding state funding, CSU is preparing for a change in compensation if Colorado's amendment 70 passes. Amendment 70 would increase the state's minimum wage to $9.30 per hour.
At CSU, there are 2,738 people working below the proposed minimum wage. Increasing the minimum wage would cost the university approximately $689,278.
The amendment lays out a plan to slowly increase the minimum wage over time, from $9.30 to $12. The first level, $9.30 per hour, would go into effect January 2017. Then, the minimum wage would increase by 90 cents each year until it reached $12.
Estimated cost of proposed minimum wage increases:
Minimum wage
Number of employees below minimum wage
Cost to University for increase
$9.30
2,738
$689,178
$10.20
4,757
$1.9 million
$11.20
5,651
$3.7 million
$12.00
6,022
 $5.75 million
The University expects to know more about contribution by the state to higher education by February, and Colorado citizens will vote on Amendment 70 on Nov. 8. 
Collegian News Editor Erin Douglas can be reached at news@collegian.com or on Twitter @erinmdouglas23.