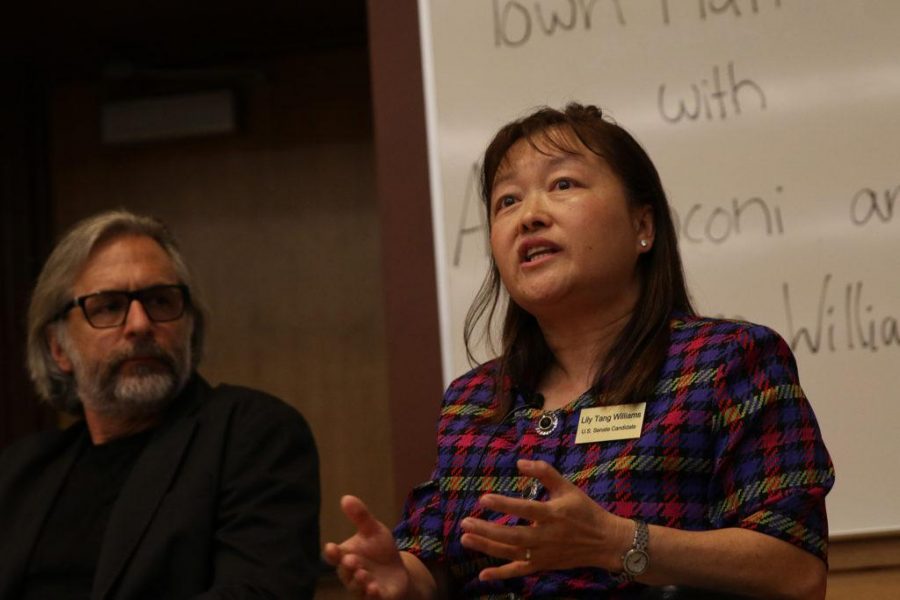 While Libertarian Gary Johnson and Green Party's Jill Stein will not be getting a seat on the presidential debate stage, Colorado third party senate candidates were welcomed at the Colorado State University to battle it out for incumbent Michael Bennet's seat in the U.S. Senate.
Libertarian Lily Tang Williams and Green Party's Arn Menconi spoke about the rising cost of education, health care, tax and energy policies, the environment and immigration.
Former Eagle County commissioner, Menconi, is frustrated with the lack of change that the Obama campaign promised to deliver under the slogans of "change we can believe in" and "yes we can" in 2008.
"Most importantly, I got into this campaign because of endless wars," Menconi said. "We're fighting on an (Authorization to Use Military Force) AUMF that's based on fighting al-Qaida not ISIS."
When it comes to the U.S. military actions abroad and the resultant refugee crisis, Menconi said the U.S. can do better.
"It's embarrassing that our country could not pass certain laws in order to allow Syrian refugees to come in … every other country in the world is taking in refugees due to endless wars mostly because of our country," Menconi said. "I got into this race because 60 million people go to sleep every night as refugees," he said.
Menconi supports cutting down the military budget and suggested reallocating those funds to projects such as free education.
"By free college education, we can create a knowledge-based economy," Menconi said. "There's plenty of money; we're not broke. It's just, we're spending it on endless wars."
Williams disagreed. According to her, free education would be subsidized by taxpayer money.
"But, at what cost?" Williams said. "Does that cost our future job prospects? Does that require government use of force to take tax payers' money from their pockets to then pay you for free college?"
Williams is a strong supporter of the market economy, including health care.
Williams said that while universal-care supporters have good intentions, they fail to understand the basic economic principles of the market economy. Having a single shop-owner creates a monopoly, she said.
"(Monopolies) can do whatever they want," Williams said. "They can jack up the price. They're not going to lose your business."
However, Menconi insisted that a universal health care system is the best solution.
"We can afford it," Menconi said.
According to Menconi, the only ones who are reaping the benefits of the current system are CEOs and stockholders. He said that is "not bringing down the cost, it's costing more money."
In their closing remarks, the candidates did agree on one thing.
"We both really hate corruption in Washington," Williams said.
While the Town Hall Tour did not draw in a large crowd of people, those who came said it was a valuable experience.
"(When it comes to media) you see Republican and Democratic parties, and that's all the public is aware of," said Olivia Jones, a sophomore at CSU who is registered as an independent voter. "You really have to go digging for information on any third party candidate."
Collegian reporter Eleonora Yurkevich can be reached at news@collegian.com or on Twitter @Eleonorawriter.