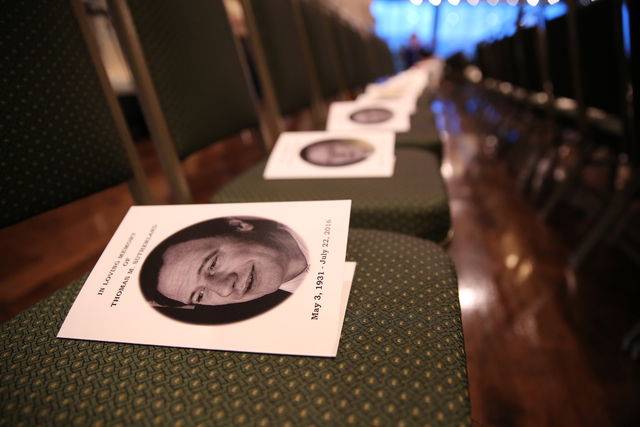 Forrest Czarnecki
On Saturday, hundreds of members of the community gathered in the Lory Student Center to celebrate the life of Tom Sutherland — an emeritus Colorado State University professor, former Beirut hostage and member of the Fort Collins community.
Tom Sutherland began his 26-year-long career as a CSU professor in 1957.
He left Fort Collins to Lebanon in 1983 to become the Dean of Agriculture at the American University of Beirut. Two years later, Sutherland was captured by Hezbollah terrorists and held captive for six years along with 53 other civilians.
On December 1, 1991, he returned to Fort Collins after 2,354 days in captivity. Sutherland passed away July 22 at 85 years old.
"As we are here to celebrate, let this be a celebration not just for Tom's life, but also of you all, everyone here and out there who cared and never forgot," said Jean Sutherland, Tom Sutherland's wife. "You were a life line for him when he really, really needed it."
Having been born and raised in Scotland, the service paid homage to Sutherland's Scottish roots as well as the trials he faced in his lifetime.
Kelly Davis came from Wyoming to read Robert Burns' poetry at the service. Burns' poetry was said to have sustained Sutherland during his captivity.
"How shall we remember him? What monuments should we build to his name? Can we do a better job of building monuments than Tom did himself," asked Davis after reading a few of Burn's pieces.
Davis went on to describe the various organizations and groups Sutherland had supported such as the Veteran's Plaza of Northern Colorado, Colorado Boys Ranch and Rocky Mountain Public Broadcasting. Davis then explained to the crowd an old Scottish funeral custom in which a death in not viewed as a time for sorrow, but rather, a time celebrate the deceased's life.
"I think Tom would have wanted us to celebrate in that way and the monument that we build in his memory shall be in how we live our lives — with optimism, kindness and humanity."
Notable members of the community present included University President Tony Frank.
"Tom and Jean were both Founders Day medal recipients for the university and that's one of the highest awards we give recognizing contributions that are symbolic of the founders of the university and the land grant mission," Frank said. "Tom's connection to his students and the role he played in the community and just the courage and grace he showed with his life in trying circumstances I think all of those are why he received that and that's why we're all here to remember him today."
Karl Brown, Sutherland's Duty Piper, played bagpipes along The Northern Colorado Caledonia Pipe Band in the Sutherland Community Garden following the service.
To share condolences, visit Sutherland's obituary page.
Collegian Reporter Tatiana Talesnick-Parafiniuk can be reached online at news@collegian.com or on Twitter @tatianasophiapt.