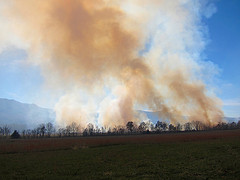 The Beaver Creek Forest Fire issued a mandatory evacuation on June 21 and is expected to be fully contained by the end of August. The Beaver Creek Fire, burning just south of Wyoming, is the latest of Colorado's summer wildfires. On June 16, two wildfires started just west of Fort Collins, one in Lory State Park and another in the Bobcat Ridge Natural Area.
According to Rich Homann, product manager for Cooperative Fire Programs at Colorado State Forest Service, wildfires in Colorado will not be slowing down any time soon.
"The trend is, over the last two decades that we are seeing more acres burned," Homann said. "(This is) partially because of the condition of the forests. They are denser than (they) historically (have been)."
Fires depend on three conditions to start: a fuel source such as wood or grass, an ignition such as a spark or lightning and proper weather conditions. Starting in the spring, weather conditions are monitored and trends are compared with historical to find patterns that may exist. Organizations such as the Rocky Mountain Area Coordination Center monitor temperature, wind, precipitation and lightning potential to prepare for potential fires.
Fire prediction is influenced by a large number of factors.
In larger acres, conditions such as dead wood, beetle infestation and denser forests are prominent factors of ignition, which make these areas highly dangerous.
"We are seeing a change in the general weather, and we have more people in Colorado than two decades ago which increases the chance of starting a fire."
Though the traffic into Colorado's natural areas increase the chances of fires, it hasn't yet increased the number. While more acres are burned in individual fires than previously, the number of incidents have remained roughly consistent over the last few years, Homann said.
According to The United States National Park Service, humans are the leading cause of wildfires. Wildfires can start from leftover campfires, cars parked on dry grass or faulty equipment that sparks. Making sure all equipment is in operating condition can be vital to preventing a fire.
"It's important to remind folks to observe any fire restrictions in place, and to know how to put out a campfire,"  said Chris Barth, public information officer for RMACC. "Be cautious with all ignitable materials."
Reminding people to be mindful of potential dangers can reduce the threats of fire, Barth said.
While evacuation has ensured civilians will remain safe from the Beaver Creek Fire, fire expectancy for the summer so far is average.
"Everyone that enjoys playing and working in the outdoors has a responsibility to take care of the outdoors," Homann said. "Being responsible with fire is one way to do that."Collegian Reporter Tony Villalobos May can be reached at news@collegian.com or on Twitter @TonytheGnarly.