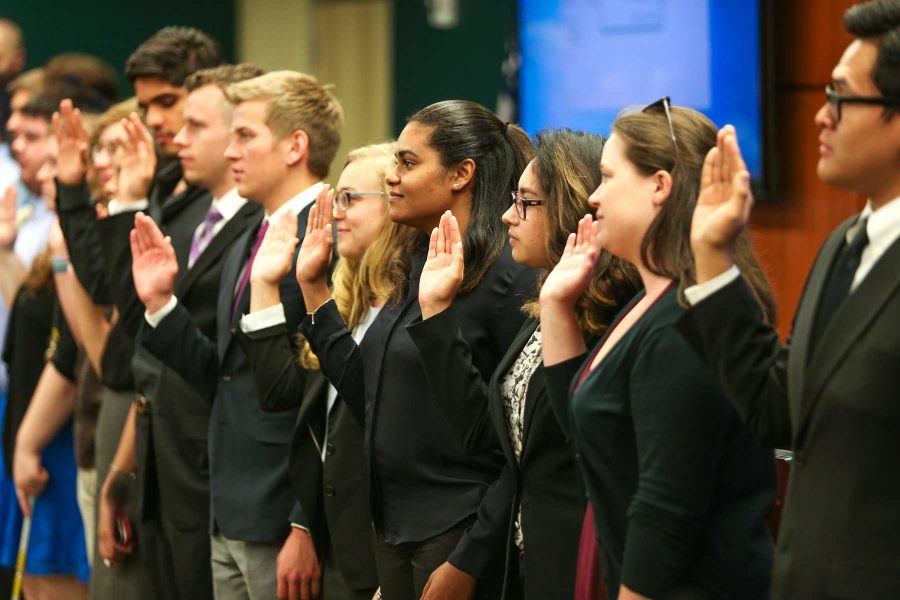 The last session of the 45th senate for the Associated Students of Colorado State University signaled the first session of the 46th senate on May 4.
"Institutions mean more than any of us," were President Jason Sydoriak's parting words as he passed the sword, a tradition for presidents to pass to their successors, to the incoming administration under the leadership of 2016-2017 President Daniela Pineda Soracá and Vice President Mike Lensky.
"The knowledge that he (Sydoriak) leaves us with is just as valuable to the student body in the coming year as the knowledge I have," Pineda Soracá said as she received the sword.
The new senate also saw the promotion of some representatives to more senior positions within the organization. Edward Kendall, previously the director of community affairs, was voted Speaker Pro Tempore, where he enjoyed the support from senators such as Duane Hansen who described his work as, "a notch above anything I've ever seen."
The 45th senate's final act of legislation was to vote in favor of Bill 4518 on May 4. The policy seeks to enforce CSU's Environmentally Preferable Purchasing Policy within ASCSU, which calls for employees of ASCSU to assess the cost and environmental impact of products before being purchased.
2016-2017 Student Representatives:
Senate Senior Leadership:
Speaker pro Tempore – Edward KendallParliamentarian – Zachary VaishampayanSenate Outreach –  Isabel BrownSenate Membership – Lawrence Horowitz
Executive
Chief of Staff – Emily FrickeDeputy Chief of Staff – Christina Vessa
Marketing
Graphic Design – Laura Morrison PibelAmbassador – Veronica Baas (To be ratified in the fall)
Finance
Director – Michael WellsController – Josh Silva
State and Local Policy
Office of Community Affairs – Pranaya SatheOffice of Governmental Affairs – Josh Williams
University Affairs
Director – Kevin WaidaDeputy (Graduate) – Ali Abbas
Academics
Director – Tyler SiriAmbassador – Stephanie Yasa
Environmental Affairs
Director – Hanna JohnsonDeputy – Nogah Seidemann
Health
Director – Spencer NolanDeputy – Angelica Wright
Traditions and Programs
Director – Bobbie NathanDeputy – Alexis Svenson
Diversity and Inclusion
Director – Marco DurazoDeputy – Erin VargasAmbassador – Dana Henderson (To be ratified in the fall)
Outreach
Director – Nicholas BohnDeputy – Nathan Rhine
Collegian reporter Gabriel Go can be reached at news@collegian.com.