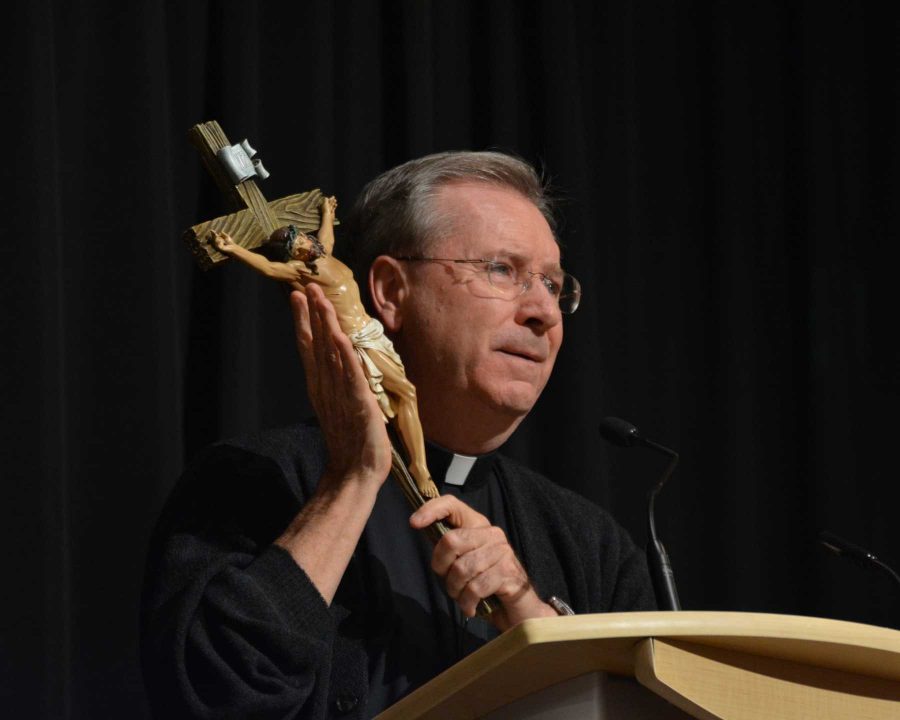 Crowds lined the Lory Student Center Grand Ballroom walls Monday night to hear a speech on modern exorcisms from a priest who a decade earlier received Vatican-sponsored exorcist training.
Father Gary Thomas, whose exorcism coursework supplied the narrative basis for the book "The Rite: The Making of a Modern Exorcist," and the subsequent 2011 film adaption "The Rite," spoke to a packed house on the experiences that followed his training.
A 2004 mandate from Pope John Paul II ordered that bishops worldwide select a priest to receive exorcism training. From his diocese in San Jose, CA, Father Thomas volunteered to take on the task.
He worked for three months under a master exorcist in Rome and observed close to 80 exorcisms.
"The church institutionally has been doing exorcisms throughout the entirety of its lifespan, " said Thomas, a priest of 32 years, during his talk. "It wasn't until 1614 that the authorized ritual that most people have any sense of—largely because of Hollywood—was developed."
The most likely reason for its development was in order to standardize a pastoral practice that had been going on for centuries, according to Thomas.
Thomas considers his occupation's main function to be that of a healer.
"Any person who approaches an exorcist is coming with an issue involving some form of suffering. My role, as the exorcist for my diocese, is to get to the root cause of the suffering, whether it is demonic, or medical, or psychological, or psychiatric or something other. My role is to get to the root cause," Thomas said.
The Aggiornamento Institute, an arm of Ram Catholic, presented "The Ministry of Exorcisms" talk. Leanne Tracy, director of Aggiornamento Institute, said the group aims at bringing a more scholarly lens to the study of Catholicism.
"We focus on bringing intellectual, moral and theological speakers that speak and give a more tangible approach to the tenants of Catholicism and the background of Catholicism, but giving it through the lens that students and faculty can grasp onto and understand," Tracy said.
Biomedical Science grad student and Ram Catholic member Michael Klausner was one of the many in attendance for Monday's talk.
"I study science, so, all the time I'm just looking a different scientific realities of how the body works," Klausner said. "For me, this is an opportunity to really listen to somebody who's a professional; an expert in part of reality we aren't always aware of but which does exist."
Collegian Reporter Diego Felix can be reached at news@collegian.com or on Twitter at @FMTOturntablist.