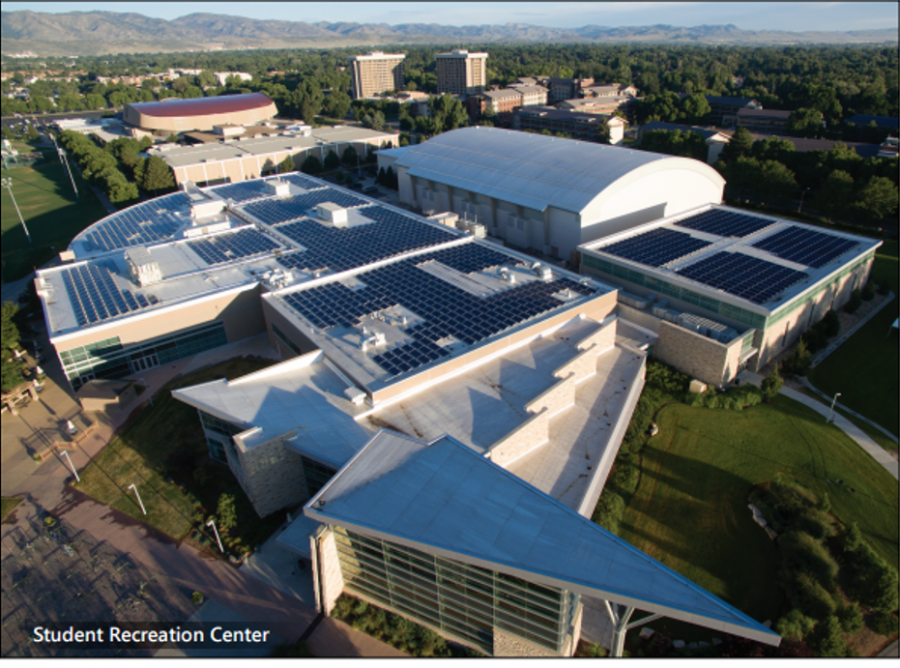 With roughly 30,000 students and 7,000 faculty and staff, the Colorado State University campus is much more populated than quite a few Colorado cities, including Golden, Steamboat Springs and Estes Park.
As a small city in itself, the CSU community has made strides over the years in its quest to create a healthy, safe and sustainable campus environment. 
CSU's leadership in research into alternative energy solutions dates to the 1960s, but it wasn't until the last two decades that the school began widespread environmental initiatives. Earth Week 2016, which lasts from April 18 to 22, lends an occasion to look back on CSU's advancements. 
According to Sheela Backen, Operations Manager for Facilities Management, nearly everything went to landfill as late as 1990. During that time, less than 50 cubic yards of cans were collected for recycling a year, which is less than two full trash trucks.
Facilities began a recycling pilot program in 1995 with a $26 thousand grant from the Colorado Office of Energy and Conservation, establishing a program called Recycle Colorado State. According to Backen, this program helped to cut the roughly 200 dumpsters on campus used for trash collection in half. 
Additionally, Backen said that back in the '90s she began her own pilot composting program in her office. With one small bin, she aimed to prove that collecting compostable material indoors carries no odor if it is correctly taken care of. 
"Nobody knew it was there for the longest time," Backen said.
Though the next easily-distinguishable sustainability initiative on campus didn't appear until after the turn of the century, Facilities was working in the intervening time on various energy efficiency projects, said Carol Dollard, a utility engineer who has worked at the school since 1999.
"We've been doing energy efficiency for a long time, in terms of … more efficient lights, more efficient motors, more efficient heating systems," Dollard said. "For a lot of years that was our focus, without the focus on renewables."
In 2006, the renovation to Guggenheim Hall became not only the first CSU building, but the first university building in the country, to obtain the U.S. Green Building Council's LEED Silver Certification for Commercial Interiors. It was followed in 2007 by the CSU Transit Center, which earned LEED Gold for new construction. 
The CSU School of Global Environmental Sustainability, an umbrella organization that encompasses the research and education about economic, societal and environmental issues of sustainability, was founded in 2008. 
The solar array that can be seen on top of the Engineering Building was the first solar installation on campus, and was built in 2009. Since then, CSU's solar capacity has grown from a capacity of 18.9 kilowatts to roughly 6700 kW, provided by its current 15 photovoltaics installations. CSU has the fifth largest solar capacity of any university, according to the Association for the Advancement of Sustainability in Higher Education.
In 2015, CSU became the first institution in the world to earn a STARS Platinum rating from AASHE. According to CSU's 'State of Sustainability' website, the STARS system is the most well-respected sustainability assessment in academia with over 700 institutions participating on six continents. 
The Pavilion at Laurel Village also became the first LEED Platinum-certified building at CSU in 2015.
Just one quarter of the STARS points come from operations-related technology, Dollard said. These things include solar arrays, the Foothills Campus biomass burner and other technologies. STARS also gives points for affordability, accessibility and social justice considerations. The percentage of campus buildings that are LEED certified is also taken into account.
CSU additionally has a higher STARS score than the University of Colorado Boulder, Dollard said, and CSU is still the only school to have received a STARS Platinum rating.
According to Stacey Baumgarn of Facilities Management, the efforts of students, faculty and staff all over campus have been instrumental in the campus' earnings of sustainability awards and accolades.
"We've been able to achieve such great success because so many people are making these grassroots efforts in their building, in their department, in their college," Baumgarn said. "It's kind of in the nature of what they do and who they are."
Collegian Reporter Julia Rentsch can be reached at news@collegian.com or on Twitter at @julia_rentsch.