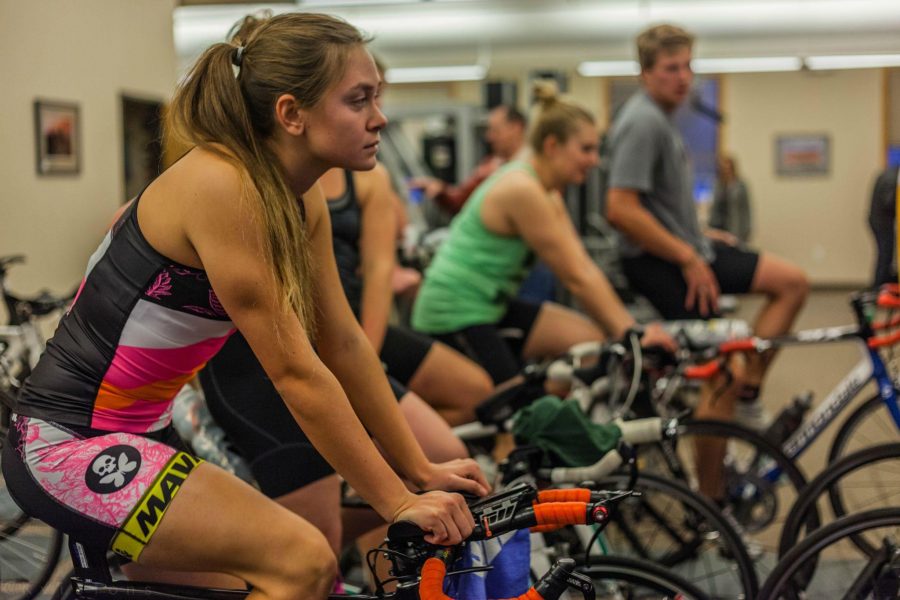 Mastering a single sport is an accomplishment in itself. Mastering running, swimming and biking, three difficult sports combined, is no easy task. Triathletes practice and train in all three of these sports on a daily basis.
Red Bull professional triathlete Angela Naeth, is no stranger to the difficult sport. She has just recently been crowned the North American Ironman Champion, which enables her to compete in the Ironman World Championships. Naeth has been training for seven years and completed her first triathlon in 2007.
"I've always wanted to do triathlon but kind of put it on the back-burner, so finally after college ended, I worked for a few years as a physical therapist, but I wanted to challenge myself even further," Naeth said. "I still had this deep desire to race and train."
Naeth came to Colorado State University March 3 to teach and train with CSU's Triathlon Team. She also hosted multiple Q&A and informational sessions where she talked about her experience and knowledge as a professional triathlete. Naeth pushed the triathlon team by practicing with them during their biking and swimming workouts. She also set an example of how hard and long she trains as a professional. 
"I'm hoping I could leave with giving them a little bit of tips and tricks that they could take with them to their races, because for me it's really about trying to find an advantage that would help me in my triathlon," Naeth said. "I want to also inspire them to think ahead about the possibilities after university. They have a great coach and a team around them, and they're already traveling to training camps when they're in college, and they are just so much younger than I was when I did those things."
Laura Schreck, junior sports medicine and biomedical science student, has been on the CSU triathlon team for three years, and is their current president.
"I think that it's just so cool to see someone who dedicates their whole life to this sport," Schreck said. "Training just on top of school is hard and I can't even imagine just having that be your life. Seeing someone who took that leap and put all of themselves in it is incredible."
Schreck said she joined the triathlon team in order to surround herself in a community that will push her further physically and mentally.
"I love being active and at first I tried to work out on my own coming into college, but it's hard to get yourself to do it and push yourself, so I knew I needed to be around other people to push me," Schreck said.
Naeth also said the triathlon community is one aspect that she loves about the sport and why she continues to practice triathlon.
"It's such a great community — you would be racing in the same course as professionals as well as beginners, and it is just such a huge community," Naeth said. "Everyone is friendly and supportive and it is just so addicting because there are so many groups in different towns and cities, and when you get to go to the races it's just inspiring – you get to see so many avenues of life trying to challenge themselves in one race."
Naeth said that meeting her coach in California inspired her to officially go pro in the triathlon.
"I went to a training camp for a week just to get away from the winter and my coach was the one who inspired me," Naeth said. "He told me that he's seen a lot of cyclists and triathletes, and he said to me, 'You have talent.' He pushed me into it and I eventually got my pro card from the next race after that."
During the Q&A sessions, Naeth gave advice for current triathletes who are thinking about or on the path towards going pro.
"The biggest thing is consistency and, within that framework, to not think too far ahead and just think about what you can accomplish within the next few months," Naeth said. "You really have to break down those goals and if you have a solid coach or program where someone is helping to overlook a three to five year process, then that is quite helpful."
Steve Mantell, a civil engineering graduate at CSU, has been on the triathlon team for five years and is currently training to go pro. Mantell first started out playing hockey, but it was not the team or environment he was looking for.
"My sister said I should try out for triathlon, so I did and had no idea I would enjoy it this much," Mantell said. "Going pro is a steady progression and I had a lot of help along the way. My motivation is to be competitive and to see what I can do. It's a great opportunity to travel and to get the most out of yourself."
Collegian News Reporter Amanda Thompson can be reached at news@collegian.com or on Twitter @amanduhh3003.