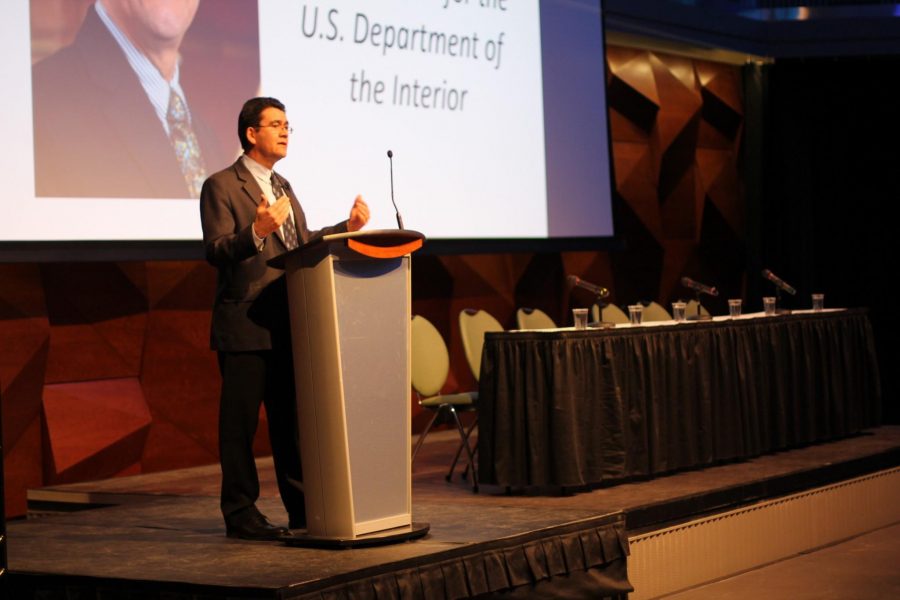 "Whiskey is for drinking, water is for fighting" is a phrase that U.S. Deputy Secretary of the Interior Mike Connor despises.
Addressing a half-full Lory Student Center theatre, Connor, who has served the public sector as federal offical for over 20 years, outlined strategies to combat water management and sustainability issues in the American West as part of the inaugural Dr. Norm Edwards Endowed Lecture Series.
Co-sponsoring the event were the Colorado Water Institute, the CSU Water Center and part of CSU's Office of Engagement.
As the keynote speaker for Wednesday evening, Connor prescribed collaboration as the primary antidote to water conservation issues in the next century.
"To keep pace with increasingly complex challenges, we at the federal level also need to govern more effectively in bringing parties together in developing innovative solutions that will stand the test of time," Connor said. "Sharing authority—that's the model we've been moving toward over time."
Before securing his current position in 2014, Connor had operated as commissioner of the U.S. Bureau of Reclamation since 2009 where he who was responsible for improving hydropower-generation facilities and fostering Indian water rights settlements.
In 2012, Connor, who has been called "the most important water manager in the western U.S.," helped in modifying a 1944 Mexico-U.S. water relations treaty in response to ongoing climate changes, in which both nations agreed to share water surpluses and shortages from the Colorado River.
Connor's hour-long speech was followed by a Q&A session with a panel of CSU faculty and grad students. Among those on the panel was Stephanie Kampf, associate professor of ecosystem science and sustainability.
"There are new approaches that government agencies are having to take to deal with modern challenges," Kampf said. "Especially that collaborative approach across watersheds that involves different states and entities interacting with each other."
Kampf said that Coloradans should be concerned about changes in snow pack and how urban sprawl across the front range will impact the region's water usage.
Also on the panel was Kelsea Macilroy, a doctoral candidate in sociology studying agricultural water conservation in the Colorado River Basin.
"The future of the water in the west is about that willingness to collaborate," Macilroy said. "Really, when we think about water in the west, it's not a future of fighting but a future of working together and having those conversations."
Connor said the public should keep an optimistic outlook in moving forward concerning the handling of water management issues.
"One cannot be pessimistic about the west," Connor said, quoting from Wallace Stegner's 1969 book, "Sound of Mountain Water." "When it fully learns that cooperation, not rugged individualism, is the quality that most characterizes and preserves it…then it has a chance to create a society to match its scenery."
Collegian Reporter Diego Felix can be reached at news@collegian.com or via Twitter at @FMTLturntablist.