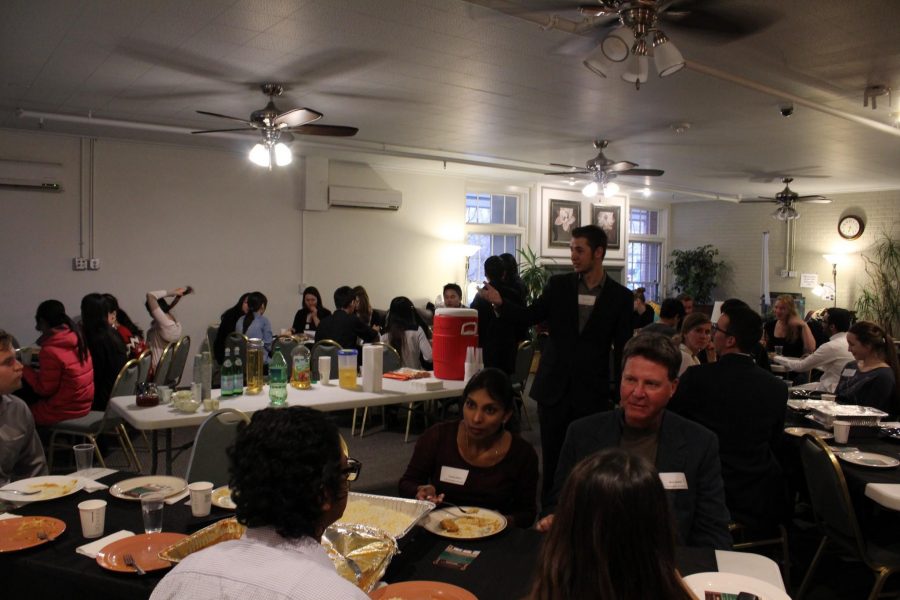 A combination of 50 students and faculty members attended the Global Business Network's fourth annual Cultural Food Festival in Rockwell North Wednesday evening, which featured five different stations of food from different countries provided by local restaurants. 
The event aimed to give students the opportunity to make connections with others they otherwise would not have by sharing a meal consisting of a wide variety of foods. 
"The purpose of the event is to get people together and mingling and talking in a non-stressful, safe environment," said Satchel Coburn, domestic co-executive officer of the GBN and third year finance student. "We've seen that people from different countries tend to group together, and we aren't learning as much as we could."
A CSU student with knowledge of the food from each country was present at each station to teach the attendees about the culture surrounding the dish as well as table manners, cooking techniques and to answer any questions that the guests may have had. 
Among the five presenters was Athith Amaranth, an electrical engineering graduate student who came to CSU from India Fall 2015.
Amaranth heard about the festival through the Office of International Programs and was asked if he would be interested in presenting the Indian food station. As a self proclaimed "foodie", he jumped at the opportunity.
"I am a networking guy," Amaranth said. "This event is a cool way to introduce people to each other." 
Audrey Norvell, a third year business student, has attended the event every year for the last three years. 
"It's interesting how they can combine learning about different cultures by learning about that culture's relationship with food," Norvell said.
The is the biggest event that the Global Business Network hosts, and Coburn said he hopes that this event is around for a long time. 
"We are hoping to gain more a presence in the college of business so that international students and domestic students can keep talking and learning."
For more information on the Global Business Network, visit their website, Facebook page or send them an email. 
Collegian reporter Colton Strickler can be reached at news@collegian.com or via Twitter @coltonstrickler