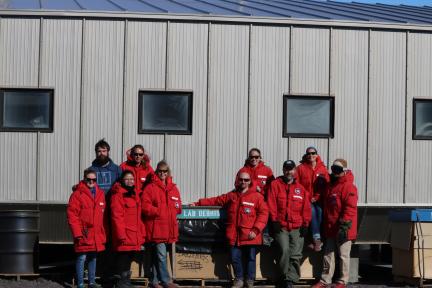 For a group of researchers from Colorado State University, traveling to the southernmost part of the Earth to study soil was one way to begin 2016.
Some are still returning from their trip to Antarctica after leaving the U.S. at the beginning of January, according to the group's blog.
Soil Ecologist and Environmental Scientist Dr. Diana Wall spent more than 25 seasons in the Antarctic dry valleys examining how global changes impact soil biodiversity, ecosystem processes and ecosystem services. Wall is a professor at CSU, and she was a member of the team that went to Antarctica in January.
Antarctica may seem like an unusual place to study soil, but Ashley Shaw, a PhD student in the Department of Biology, explained the reasons behind traveling to the cold continent to study the unique soil found there.
"It is the coldest and driest continent — the number of life forms that can survive here is very limited," Shaw wrote on the group's blog. "This means that we are actually able to study all the major players and their interactions in the soil here."
According to Shaw, it is difficult to study soil in other places around the world because of the species that live in and take advantage of the soil, its nutrients, and the water it carries.
The team spent much of their time gathering soil samples from the time they arrived to the time they departed, according to the group's blog.
"From the time we arrive in Antarctica to the time we depart, we hurry around working to obtain our samples, get them processed, collect good data, and get the samples prepared for shipping home," Shaw wrote. "Then it's packing, cleaning, and rushing to get on a plane. The whole month is a whirlwind of science. It's a blast, but it's also exhausting."
Collegian Reporter Megan Fischer can be reached at news@collegian.com or via Twitter @MegFischer04.