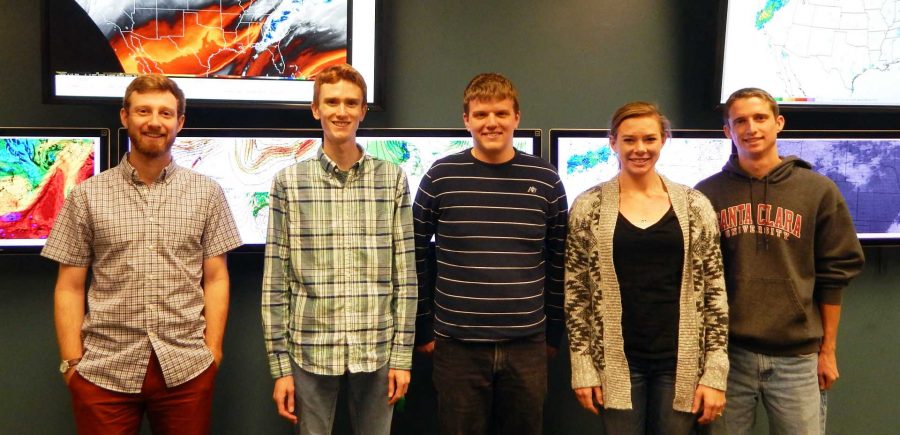 The American Meteorological Society awards fellowships to nine graduate students throughout the United States, and this semester, five of the students are from Colorado State University.
Jakob Lindaas, Samuel Childs, Karly Reimel, Sean Freeman and Rick Schulte were awarded fellowships through AMS for their graduate studies in atmospheric sciences. 
Fellowships allow first year graduate students to focus on their studies instead of getting jobs to support themselves through their schooling.
"The way that this fellowship works is that it's geared towards taking classes the first year of grad school, which is what the atmospheric department promotes … you do a ton of classes your first year, and then you get into your research the next year, so the next summer," Childs said.
Along with the fellowship, the award-winners are invited to attend the AMS conference, described as the world's largest gathering focused on atmospheric sciences. 
"I'm honored to get this fellowship, especially from the American Meteorological Society, because I've been to two of their conferences and I've been a member for four years now," Freeman said. 
Each student works closely with a faculty member and a support research group. Each aid the student in completing their research project. 
"I am so happy that Jakob received this fellowship, and I am not surprised at all because he so far turns out to be an excellent student," said Dr. Emily Fischer, who is working Lindaas while he studies air quality in the front range. "I'm excited to see what analysis comes out of the data that we recently collected in the front range regarding the air quality of our region." 
Fellowships do not come directly from the AMS, but instead are funded through large corporations. The corporations range from prominent companies like NASA to the Lockheed Martin Corporation, which Reimel is working with to track severe storms.
"I am trying to get an overall view of how lightning and satellite relate to severe storms because eventually the global lightning mapper is going to be going up on the GOES-R Satellite," Reimel said. "Lockheed Martin is actually the company that is putting up and building the satellite which ties in perfectly with my research, because that was already what I was planning on doing before getting this fellowship."
Most of the five students from CSU came straight to graduate school after receiving their undergraduate degree, and will continue to get their doctorate degree after graduate school. The students said they felt honored to have received these fellowships out of the thousands of people who applied throughout the country.
"It's a testament to the ongoing excellence of the atmospheric science program here. The fact that all five of us decided to come here is definitely a reflection on the program itself," Lindaas said. 
Collegian Reporter Savannah Hoag can be reached at news@collegian.com or via Twitter @sav_hoag.