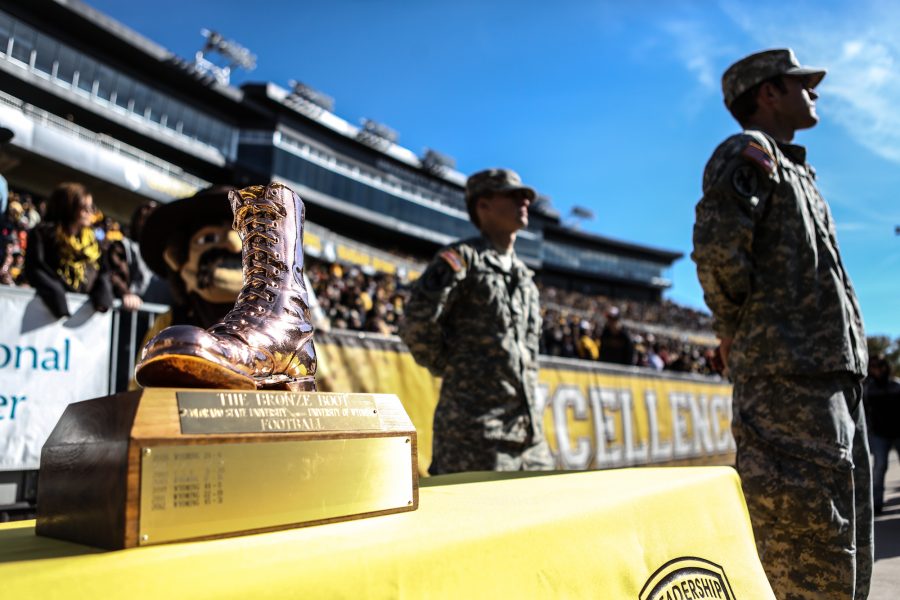 Dylan Langille
Saturday, the Colorado State Football team faces University of Wyoming in what is famously known has the Border War. The game is set to kick off at 1 p.m. at War Memorial Stadium in Laramie, Wyoming, but the quest for victory begins over 24 hours prior to game time with Bronze Boot Run.
The run, which started in 1968, brings together the ROTC Army branches at both schools and delivers the game ball to the home team.
Maj. Vic Fernandez started the tradition in honor of Army War Veteran Captain Dan Romero, who served in the Vietnam war. The bronze boot, which is Romero's boot from war, serves as a symbol of pride and honor to the Battalions at CSU and Wyoming.
This year's Bronze Boot Run starts with an early morning ceremony at Hughes Stadium, where CAM the Ram is expected to be in attendance. Following the ceremony, 36 CSU ROTC Army Cadets will make the 38-mile trip from Hughes to the Colorado-Wyoming border.
The cadets run in shifts following behind Colorado State Patrol. Each cadet runs two miles, one holding the game ball and one running beside it. When not running, the cadets ride in vans accompanying the runners. At the border, a blank cannon is shot and the game ball is passed. There, CAM will make his second appearance of the day along with Cowboy Joe, the University of Wyoming's pony.
After the passing off the ball, Wyoming's army battalion will finish the run by carrying it 29 miles to Laramie.
"It's good to be a part of such a long tradition," said CSU Lt. Col. James Blanton.
The winner of the Border War game determines which battalion will earn possession of the Bronze Boot. CSU won last year's game and had the honor of housing the Bronze Boot. CSU ROTC is hopeful that the boot will remain in their possession for another year.
"We're going to keep the boot for the year," said Liam Huber, sophomore cadet and first-time participant in the Bronze Boot Run.
As the two largest Army battalions in the area, CSU and Wyoming enjoy some friendly competition.
"I think it's awesome," said fourth-year cadet Kendal Peter. "But, unlike our rivalry with CU, its not a negative rivalry. It's a gentleman's rivalry."
Last year, Peter had the opportunity to travel to the border with the Ram Handlers, but this year, like Huber, will be his first time running.
Second-year cadet Ted Thatcher is looking forward to carrying on the tradition.
"It's a great tradition that has been going on longer than I've been alive, and I want to carry that tradition on and inspire younger cadets to follow our footsteps," Thatcher said.
Collegian Reporter Nicole Towne can be reached at news@collegian.com or via Twitter @nicole_towne21.