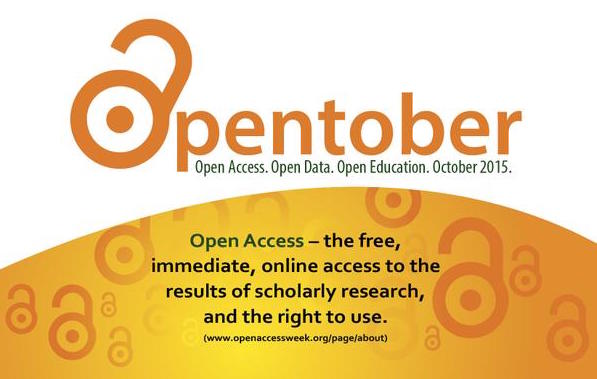 Colorado State University's Morgan Library is celebrating the Open Access movement with Opentober, a month devoted to accessibility.
"Journal articles cost a lot of money, and there are a lot of people in different countries that cannot afford to purchase that," said Meg Brown-Sica, assistant dean of scholarly communications and collection development. "There are thousands of scientists around the world who are trying to cure diseases, provide health care, change people's lives and improve education, and they don't have access to the research in the articles."
Events will be held at Morgan Library during the month for open access and the open movement in higher education.
"Open access encourages the free availability of online literature, including research articles, with the rights for all to use these articles to promote research, benefit innovation, discovery, education, and share information in the belief that openly sharing the results of research helps research advance," according to a CSU release.
CSU students have access to many scholarly journals and articles because Morgan Library purchases them with their collections budget.
"An important thing to appreciate is that at some point they will probably leave the University, and they won't have the access to the journals they do now," said Merinda McLure, an associate professor and the health and human sciences librarian.
Open access extends far beyond the university setting, according to McLure. Open access will be an issue and a hurdle in many professions.
"Open access has the power to help them be more effective professionals in whatever area of work they go on to because they will be able to access research that is relevant to their work freely and openly," McLure said. 
Activities for Open Access Month
All events will occur in Morgan Library. Event descriptions courtesy of SOURCE.
Author Rights Forum: Oct. 13, 2-3 p.m.
To understand rights as a creator or author when negotiating with publishers and reaching the widest possible distribution of your work, attend an open forum presented by Linda Schutjer, CSU legal counsel in the Morgan Library Event Hall.
Open Textbooks: Oct. 20, 3-4:30 p.m.
An opportunity for instructors and students to learn from national experts about Open Textbooks and how their adoption by faculty and instructors can lower textbook costs for students. Nicole Allen, director of open education for the Scholarly Publishing and Academic Resources Coalition, and David Wiley, education fellow at Creative Commons and chief academic officer of Lumen Learning, will present in the Morgan Library Event Hall.
Movie Night: Creature Feature Double Feature: Oct. 29, 4:30 to 7:30 p.m.
The first feature is the 1962 science-fiction/horror film, The Brain That Wouldn't Die. It will be followed at 6 p.m. by the 1959 science-fiction film, Teenagers from Outer Space. Both films are in the public domain and free for anyone to access.
 Collegian Reporter Megan Fischer can be reached at news@collegian.com or Twitter
@MegFischer04
.