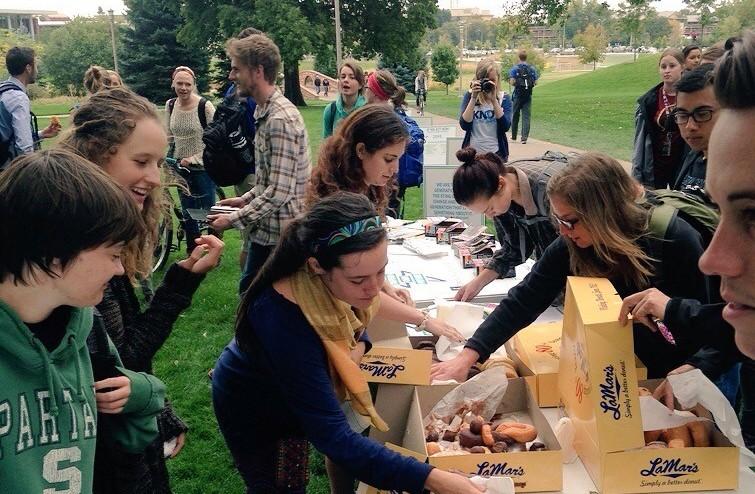 The Know Tomorrow campaign held an event near the lagoon this afternoon to get signatures for its petition to end climate change.
The goal of the petition is to get 50,000 signatures from students from across the nation. The signatures will be sent to President Barack Obama before he goes to Paris for the 2015 United Nations Climate Change Conference.
The campaign hopes to gain at least 5,000 signatures from students at Colorado State University.
"CSU is in the top 10 most important schools in the nation as seen by The Climate Reality Project," said Marissa Bramlett, who is working with the Climate Reality Project, which supports the Know Tomorrow campaign.
The petition currently has about 2,200 signatures from CSU students, according to Bramlett.
"This is very exciting because we have the rest of the semester to reach 5,000," Bramlett said. 
The campaign is aimed specifically toward millennials to increase awareness of climate change. The Know Tomorrow campaign held similar events at 60 other schools around the nation Friday.
"It is all to get the attention of world leaders because those negotiations (at the conference) are going to be talking about reducing green house gas emissions," said Madelyn Royal, an intern for The Climate Reality Project and an ecosystem science and sustainability sophomore.
More than 190 nations will gather to discuss what will happen when the current commitments on greenhouse gas emissions run out in 2020. The decision will determine the next decade of actions by the UN on greenhouse gases, according to The Guardian.
The event Friday included raffle ticket prizes donated by local businesses, posters for sharing photos on social media and free donuts for signing the petition.
"We are just trying to get our generation's voices heard," said Royal.
Collegian Sustainability Beat Reporter Erin Douglas can be reached at news@collegian.com or on Twitter @erinmdouglas23.