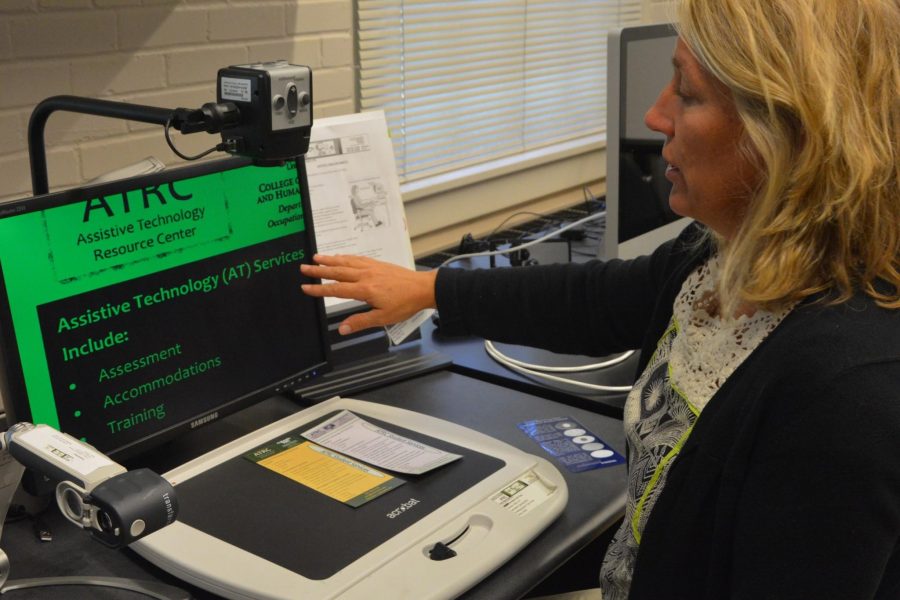 Approximately 2,000 of Colorado State University's 30,000 students are earning their degree with a disability. These students face the inherent grind of student life, with the additional weight of managing their own disability. 
As a public university, CSU attempts to allow everyone access to higher education, and has instituted several inclusive policies to ensure that a person's disability, visible or not, does not stand in the way of their education.
Often, accessibility can mean alterations in areas that are not immediately obvious, like fire alarms or the Ram Events yearly student concert. The system is not perfect, though, and some students find there are areas where their particular needs slip through the cracks. 
In class 
Many disabled students feel the main roadblock to their education can be the instructors, according to Joe Tiner, a senior studying journalism and a student staff member at Resources for Disabled Students.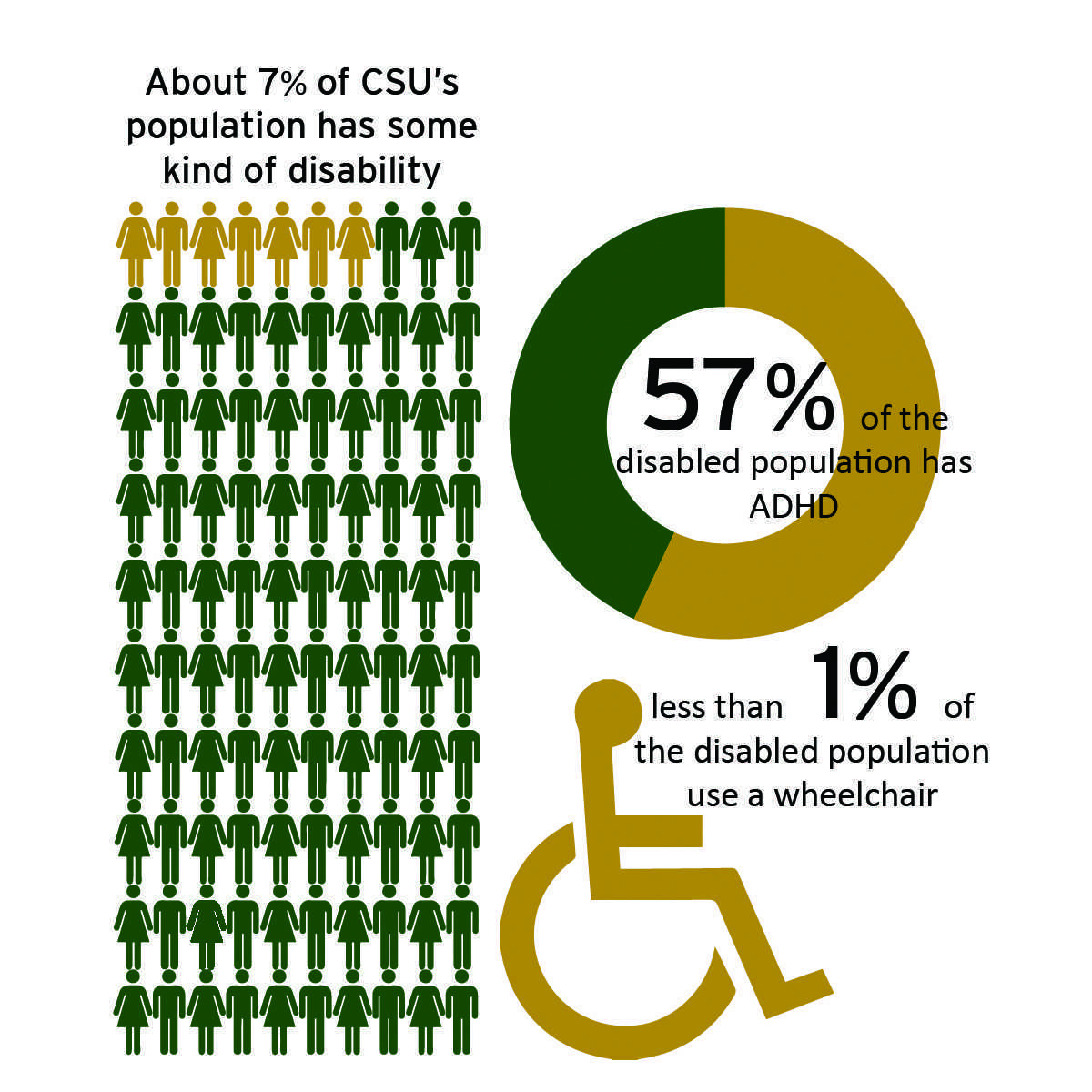 "We have students who have professors who aren't willing to be accommodating to them," Tiner said. "That's something we run into all the time (at RDS)."
Issues range from instructors who are unwilling to accommodate students they do not consider disabled (often students with testing anxiety) to a simple lack of respect for privacy. Tiner said he had personal experience with the latter. 
"I am very comfortable with my disability personally, but I've had professors call me out in front of the whole class to discuss it," Tiner said. "That definitely makes me uncomfortable."  
Tiner explained his personal struggles as a student with a visual impairment often involve professors who are not unwilling to accommodate, but whose teaching style does not include notes or PowerPoint presentations. 
"I usually ask professors to email me a copy of the slides or even a lecture outline that I can go over on my own to make sure I didn't miss anything, but if they don't use slides, that's not really something we can ask them to change," Tiner said. 
Students with disabilities ranging from blindness to test anxiety are welcome to seek assistance through the RDS office on campus. Tiner said he thinks CSU's resource programs, including RDS, are unique in the scope of issues they are willing to accommodate.
"We're very open and welcoming to everyone, and we have a broad range of what we consider disability," Tiner said. "If you're having trouble, we'll try to help you."
Donalyn Kliewer, director of interpreting services at CSU, works with RDS to connect hearing-impaired students with sign-language interpreters, in-class interpreters and peer note-takers. Students can opt for anonymity, and choose to sit apart from note-takers during classes. 
"Once a semester, we host a support group," Kliewer said. "You can't just go out on campus and say to someone, 'Hey, you have a hearing impairment. Let's talk about our lives.' So for many of these students, it may be their first time connecting with someone with similar experience."
Online, CSU's PACe math courses have received some criticism.
Terry Schlicting, RDS accommodation and advocacy specialist, said the program is often incompatible with screen-readers, a device used by visually impaired students that speaks the images on a computer screen out loud. 
"This is a large University, and more than half of the student body needs to take the PACe program for math," Schlicting said, "It's designed for the general population, not for the few students who may have visual impairments."
Tiner knew of a student who was unable to take a placement exam because of a screen-reader incompatibility.
"She ended up having someone read the problems aloud to her in a separate room," Tiner said, "It worked out, but it was kind of a 'Band-Aid' fix." 
RDS, Assistive Technology and the PACe program have recently been in collaboration to address accessibility in the PACe format. 
On campus  
CSU's well-known blue light phones are stationed around campus in case of emergencies, but the phones have a lesser-known feature: simply removing a phone from its cradle will send an officer to the scene, even if the caller remains silent, according to Kliewer.
"A student doesn't have to hear or even speak to get help, and that's important," Kliewer said. 
Kliewer explained that RDS interpreting services also extend into recreation and entertainment, often in collaboration with Ram Events.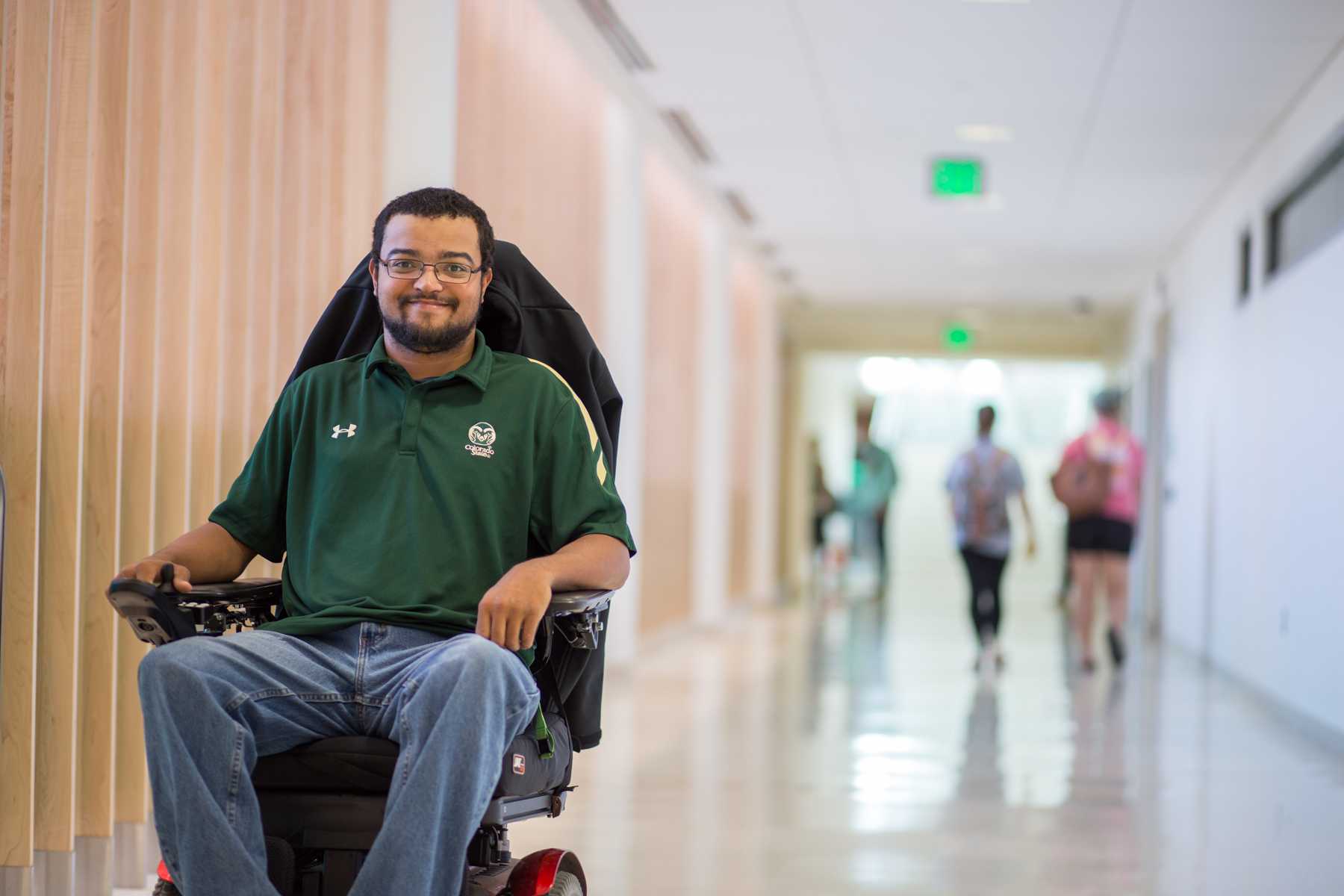 "We had an interpreter at the Lee Brice concert," Kliewer said. "If there's a big event, Ram Events almost always calls to request an interpreter." 
Schlicting said students with mobility issues are likely to face more and more challenges as CSU transitions to a walking campus, and as the University continues with construction projects. 
"It keeps getting more and more difficult for everyone to navigate and park, and it is especially difficult for students who can only get to campus in their accessible vans," Schlicting said. 
Schlicting acknowledged a potential benefit of a walking campus is reducing the cars on campus for physically disabled students to try and dodge, but he thinks the University is not ready.
"I understand the idea behind a walking campus, but I just don't think the infrastructure is there yet," Schlicting said. 
In the Morgan Library, there is a stash of technology that not every student can utilize. There are seven rooms of Assistive Technology, six of which are on the first floor, available only to students with a disability identified by RDS.
Marla Rolle, Director of the Assistive Technology Resource Center, said the rooms contain the most up-to-date assistive software and equipment like screen readers and refreshable braille devices, which display dynamic braille output corresponding to what is displayed on a computer screen. Instruction for use is provided by the Assistive Technology Resource Center. Rolle said the only barrier to students benefiting from the available technology is not knowing it exists. 
"Students need to know we're here to help," Rolle said. 
All of the laptops available for checkout at the library also have had assistive software installed, but for students seeking privacy, the seventh technology room is smaller and more isolated. 
When it comes to on-campus housing, disabled students are sent to John Malsam, director of Housing and Dining Services, who sees hundreds of students a year with varying disabilities. 
"We feel pretty fortunate that we've been thus far capable of meeting everyone's needs," Malsam said. 
Malsam said meeting those needs can range from air conditioning installation for students with severe asthma to adjustments to fire safety equipment.
"We can install a strobe light feature on fire alarms for hearing-impaired students," Malsam said. "For students with post-traumatic stress disorder or anxiety, maybe a single room is the best choice for them, so they have more control over their environment. We check in with students to determine their needs." 
Service and support animals are also permitted, if verified by RDS. Animals currently housed on campus include rats, rabbits, cats and dogs, but there are limitations on what Housing and Dining Services can allow. 
"The animal cannot be wild, dangerous, poisonous or run too great of a safety risk for the community," Malsam said. "It also must be housebroken or in a cage." 
According to Malsam, Housing and Dining tries to be as flexible as possible in accommodating service and support animals, though they have yet to receive any outlandish requests. 
"If a student had a horse, for example, we would need to be particularly creative in accommodating it," Malsam joked. "It couldn't exactly stay in the dorms." 
Despite rumors that any student can sneak in their family pet by paying a fee to certify them as a service animal, the only way a student can have an animal in the residence halls is with permission from RDS. Malsam cautioned against online support animals certifications, as they are often scam artists posing as psychiatrists and looking to make money. Malsam said he has seen students pay fees of $150 to print fake certification letters.  
By the numbers
RDS, the primary resource for disabled students, sees around 1,100 students a year who self-identify as disabled. According to Schlicting,  students with a learning disability, like ADHD, dominate the population at approximately 57 percent. 
"Mobility issues like being in a wheelchair, which is what many people think of when they think of disability, actually are a very small part of the (disabled) population," Schlicting. 
In fact, less than 1 percent of the students served by RDS are using a wheelchair. Other mobility issues make up less than 5 percent. The reality of disability type at RDS is a spectrum ranging from head injuries to PTSD to suspected disability seeking diagnosis. Students facing temporary disability from injury or illness are also welcome. 
According to Schlicting, students in the autism spectrum are the largest-growing disabled population at CSU. The growth is believed to be driven by the presence of animal sciences professor Temple Grandin, best-selling author and autism activist. 
Off campus
While accommodation is provided in the residence halls, Schlicting said students, especially those with mobility issues, have a hard time moving out of the residence halls while studying at CSU. Oftentimes difficulties arise because of something as simple as a lack of roll-in showers.
"Housing on campus (for those with disabilities) is fantastic, but students don't want to live in the dorms all four years, and when they go off-campus for housing, that's when they run into issues," Schlicting said. "CSU has an obligation to provide them (roll-in showers) because we're government-funded, but private developers do not." 
According to Schlicting, the issue is not that landlords want their apartments and condos to be inaccessible, it is that they are afraid of limiting their renters to only those in wheelchairs.
"I actually went to the housing fair and spoke with a lot of the landlords," Schlicting said. "Many of them told me they would install roll-in showers, at the renter's cost, and then when the renter leaves, they must pay to have the shower put back to its original state."
Schlicting, in a wheelchair himself, said as the Fort Collins Chair of Commission for Disability, he is working to change building codes to specifically accommodate wheelchairs. 
"What college student can afford several thousand dollars of modification?" Schlicting said. "I want to see one in 40 units with a roll-in shower, especially when they're building these huge housing complexes." 
Schlicting said he tries to avoid being accusatory when dealing with accommodation issues. 
"When you point the finger, you lose the teaching opportunity," Schlicting said. "Those are hard to come by. I try to be very diplomatic."
Larimer County as a whole has made recent strides in accommodation and safety by implementing a 9-1-1 texting program last year, only the second county in Colorado to do so. 
"Something as simple as that is going to make a world of difference (in accessibility)," Kliewer said. 
With peers  
Even without issues in housing or classroom accommodation, Tiner said interactions with peers can often be the most challenging.
"People don't know how to act around me," Tiner said. "They've never been around a blind person before, and there's just no education."
Tiner said he has faced not direct discrimination, but small slights by other students that others may not realize were hurtful. 
"My freshman year, a girl I knew was trying to get together a hall soccer team, and I asked if I could get a ball with a bell and participate," Tiner said, "She said she didn't like the idea. She thought the sound of a ball with a bell would be kind of annoying." 
Tiner said the slight showed a lack of awareness, rather than cruelty, and he thinks there are teaching opportunities the University is not taking advantage of.  He said he thinks disability could be a class similar to ethnic studies, and he would like to see an increase in programming in the dining halls.
"There will always be issues," Tiner said, "That's the nature of disability. But there's definitely room for improvement." 
"I don't think there's any training for Residence Assistants in this area," Tiner said. "So they don't know how to deal with students with disabilities, and there definitely are disabilities in the halls. It's not their fault, they've just never been taught." 
Tiner is president of the Abilities Club at CSU, a group focused on bringing awareness to disability and made up of both disabled and non-disabled members.  According to Tiner, the Abilities Club will be launching a campaign on campus to re-frame disabilities, including Plaza events and t-shirts that say, "This is what disability looks like," to spread awareness that not all disabilities are visible. 
Schlicting said students with less-visible disabilities may often face more discrimination from their peers, due to a lack of understanding. 
"For students on the autism spectrum, part of their disability can be a lack of social skills, and there can often be conflict because of it," Schlicting said. "Going straight to the disciplinary route, you can lose a learning opportunity about a unique set or circumstances."
Malsam added that it is important to avoid blanket solutions when it comes to disability. The nature of disability means variation from person to person. 
"Students are complex beings," Malsam said."It's never just, 'check this one box and we've got it covered.' There's more than one box to look at." 
Tiner agreed. 
"It's not just someone in a wheelchair, or a blind person," Tiner said, "Disability can be lots of different things."
Collegian Reporter Rachel Musselmann can be reached news@collegian.com and on Twitter @rmusselmann.