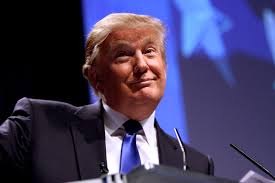 Some Colorado State University students think that Donald Trump is a serious political candidate, but few express support for him, according to interviews conducted on campus.
Nationally, Trump is still the Republican front-runner, followed by Carly Fiorina. Trump lost momentum after the most recent Republican debate Sept. 16. Fiorina was identified as the winner of the debate by 52 percent of Republicans who watched, according to a poll conducted by CNN. After an 8 percent point decrease from the debate, Trump holds 24 percent of the party's support.
"I do not support Donald Trump's candidacy because I think it is making American politics into a joke," said Paige Beaufort, a senior journalism and media communications student.
Some students interviewed considered Trump to be a serious presidential candidate, but most did not believe he will win the nomination.
"Some people believe that if he wins he will destroy our political system so that it can be rebuilt," said Michael Quinn, a mechanical engineering freshman. "There's also people on the extreme that agree with all of his views. So, I think he will get a weird amount of votes that way — he will get the people that are tired of the political system."
Many students disagreed with his ideas, but believe he is causing a stir within the party.
"Most of society doesn't think he's a serious candidate, and there's also a large chunk of society that doesn't want to think so," said Clay Henning, a journalism and media communications junior. "I think he is undermining a lot of the other Republican candidates."
Commonly cited reasons why students did not support Trump were his ideas on building a wall to prevent Mexican immigration, his perceivably offensive commentary toward women and his celebrity status.
"I do not support his policy proposals because they are aggressive 'solutions' that pander to the extremist Republican perspective," said Tedd Opp, a sophomore economics major.
While many students did not agree with Trump's attention-grabbing campaign tactics or his proposed policies, Trump has had a powerful affect on the Republican primaries.
Scott Walker ended his presidential campaign Monday, implying that Trump was the cause of his decision.
"I encourage other Republican presidential candidates to consider doing the same so the voters can focus on a limited number of candidates who can offer a positive conservative alternative to the current front-runner," Walker said in a statement to the press.
Trump may be shocking the nation by leading polls, but the other front runners, Carly Fiorina, second in the CNN poll, and Ben Carson, third in the CNN poll, are not politicians either. Fiorina is another business executive and Carson is a retired neurosurgeon.
"I think he (Trump) is good at what he does in real estate and he should stick with that. I do not think he has enough of a political background," said John Shannon, a biomedical sciences senior.
The Republican candidates will debate for the third time Oct. 28 on the CU Boulder campus, though a very limited number of student tickets will be made available.
Collegian Reporter Erin Douglas can be reached at news@collegian.com or on Twitter @erinmdouglas23.