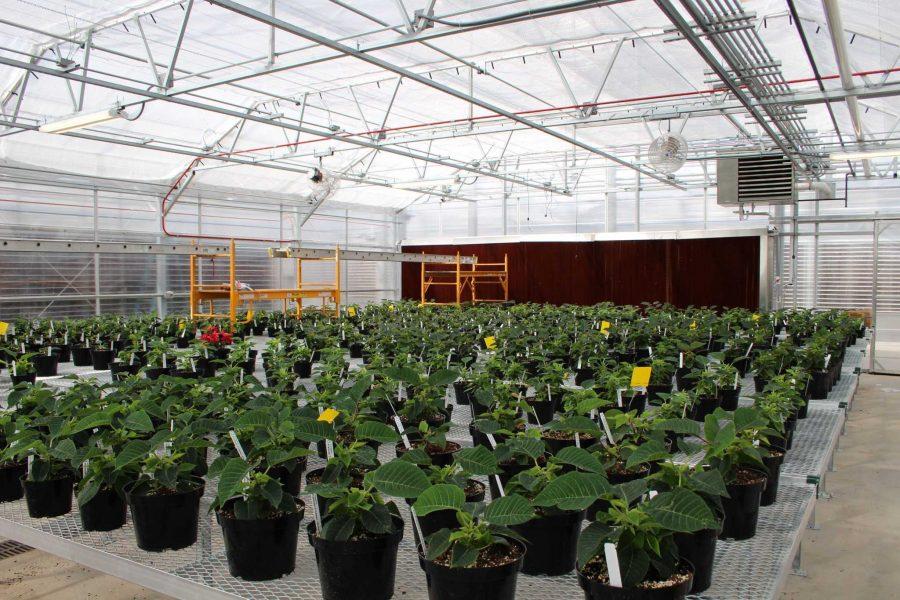 This semester, students have been testing out the new Horticulture Center south of campus, featuring over 8,000 square feet of research space.
The new facility replaced the old Plant Environmental Research Center that used to be located where the on-campus stadium is now being built.
Steven Newman, the Greenhouse Crops Extension Specialist and a professor of floriculture at CSU, helped coordinate the construction of the new greenhouses.
"The old site was 65 years old and it's time for something new," Newman said. "We finally get to show students the modern greenhouse technology compared to what was modern 30 years ago."
The center has not yet been completed, but students have already started using the space for classes and projects.
Robert Sanchez, an electrician for the Horticultural Center, said he has already seen students putting the new space to use.
"They haven't moved into the entire building yet," Sanchez said. "I know there's already students in here, though — this is an actual project for the students here."
The site features new classrooms, laboratories and several bays, each with a different purpose. A bay is considered to be from gutter to gutter of the A-frame of a greenhouse.
Gary Gross, a graduate research assistant and a Horticulture 100 lab instructor, explained the importance of having separate bays in a research greenhouse.
"In a research greenhouse, you really need to separate things," Gross said. "There's five main bays. One is a teaching bay, one is going to be dedicated to vegetable crops, there's going to be one flex space bay and then the other two bays are essentially for the different floriculture programs and the plant select program that they do."
Additionally, there are two smaller bays. To access these, one must go through an extra level of security. This space was designed for research on plant disease and has its own drainage system to prevent contamination of the sewer.
The main teaching classroom has a retractable wall that can transform the space into two separate classrooms. It is also equipped with video conferencing technology and can record lectures.
The teaching area also features two labs: a clean lab and what is called a "dirty lab," for students engaging in their own research.
"They didn't really have any teaching facilities or labs over in the other space," Gross said. "This is a big upgrade, the overall size is the same for the greenhouse, but the headhouse is bigger and the teaching facilities, the facilities for the students and lab facilities are vastly improved."
Collegian Construction Beat Reporter Veronica Baas can be reached online at news@collegian.com or on Twitter @vcbaas.