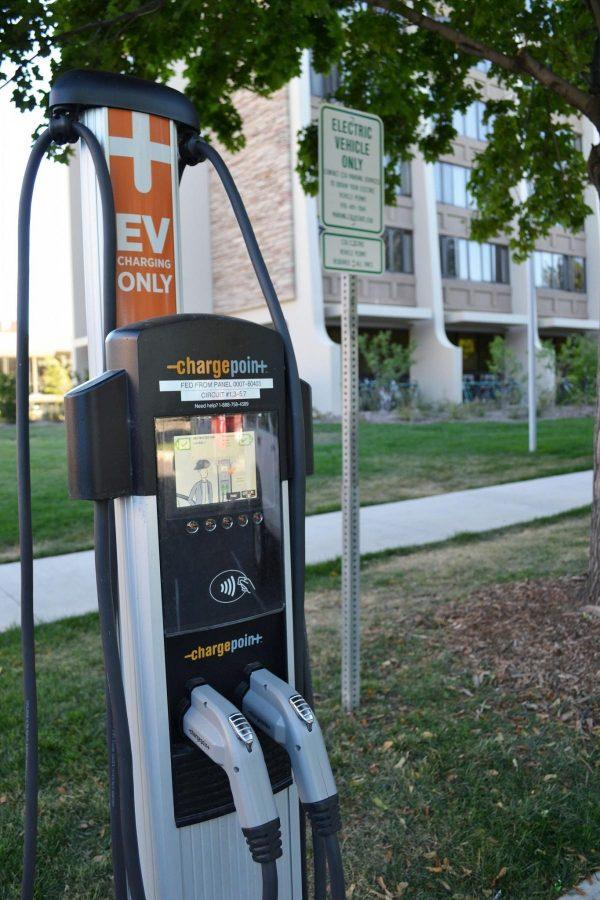 It is increasingly common to see an electric vehicle buzzing around the streets of Fort Collins as EV ownership in the community rises. However, no student has yet requested a permit to use any of the 14 EV charging stations on the Colorado State University campus.
According to Alternative Transportation Manager Aaron Fodge, each station cost the University between $15,000 and $25,000 to buy and install, based on location.
The University received grant funding from the Colorado Energy Office for the cost of the units, but not for their installation.
The most frequently used chargers are at the Laurel Village, Rockwell and the Lake Street Garage, according to Fodge. This usage comes solely from faculty and staff.
"Over the last 30 days, those chargers equaled 213 kg of greenhouse gas savings," Fodge said.
Using electricity to run a vehicle saves greenhouse gas emissions because energy for the grid is powered by sources that do not release as many harmful gases into the atmosphere as burning gasoline does. Fort Collins received 26 percent of its energy from hydro, solar and wind power in 2014.
Many students around the CSU campus cite expense as their main reason for lacking interest in purchasing an EV.
"I know they're clean and sustainable, but I'm not rich," said junior wildlife and conservation biology student Alix Messer.
The benefits of electric vehicles for students were discussed at a conference Tuesday in the Lory Student Center hosted by Drive Electric Northern Colorado.
"Students in Northern Colorado connect a lot with the environmental benefits (of driving an EV), but our organization exists to help people get away from that one-sided view of EVs," said Annie Freyschlag, a DENC deployment community associate. "We want to save consumers money, and EVs are the best scalable option for decreasing our country's dependence on oil, and increasing our economic stability."
Senior Chanin Tilakamonkul, a Facilities Department sustainability intern, said building the EV charging stations contributed one point to the University's overall Leadership in Energy and Environmental Design score. LEED certification is a measure of environmental efficiency.
Though students are not driving electric cars, some have expressed an interest in using campus chargers for their electric scooters and mopeds.
"Students can use the chargers for scooters if they have the proper connection," Fodge said. "Of course, they will need an annual or daily permit to use them."
If usage increases, CSU may have to regulate the chargers' use, according to Fodge. 
"As demand increases, we will be applying a four-hour per day charging rule to make sure as many campus users have access to them daily," said Fodge.
Using the EV chargers on campus is free, although all users must register their campus parking permit as an electric vehicle permit to park in a designated electric vehicle space or to charge on campus.
According to Freyschlag, some businesses in the area, such as New Belgium Brewing Company, will also let you charge your EV for free.
Due to tax incentives and low maintenance costs, Freyschlag says EVs are a cost-effective option for recent grads trying to get on their feet after leaving school.
 "Never having to pay for gas again makes (EVs) very affordable to maintain because electricity costs are stable and maintenance costs are low," Freyschlag said. "Everybody at CSU will have to start thinking about affordable transportation in a different way."
Future chargers are sited for the Research Boulevard parking lot, a new garage on Pitkin Street and the future health center on College Avenue and Prospect Road.
Collegian Reporter Julia Rentsch can be reached via news@collegian.com on Twitter @julia_rentsch.