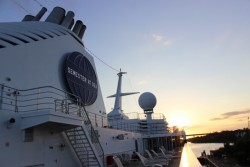 Studying abroad through certain programs at Colorado State University can actually be cheaper than a semester of in-state tuition.
According to Chris Churma, the senior study abroad coordinator for Africa, Asia, the Middle East and the South Pacific, CSU offers multiple study abroad programs that are more affordable than a semester of in-state tuition at CSU.
"We work with study abroad organizations that run the programs in other countries and there is an organization that has programs that are half the cost of anywhere else in Japan, and Thailand is a good place for affordability as well because once you're there, the cost of living is super cheap," Churma said. "There are also programs in China and some in Africa as well."
Carley DeRosa, a human development and family studies sophomore at CSU, has been accepted to go abroad to a university in Italy in fall 2015.
"It is really nice because you always think that going abroad is going to be really expensive, which in some cases it is because you still have to fly there and spend money on souvenirs and all that, but it's nice to know that the overall tuition itself is cheaper than tuition here at CSU," DeRosa said.
Rae Richards, an international studies senior at CSU, recently got back from studying abroad in Prague, which offers cheaper semester tuition than in-state tuition at CSU.
"For me, it was a matter of getting accepted into the University, having my financial aid cover all of it, and then having money left over," said Richards. "Plus I was able to work during the summer and save up money and I was able to go and have a grand ol' time and did not have to worry about money as much."
According to Churma, the CSU study abroad office offers plenty of financial aid, available scholarships and other outside resources to help students with the financial costs of going abroad.
"Students don't have to pay sticker price all the time," Churma said. "There's lots of resources to make going abroad a little more affordable."
Collegian Reporter Amanda Thompson can be reached at news@collegian.com and on Twitter @amanduhh3003.