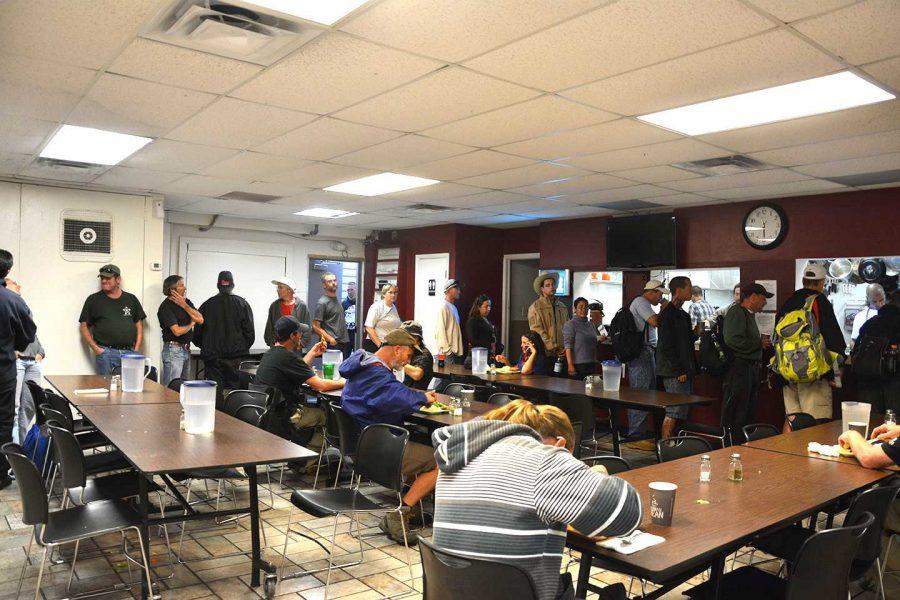 The homeless population in Fort Collins has been steadily increasing over the past five years, which has exhausted shelter capacity and reportedly led to police action.
Encounters between Fort Collins police officers and homeless people in town has increased from 494 contacts last year to 718 as of Monday, which is about a 45 percent increase, according to Fort Collins Police Officer Matt Johnson. Johnson added that there is still time this year for that number to increase.
Advocates for the homeless community have voiced concerns to city council about their interactions with police. Some in the homeless community feel they are being targeted by police.
Zechariah Humbert, a person experiencing homelessness, told city council that he witnessed 30 people camping ticketed in 30 minutes.
"No matter where we are, whether we're a part of your so-called community or not, we're still being segregated from everyone else and for lack of a better term kicked down, and it's just not right," Humbert said to city council.
Officer Johnson said the police department has a number of ordinances in response to the crimes committed by the chronically homeless.
"Panhandling is not expressly illegal, but it is illegal under certain circumstances," Johnson said. "Our camping ordinances are designed to protect the cleanliness and safety of the city."
Johnson also said that there has been an increase in a crime committing, mobile homeless population called "travelers."
"We have seen more chronically transient, or what they call themselves 'travelers,'" Johnson said. "They don't consider themselves part of our community; (they) commit crimes then move on. They exhaust our resources then leave our community."
An increased homeless population also means more demand for shelters that provide food and housing.
"Shelter capacity does not meet the needs for the homeless population," said Mary Atchison, the director of the department of social sustainability.
Fort Collins Rescue Mission is one of the shelters in town that is struggling with capacity this time of year. However, this shelter contends almost exclusively with male capacity issues, according to kitchen supervisor Stephanie Polzin.
"Overcapacity is the biggest issue we deal with," Polzin said. "The women side almost never fills up, but we turn men away almost everyday. I can't remember the last time we turned away a female."
Polzin said Fort Collins Rescue Mission does not offer boarding to minors, but other shelters do, so it is possible that families have to divide up, and mothers and children go to a separate shelter than the fathers. She said this is likely the reason for vacancy in the female side of the shelter.
City Councilmember Bob Overbeck, whose district includes the highly affected Old Town area, said shelter services like those offered by Fort Collins Rescue Mission are essential in aiding the increasing homeless population.
"The homeless are the most vulnerable group in our population," Overbeck said. "They are susceptible to the elements of the world. The question is how do we find more space so people can be safe at night."
Homeward 2020 is a local effort to end homelessness by the year 2020. Through partnerships, outreach and data collection, Homeward 2020 strives to offer affordable housing to those less fortunate, according to Project Director Vanessa Fenley.
"Homelessness is really stigmatizing," Fenley said. "It's disheartening to hear homeless people say that they feel invisible. That's something no human should experience."
Fenley said that the most effective solution would be to offer more affordable housing in the city.
Homeward 2020, in partnership with Colorado State University's SLICE program and Bohemian Nights, puts on the annual Project Homeless Connect event. This event offers those dealing with homelessness essential services like legal advice, medical exams and housing information. The next Project Homeless Connect event will be April 2015.
Fenley said that of the several hundred that volunteer at the event each year, the vast majority are CSU students.
CSU freshman and zoology major, HP O'Doherty  also said community involvement is most effective way to tackle the homelessness issue.
"In the end, the homelessness issue comes down to the community as a whole," O'Doherty said. "We are part of this community so us students need to accept community responsibility … If the community sees a problem, it should take action and not expect the government to do all the work."
Overbeck echoed O'Doherty's sentiment that community involvement is key.
"It's a community problem so it will take a community to solve it," he said.
Collegian City Beat reporter Danny Bishop can be reached at news@collegian.com or on Twitter @DannyDBishop.