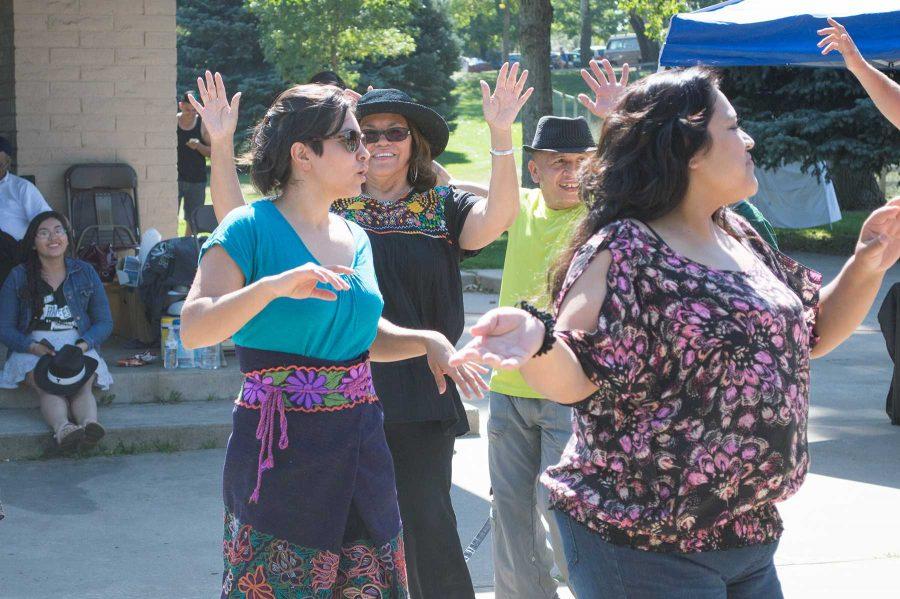 Cisco Mora
[new_royalslider id="203″]
Photos by Cisco Mora
Students and community members gathered at Lee Martinez Park Sept. 20 to celebrate the beginning of Hispanic Heritage Month. The barbecue at the park, hosted by El Centro, was rich in Latino culture with traditional elements of food, music and art.
CSU will commemorate National Hispanic Heritage Month with a variety of on-campus and community-wide events Sept. 15 to Oct. 15.
"National Hispanic Heritage Month is a reminder that we need to acknowledge the contributions of Latinos every day, to celebrate the lives and generations before us," El Centro Director Guadalupe Salazar said.
El Centro is the on-campus department that advocates and supports the Hispanic and Latino students at CSU and in the Poudre School District.
There was entertainment for all members of the family on this warm Saturday afternoon. The children ran about, playing with Chihuahua puppies and standing in line for their opportunity to take a few swings at piñatas hung from a sturdy tree.
Meanwhile, the adults ate, mingling and dancing to the festive music. A group dance broke out as a Zumba instructor showed the crowd just how to move with their hips.
This barbecue was the first of many free events going on throughout the month of October in Fort Collins open to the public.
On Oct. 4, a Chili Festival will be held at Romero Park, next to the Museo de las Tres Colonias at 425 10th St. Students and community members are welcome to come celebrate the harvest of chiles, eat food and be introduced to Hispanic cultural events and traditions.
On Oct. 6, from 6-8 p.m. in the Lory Student Center Ballroom 350 A, there will be a screening and Q&A session of TransVisible: Bamby Salcedo's Story. Salcedo is an advocate and role model for the Trans, Latina, immigrant, youth and LGBT communities.
Students can also learn about the goals, experiences and outcomes of Poudre School District's 2014 Spanish Language and Cultural Immersion Program in Guatemala on Oct. 15 from 12-1 p.m. in the Johannsen Support Services Center Board Room on 2407 W. Laporte Ave.
Jessica Lopez,  nationally recognized and award-winning slam poet, will be participating in a poetry slam from 4-6 p.m. at CSU Oct. 15.
All events over the course of the month are free for students, faculty, staff and community members. Many events also are geared toward families and children.
Collegian Reporter Cisco Mora can be reached at news@collegian.com.
Related articles
Diversify yourself at CSU

El Centro leads the month in Hispanic pride