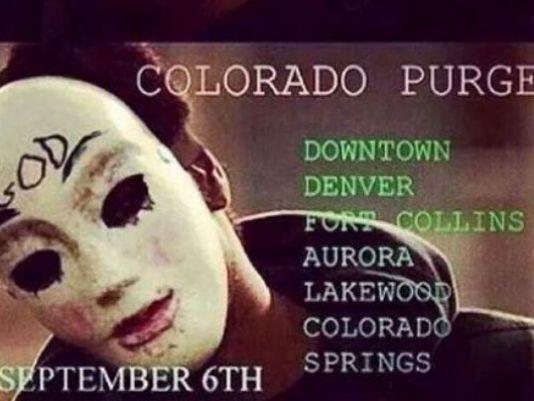 An internet rumor threatens a citizen 'crime purge' in several locations across Colorado, including Fort Collins.
The rumor is based off of the film "The Purge", in which one night a year all crime is legal, and citizens are free to run through the streets and commit dangerous crimes publicly.
The picture states that this 'purge' will occur on September 6, from 6 a.m. to 6 p.m. in Fort Collins, Denver, Aurora, Lakewood and Colorado Springs.
The image is spreading across social media, and several CSU students have seen it shared on Facebook and Twitter. David Kim, a CSU junior studying construction management, said he saw it on Facebook and presumed it to be a hoax.
If the rumor is real, however, Kim said he doubted that many Fort Collins residents would actually participate in dangerous crime.
Police departments in the five Colorado cities are still trying to determine whether the image is a hoax, but the Fort Collins police department is not taking the matter lightly.
"We don't treat anything that could be a threat as 100 percent a hoax," said Fort Collins Police Officer Matt Johnson. "It would be foolish of us to not take a warning like this seriously and apply it to the safety of our community."
However, Johnson said that the department has not received any phone calls or tips that lead them to believe the threat is true or that citizens should be on high alert.
"We live in a very safe community," Johnson said. "(Fort Collins police) works very hard as an agency to protect our community and maintain the highest possible standards of safety."
Police are still working to gather information about the rumor, and any citizens with further insight are advised to contact their local police departments.
Collegian News Editor Caitlin Curley can be reached at news@collegian.com.