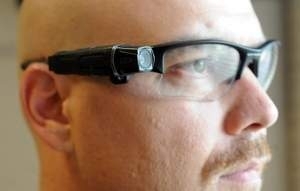 Anytime you are recorded by a body camera worn by a Fort Collins police officer, you are allowed to go in and view the footage.
"For individuals who are captured as the subject of the video, we have no problem bringing them in and showing them the video," said Cory Christensen, deputy chief of the Fort Collins Police Department.
Fort Collins police officers are not required to wear body cameras. About half the uniformed officers wear the cameras on a volunteer basis.
"All officers that currently wear cameras are volunteers," Christensen said. "We have more volunteers than we have cameras."
Body cameras are manually turned on and off by police, but once recording begins, the camera goes back and saves video from 30 seconds before recording began.
Police are only required to activate the cameras in certain instances, but are advised to record every interaction with citizens.
Manual activation of cameras concerns CSU health and exercise science sophomore Shannon Duffy.
"I'm not sure it's worth the cost since police can manually turn on and off the cameras," Duffy said.
Duffy said the  $181,300 program could provide clarity with incidents, but since the cameras do not record all the time, she said she is skeptical that police will always activate their cameras when faced with a conflict.
Forrest Orswell, an attorney with CSU Student Legal Services, said body camera footage has proven useful in exonerating clients and getting a better plea agreement when video differs from police and witness statements.
"I'd like to see all officers wear body cameras," Orswell said. "I like the unbiased third party at the scene."
Orswell said he believes citizens should also record their encounters with police, not just the other way around.
"I would like to see people record police encounters on their phones," he said. "However, they need to be careful not to interfere with police operations."
Christensen, who is responsible for spearheading the program, said close to 3,000 videos are recorded with body cameras a month.
Footage is considered evidence and is protected under the Colorado Criminal Justice Records Act. This means if a citizen unaffiliated with a crime or the media want to access footage, a request must be submitted and will be reviewed the same way other evidence requests are.
He hopes to expand the program and eventually outfit every officer with a camera because the cameras offer transparency.
More information about police body cameras can be found on the Fort Collins Police Department website.
Collegian Reporter Danny Bishop can be reached at news@collegian.com.