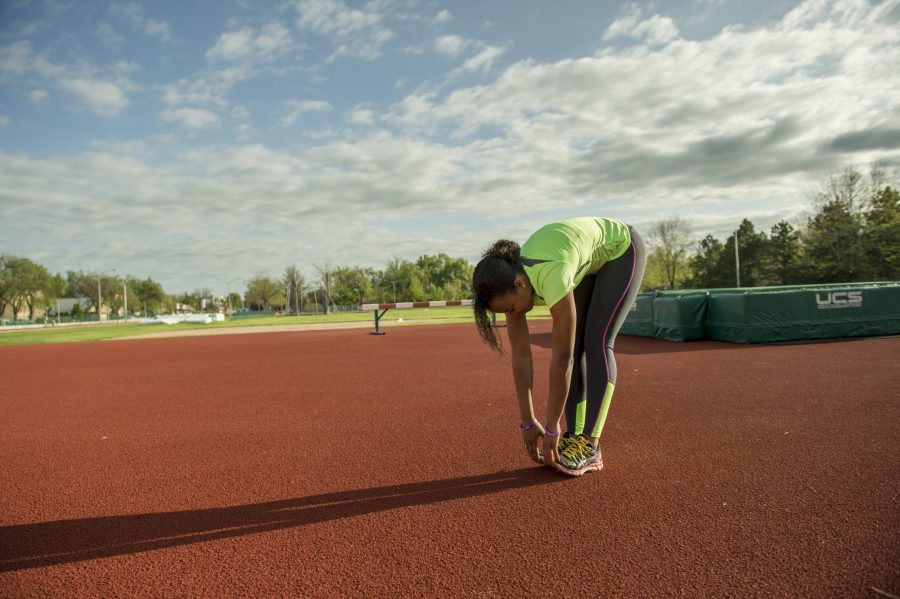 Recently graduated Ram, Ashley Reid, was one of five students in the nation to receive the Wilma Rudolph Student-Athlete Achievement Award presented by the National Association of Academic Advisors for Athletics (N4A) June  7. 
The award is given to student-athletes who have faced immense personal, academic and/or emotional trials and rose to achieve academic success while playing intercollegiate athletics.
"It was a blessing. It was super exciting to earn it (the award)," Reid said. "And it was a surprise when I found out that I did earn it."
Reid faced injury, illness and loss but still managed to graduate from CSU in May and place seventh in the high jump and 11th in the triple jump at the Mountain West Outdoor Track and Field Championships the same month.

Growing up in Kansas
Reid was born in Las Vegas but moved to Kansas with her mom at 10 when her parents divorced. She remembers it being difficult not having family in Kansas, especially for her mother. But when her father remarried, Reid found a bright side.
"It was a blessing in disguise at the time," Reid said. "Even though it was harder for me to adjust from being an only child to having younger siblings, I began to develop relationships with my half-siblings."
Reid's love for sports began at an early age, but it wasn't track and field that first caught her eye.
"I grew up wanting to be a professional soccer player … and be like Mia Hamm or something," Reid said. "But when I moved to Kansas my team wasn't as good and my coach and I didn't get along as well."
Being a seventh grader in Kansas the only sport that was available to the "sevies" was track and field. Once Reid's mom heard of her daughters involvement in sports, as a former athlete, she jumped at the chance to teach her daughter.
"She would hold up a broom in the master bedroom and I'd run from the doorway and high jump onto the bed," Reid said. "She was teaching me that way, and I started becoming really good at it."
As a freshman in high school, she was asked to be on the varsity track and field team. At the end of high school Reid felt confident in her abilities and overlooked Colorado State University as an option, something that would come back around to her.
Journey at Kansas State
Reid instead followed her fiancé at the time to Kansas State.
"I remember not wanting to go," Reid said. "I earned a scholarship there that said I had four days to do it and send it to them. I was trying to stay close to a relationship. When you're young, everyone's in love. Except they're not."
Reid's relationship lasted for seven years, two of which were spent engaged.
That freshman year at Kansas State came with it's own set of complications. Falling under the influence of her peers, Reid became involved in the party scene, distracting her from school and track and field.
On top of the distractions, she caught the Swine Flu.
"I had a really bad strand of it that actually put me in the hospital," Reid said. "It kept me out of track for like a month, and after that I never got back into it. I didn't go to practice, it was hard for me to catch up on school."
During her illness she called a friend to help her out. Observing her vulnerable position, he proceeded to take advantage of her. Reid fell into depression, began drinking alone and took too many prescription pills resulting in overdosing on pain medication. Reid was revived and started to recover, but didn't tell her mom and stepdad the real story when they came to pick her up in May. She left KSU with a GPA less than 2.0.
Reid came home for her step-brother's graduation and found support from athletes at her old high school.
"There were a lot of people telling me how inspired they were from me and how they looked up to me and … the legacies I had left," Reid said. "I remember looking at myself and not being very proud or happy of myself, what I was doing or what was going on in my life. I decided I need some type of structure and stability."
JCCC
That was when Reid called Brian Batliner, the Johnson County Community College assistant coach for their track and field team.
"I asked if there was any room for me on the team to mature a little bit more and develop myself a little bit more so I could get a scholarship," Reid said. "It was a time for a change and I knew it was going to be a drastic one and I knew I wanted to do it on my own."
She knew it would be easier to make the change if she enjoyed what she was doing along the way, and that's why she turned to track and field.
It was at this time that Reid's coaches started reaching out to D1 level colleges, expressing to them that Reid was ready and willing to start the next challenge.
Finding a place at CSU
It was at that time when CSU made a comeback into Reid's life.
"I was sitting in my room one day actually doing some work and my phone starts ringing and my phone said 'Coach calling from CSU," Reid said. "I had his number in my phone and I didn't know why. I answered and said … maybe you tried to recruit me in high school?"
Colorado State assistant coach Tim Cawley was on the other end of the line, the same person who had tried to recruit Reid after her high school graduation.
"Out of high school I was a little cocky about my abilities and I didn't give every school a chance and he was one of those schools that I didn't," Reid chuckled reflecting on her experience.
Reid and Cawley developed a special relationship right off the bat. She was able to be honest with her coach about her past.
"They were still open to me and friendly and be there to support me and offer a place in the CSU family," Reid said.  "They made me feel really comfortable and supported me even when I wasn't the best to support myself and that meant a lot to me and that's why I decided to go to CSU."
Cheyenne Hall, a business senior at CSU, jumped the triple jump with Reid, and noted the healthy competition she always brought to the team.
"It was pretty competitive, but it was always good competition," Hall said. "She's an awesome teammate, an awesome competitor and an awesome friend."
Cayla Broadwater, human development and family studies 2014 graduate, was not the only teammate enthusiastic about Reid's spirit.
"Oh my goodness, yeah, I don't even know where to start," Broadwater said. "Everyone needs an Ashley Reid in their life. (She's) such a positive influence, such a positive presence."
While at CSU, Reid was faced with yet another challenge. Her sister, Erica Johnson, was diagnosed with Lupus, an autoimmune disease that has symptoms similar to a cold or flu. Soon after her diagnosis, Johnson passed away from the disease. 
"It was really quick and really random but she had her spirit through it all," Reid said. "I'm really lucky to have those good memories with her … it brings a smile back to my face knowing that we do have that connection … I'm really lucky and thankful for that."
Reid was inspired to spread awareness about Lupus from the sudden death of her sister. She organized a walk that brought 150 out and raised close to $9,000.
She plans to continue the walk in the future, as well as create a non-profit for Lupus with her cousin.
"I really want to to go to the CSU Student Affairs and start working with student athletes, advising and give back," Reid said. "Those were the people who I owe the award to who allowed me to not give up facinig challenges. I want to fill those shoes when those people retire and leave."
Collegian Editors Bailey Constas and Hannah Hemperly can be reached at news@collegian.com.