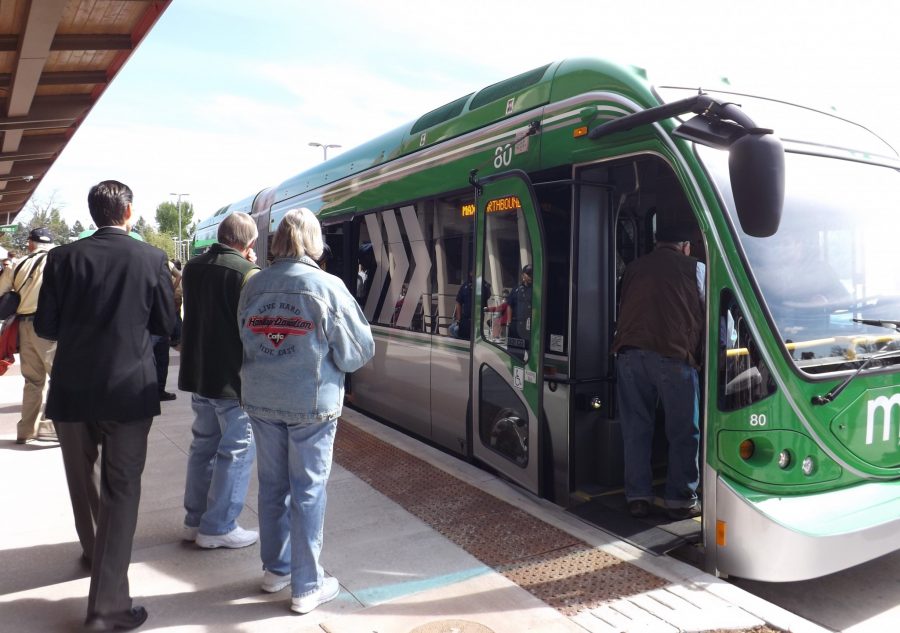 After years of work, millions of dollars spent and months of final preparations, the MAX System is officially up and running.
The bus rapid transit system that runs parallel to College Avenue is the first of its kind for the front range of Colorado. The fleet of six large wifi enabled buses operates Monday through Saturday from 5:00 a.m. to midnight.
Until August 24, the transit system will be free, and afterwards it will cost $1.25 per ticket, but Colorado State University students can still ride for free with their student I.D.

Hundreds of people came to celebrate the opening day of MAX and take a ride.  In a matter of minutes, the first three buses at the new South Transit Station were packed.
Waving a green flag with the word MAX on it, General Manager of Transfort, Kurt Ravenschlag sent off the first ever northbound bus. According to Ravenschlag, Fort Collins has been working on the project since 1997.
Since then, the $87 million project that was funded by federal, state and local means has become a pivotal aspect for a growing city with over 150,000 people.
"This is the biggest public works project in the history of Fort Collins," said Darin Atteberry, City Manager of Fort Collins.
The transit system is expected to play a substantial role in the economic future of Fort Collins, according to Fort Collins Mayor, Karen Weitkunat. The bus line runs right next to many large housing projects such as the Summit on College, The Mason Flats and others. One of the 14 stations is also located next to the Foothills Mall, which is currently under renovation.
"This 5-mile corridor includes many of our community's primary employment and activity centers as well as incredible redevelopment opportunities, many which you've already seen springing to life," Weitkunat said.
Along with other city projects, the MAX will also operate in tandem with Colorado State University's new Ram Shuttle option that provides a new transportation service for students on campus.
Former ASCSU Director of Environmental Affairs, Samantha Block, volunteered at the University station event on Saturday and said the University was giving out guided tours of the new shuttle line, alongside other events coordinated between the University and Fort Collins.
"It's going pretty great," Block said. "There's a lot of excitement around the opening of MAX."
All 14 stations of the MAX had a variety of events on Saturday such as live music, giveaways and food. Throughout the afternoon MAX buses remained packed as the community explored the new transportation option.
The large turnout meant that stations filled with people waiting to ride the bus had to wait. Some waited for over 30 minutes to board while others decided to walk to the next stations because buses were too packed to allow them on board.
Once inside the 60-foot-long bus however, patrons saw a large area filled with seats, bike racks and handles for those who chose to stand. The then packed buses were filled with a diverse selection of community members.
For most, the thing that took some getting used to was the inertia made from suddenly stopping and going. Multiple people who stood in the bus lurched forwards at times, remembering to then grab a handle to brace themselves. Over time, though, most got the hang of it — bikes were placed on designated racks and space was made for incoming people.
According to Mayor Weitkunat, the beginning of MAX marks a new point in history for Fort Collins.
"This is an exciting time in Fort Collins as we start a new journey in mass transit," Weitkunat said.
Collegian Reporter Skyler Leonard can be reached at news@collegian.com.