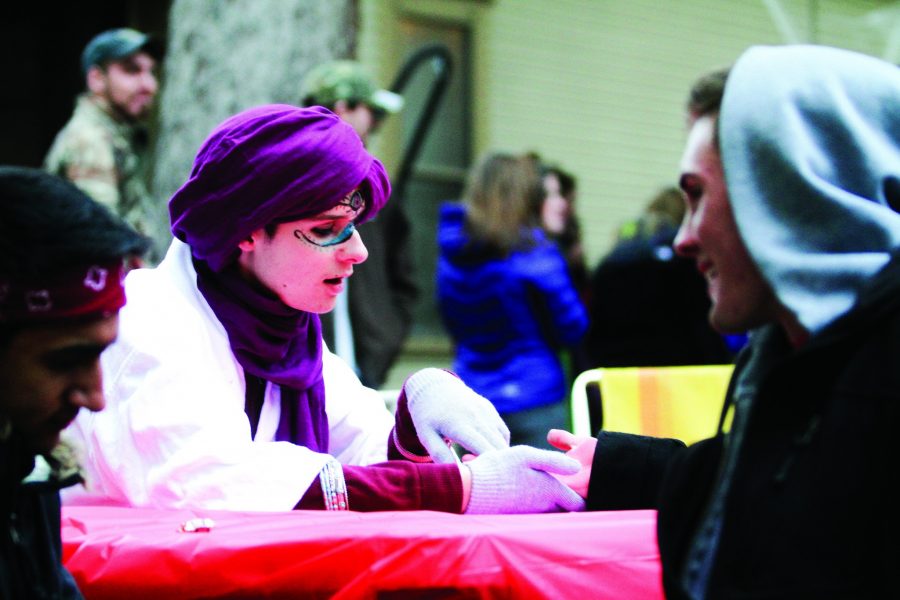 For Halloween, Theta Chi scared students in order to fight domestic violence.
The Theta Chi fraternity hosted a haunted house Tuesday to support their philanthropy, Fort Collins' Crossroads Safehouse.
"Most fraternities have a national philanthropy, but Theta Chi encourages us all to have local philanthropies, that way we can support our community," said Vincent Caricato, Theta Chi senior. "We love that."
Haunted house participants were led through rooms in a house belonging to several Theta Chi brothers, each with its own horror film theme. Groups were led by a tour guide who followed a script in each room, interacting with other characters including an unhinged clown, a man with a cleaver eating bits of "human flesh," and men jumping out of closets in the dark, covered in blood.
"I don't know what else to say except that it was scary," said Kayla Cittadino, sophomore psychology major. "There is hope– there is a door to get out of at the end, which was a nice aspect. A person in my group almost tore my clothes off (from holding my arm so tightly), she was so scared."
All proceeds from the event were donated to Crossroads Safehouse, and the shelter and advocacy center had a booth at the haunted house.
Taylorae Dewitt, Crossroads Safehouse intern and junior communication studies major, said that college students should be more aware of the the anti-domestic violence message that Crossroads Safehouse presents because domestic violence occurs so frequently in college-age relationships.
"I just think that domestic violence is something that happens all too often," Dewitt said. "One in four women and one in six men will experience domestic violence sometime in their life. It's a very prevalent issue, and most common among college students."
Ryan Weir, Theta Chi president and senior communication studies major, said that Theta Chi has been partnered with Crossroads Safehouse for their philanthropy for about a year. The brothers frequently volunteer at the safehouse, but are excited to host the haunted house as a larger scale way to raise funds.
"We thought (a haunted house) would be a really cool idea — something different," Weir said. "And of course, with Halloween right around the corner, it kind of just makes sense to do a haunted house… it's something that you can invite the whole public to, anywhere from kids to your parents."
According to Weir, the Theta Chi brothers enjoy partnering with Crossroads Safehouse because they believe in what the organization is working towards.
"What Crossroads stands for and their belief system lines up pretty closely with ours," Weir said. "They really are a huge advocate for preventing domestic violence, obviously, and that's something that Theta Chi really stands for– treating people, and especially men treating women, they way that they should be… we really emphasize a lot of respect for people, and acting accordingly."
Collegian Reporter Ellie Mulder can be reached at news@collegian.com.