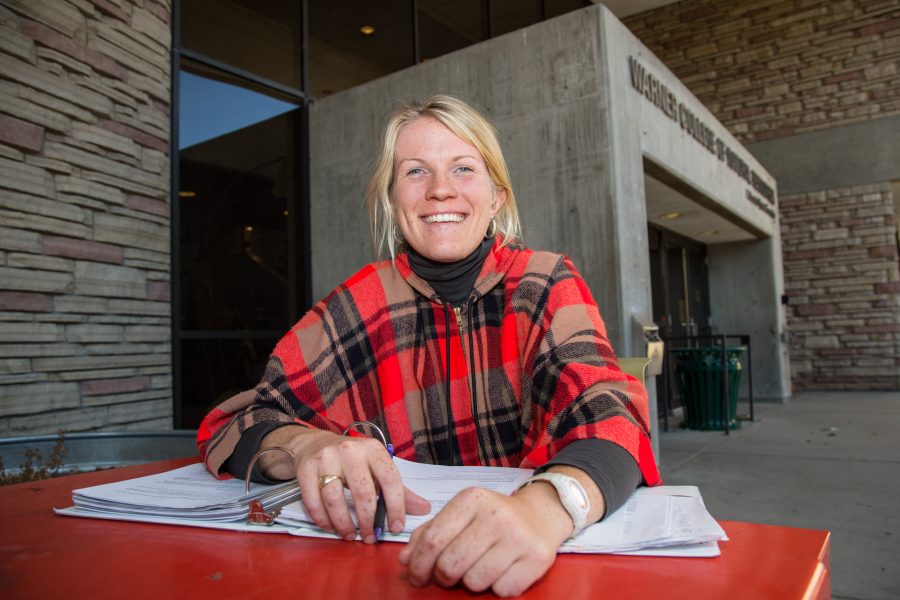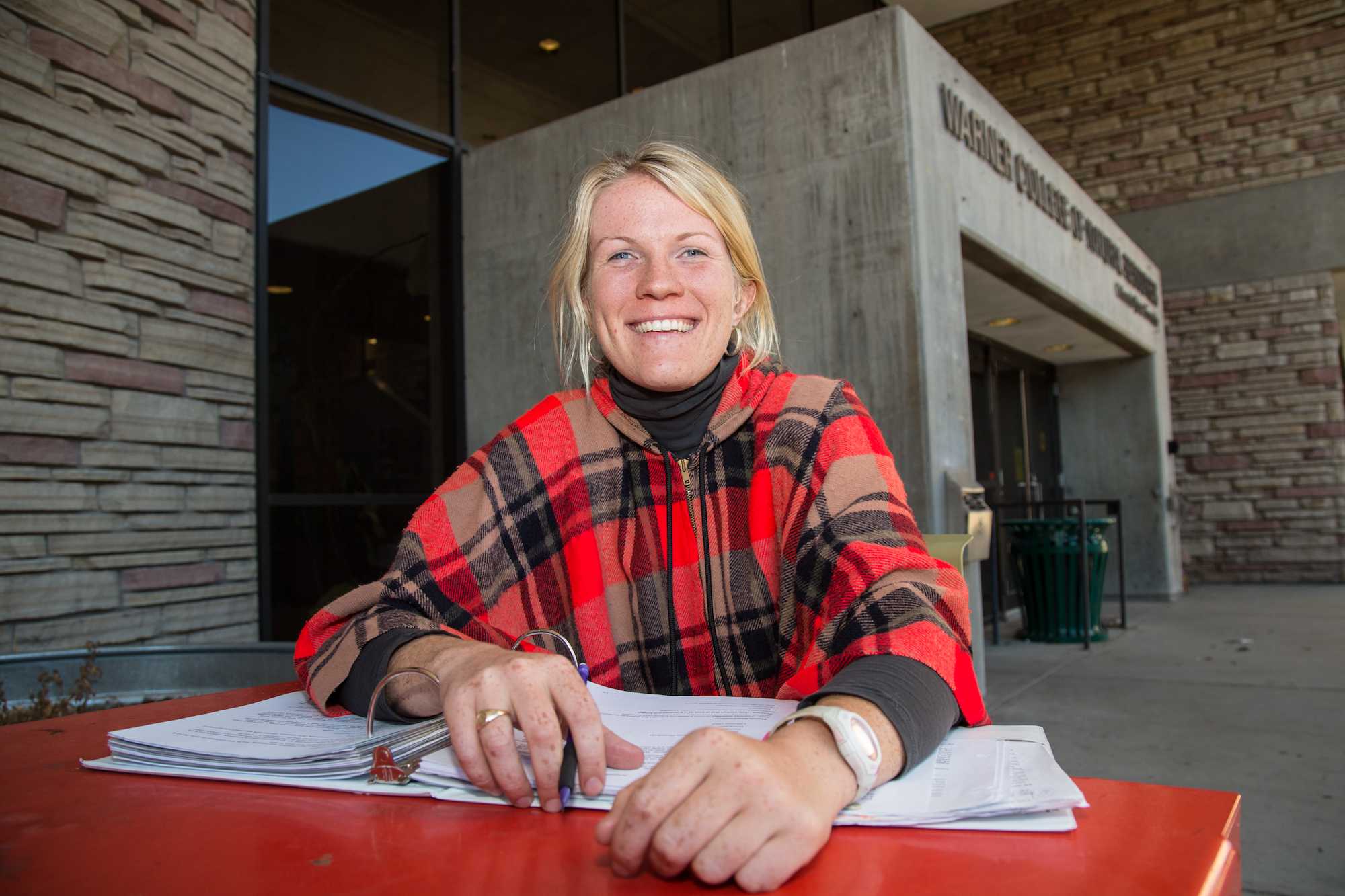 Anne Kearney cannot hear you. But she will do everything she can to communicate with you.
Kearney, a CSU graduate student, has been deaf since birth. Now she's a teaching assistant for Horticulture 102, co-president of the American Sign Language Club at CSU and a full-time student of viticology and enology – grape growing and winemaking.
Kearney studied biology at Connecticut College, a small liberal arts school in Connecticut, and minored in clarinet performance. Music is therapy, according to Kearney, who still plays clarinet throughout the week. She has also played for ASL classes at CSU.
Kearney met her now-boyfriend Colin Williamson, senior music major, at an ASL event. He was attracted to her passion and motivation, not only in life but also in music.
"She is such an amazing musician," Williamson said. "Being deaf is definitely unique."
Making the sound is all about feeling the muscles of your mouth. DeDe Kliewer, Coordinator of Interpreting Services at Resources for Disabled Students at CSU, compared the experience to being underwater.
"It's like when you're talking underwater, you don't know your volume or pitch," Kliewer said.
Kearney can still distinguish pitch of the music — the hearing loss only diminishes the volume and the clarity of the sound. If the song is loud enough, she can hear it.
"Her musical intuition is just amazing," Williamson said. "She is an amazing performer."
Through years of speech therapy and reading lips, Kearney uses her voice to communicate with those around her.
Kearney saw the TA position as a chance for her to step outside of her comfort zone and continue to learn.
"I love this job because I am learning with the students and I can share," Kearney said. "I love the moment when there's a look of "Ahhh! I understand that!"
Her main goal in the classroom is for her students to understand the ideas behind horticulture — a challenging course.
"My voice takes a while to get used to so I'm looking for every way for them to understand the concepts," Kearney said.
Kearney starts by drawing and sketching in the classroom. If that doesn't work, she'll use her arms to communicate and help students visualize the growing process. There is an interpreter present during most lectures, but she wants students to be comfortable enough understanding her accent to ask her questions directly.
"Most of the time, students ask me questions. I love that. Some TAs don't like that, but I love that," said Kearney.
Most students are really comfortable by now, and according to Kearney, many don't see the point of having an interpreter.
"It depends on the person," Kearney said.
The role of the interpreters is two-fold: translating Kearney's horticulture classes for the students and facilitating communication in Kearney's graduate classes.
Rodger Thompson, one of her interpreters, says that each class is different, and each interpreter lets Kearney be the judge of choosing to voice or not.
"The more people are exposed to her, they get acclimated to her voice," Thompson said. "We don't try to get too involved. Sometimes I step in when she doesn't hear herself mispronounce the words."
Kearney said that if people speak clearly, she will better understand them and they will understand her, just like any other accent. On a day-to-day basis, she encounters people looking at her with a bewildered face, as if they've never met a deaf person.
"They feel very uncomfortable, so they talk really slowly and loudly. That doesn't work," she said, laughing. Over the years, she has developed an instinct to even the slightest cues of other's understanding. A blank face to anyone else wouldn't mean a thing, but to Kearney it is part of the translation.
Being deaf has never been a hindrance to any part of Kearney's life, and it shouldn't be, says Kliewer.
"Anne is very, very vivacious, full of energy and ideas and just a real go-getter!" said Kliewer. Before Kearney came to CSU, the ASL Club wasn't very active due to a lack of student involvement.
"When Anne came last fall, she just took it and ran," said Kliewer. The ASL club has since had silent pumpkin carving, silent movies, and is planning a talent show for November 8.
"She keeps you on your toes," Thompson said. "You have to watch really close to see when she's being serious and when she's joking because there's a little twinkle in her eye when she's pulling your leg."
She can be found going on runs between classes, frequenting coffee shops around town and always joking around.
One of Kearney's many talents includes baking. She's a bit of a baking addict, always bringing in goodies for her classes and the horticulture department.
"I want to bake something everyday, my roommates complain we don't have enough space – but that's why we have a dishwasher," says Kearney. She makes coffee cakes, brownies, scones and cupcakes to unwind after intense science-filled lectures.
Above all, Kearney inspires those around her to push the boundaries of communication.
"When you talk to her, her ambition and her drive is very admirable. It makes me want to be a better person," Williamson said.
Collegian Diversity Beat Reporter Hannah Hemperly can be reached at news@collegian.com.