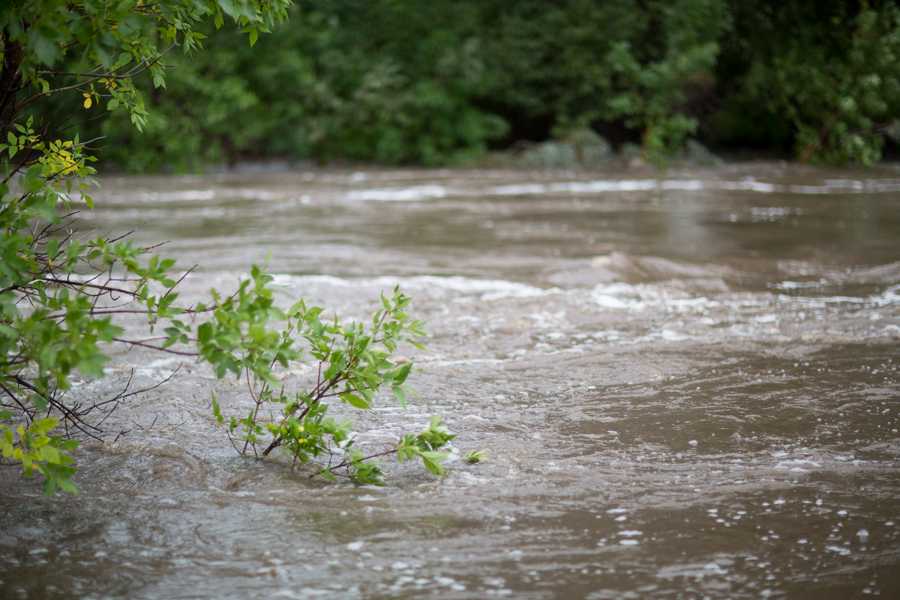 Over the weekend, CSU's environmental learning center was underwater.
"We can find dead fish in the middle of our natural area, which tells us the river was that high, because it receded and some of the fish didn't make it back," said Brett Bruyere, Natural Resource professor and director of the ELC.
The damage to the natural area occurred during the wake of the recent flood over the weekend with the Poudre River.
The ELC is a 212 acre environment with two miles of trail which was privately donated under the condition it would be only used for educational purposes, according to Bruyere.
"We went from two miles of trail to about 0.6 miles," said Leif Mattern, maintenance memeber at the ELC. "The river was 5 to 6 feet higher than it is now."
Wilcox trail, the larger of the two loops, is closed and will remain closed for a while. Alden trail, the shorter of the two loops, is expected to open after the weekend, according to Eli Fox, program director of the ELC.
"(Wilcox) trail is still submerged, because the trail itself is in a low spot so its full of water and that's why we closed that trail," Mattern said. "We just don't want to damage the habitat with people walking around the water."
"We have two trails, our hope is by the end of the work day on Saturday we can have the shorter of the two loops open to the public," Bruyere said.
On Friday, the ELC is hosting a volunteer event from 3 p.m. to 6 p.m. to get people to come and restore the trails. On Saturday a similar event will be held from 9 a.m. to 12 p.m.  Every Friday from 4 p.m. to 6 p.m. there will be opportunities for people to come and volunteer till the end of October.
The trail has sustained heavy damage and volunteers are needed to help revitalize them.  Volunteers will help to remove trash, cut away leftover trees and assist in layer fill dirt onto trails.
Bruyere believes 40 to 50 volunteers will be needed at the events this weekend to restore Alden trail in a timely manner.
According to Fox, puddles now exists in place it once never touched, trees have been uprooted, crossable streams morphed into rivers, and covered trails are now soggy.
Due to the severity of the damage, the ELC is currently uninhabited.
"We've had to cancel a lot of stuff and programs and we're in a busy season right now," Fox said.
"This is going to require a lot of people to begin with and don't count yourself out or don't be like the ELC staff can handle it, because it's bigger than our staff can handle," Bruyere said. "What we need is labor."
Collegian Senior Reporter Lawrence Lam can be reached at news@collegian.com.