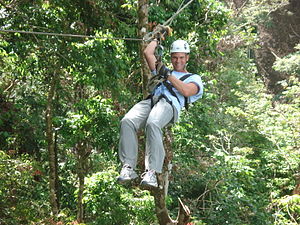 Most of us have never been zip lining before and we don't know what we are missing. Colorado is home to this new extreme sport with a dozen locations you can travel to.
A zip line is a pulley suspended on a cable typically made from stainless steel. The cable is at an incline which allows the user to travel with the assistance of gravity. Alberto Santos-Dumont was the earliest user of the modern day zip line in 1906 he attached his biplane to the wire to test it before flying it under its own power.
Zip lining is also used as a method of travel in place of bridges in some foreign countries such as Costa Rica.
Here is Colorado one can even take an extensive tour of the Royal Gorge using zip lines. The tour one of many offered at various location around Colorado. Keep in mind even though you a tethered to the wire itself and odds of falling are slime there are still injuries and deaths associated with this sport. Recently a Colorado man died of a Heart Attack while zip lining here in the state.
As always come home safely Colorado.