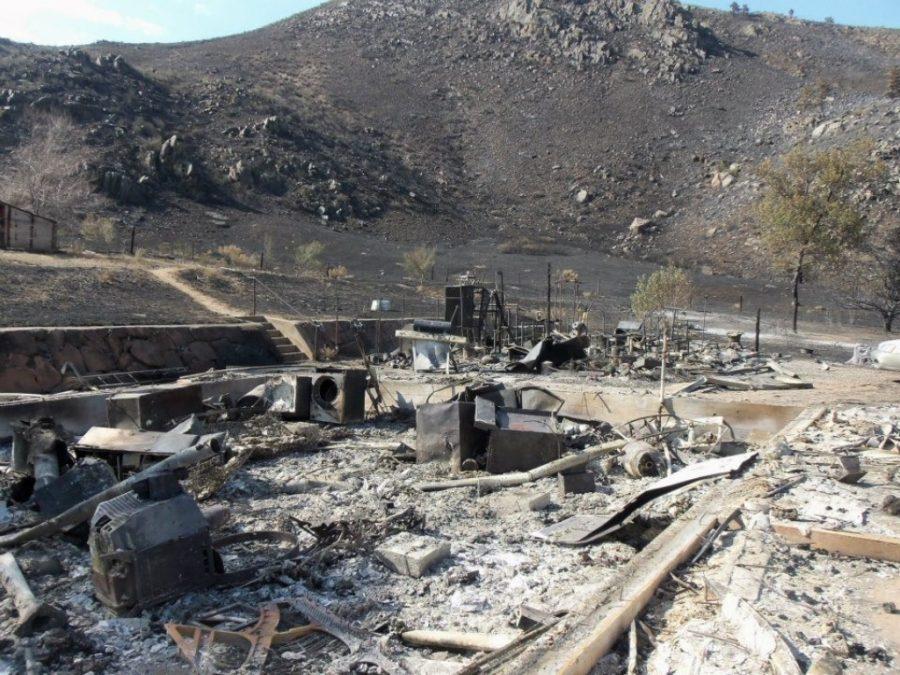 On the morning of June 10, 2012 Walker Nightwalker was leaving for work and "I told my wife, "We should be fine." The fire wasn't that bad when  I left.
"Then she called me and she was in her little Beetle with our five dogs and two cats not knowing where to go."
Nightwalker, a material handler at a construction company, a soon-to-be daddy and a third generation homeowner in Rist Canyon, admits he wasn't prepared.
Walker's wife, Lindsey, a certified nurse assistant at Columbine West, said she felt a lot of fear and uncertainty.
"It was pretty hard to prioritize what we wanted to bring and what we wanted to leave," Lindsey said.
Walker and Lindsey stayed at Walker's parents' house for the night and then went to a cousin's for the remainder of the time.
"We didn't find out until the next week that our house was destroyed by the fire," Walker said.
It was a desperate situation. Fortunately, the Nightwalker family had a lot of support from friends, family and even their insurance company, who "bent over backwards" for them, which Walker said he is especially grateful for because he knows others who lost their houses who had the opposite experience.
"It could have been a lot worse had I not had that support," he said.
That support didn't bring cherished items back. They lost pictures of the family that no one will ever see again.  He also lost a buffalo rope that was presented from his godfather.
"It was handed down to me; I'll never see that again."
They also lost the place for family get-togethers and fishing excursions. Many things were lost, but not all.
"We had an antique stove, that used to be my grandfather's— that made it," Walker said.
He also found his class ring and his grandmother's St. Christopher's Medal among the rubble.
"Now we keep all  these things in a little knick-knack cabinet," Walker said, "To serve as remembrance. It's our memorial."
And the most important thing is that his marriage has gotten stronger, "because we can actually face adverse conditions."
"If it wasn't for the proactive help of our family, friends and the community, it wouldn't have been possible. We had one man stop and give us $20 and say 'I want you and your wife to go out and get some lunch, and forget about all of this.'"
That help didn't stop at the $20. Derek Gaarder, the clinical lead for the Crisis Council Program, a local resource for disaster survivors, described the Larimer County and Fort Collins community as being awesome.
"Everyone is so accessible and understanding," Gaarder said.
Gaarder and the Crisis Council Program provide counseling to disaster survivors.
"We are the boots on the ground, we make contacts and distribute tools and information to all who are in need. We connect people with networks," he said.
Phil Benstein, president and co-founder of the NoCo Rebuilding Effort and a volunteer firefighter on the Rist Canyon Volunteer Fire Department, said that before the fire, a lot of them didn't know their neighbors, but after, everyone knew everyone.
"What was important was helping our neighbors," Benstein said. "A collection of 259 people who lost the same thing; the only thing we had was each other."
Benstein's house was in the middle of the burn area but was not destroyed.
"I lost almost every home around where my home is," Benstein said. "It is a constant reminder. Every time it's the same answer: there was nothing anyone could have done. They were all good decisions. No matter how many times you tell yourself that, you still ask it the next day."
"All this could have been prevented," Walker Nightwalker says. "I knew the precautions to take living in a wildfire zone. I don't think I was completely 100 percent prepared. I always made it a priority but I didn't put it as my number one and I should have. It was a dire situation, I should have been prepared. You never can be too prepared."
Benstein said that wildfires are not a matter of if they happen, but when.
"And a disaster like that doesn't begin when the disaster does, it begins when it ends," Benstein said. "Taking a look historically, fires are increasing in size and severity. Climate change has caused hotter and drier summers.  The drought stresses the trees out and this allows the pine needle epidemic to continue. The whole cycle continues. It is a way of life."
This is why Benstein founded the non-profit NoCo Rebuilding Effort, in 2011, after the Crystal Wildfire.
"No matter the natural disaster, people who go through that disaster need to recover," he said and his  company provides a collection of people and resources for those who decide to rebuild their homes. Their purpose is to help those people make really good decisions so people can come back, "safer, stronger, and smarter."
"Because a choice without knowledge, isn't really a choice."
Nonetheless, Nightwalker says, it's hard to make those good choices and be prepared.
"For other wildfire victims," Nightwalker said, "don't let it make you a victim. You just have to overcome it. Just fight through it and it's going to actually be alright."
"Whatever community you live in, over night there is a possibility you could lose everything," Benstein said. "The only real thing you can't lose is love. Love is the thing that is sustainable."
As testament to Benstein's theory of love, Walker and his wife are expecting a son in August and are in the process of rebuilding on the property that they still call home.
Content producer and digital media manager, Hannah Glennon, can be reached at news@collegian.com or digitalmedia@collegian.com.