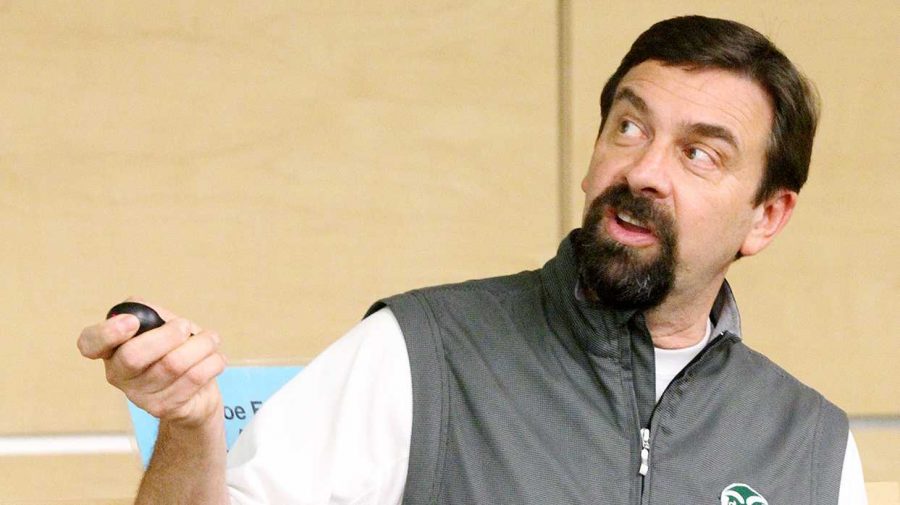 Hunter Thompson
Wednesday night in the ASCSU Senate Chambers, university president Tony Frank discussed a proposed tuition increase for students in the upcoming fiscal year — something that student government opposes because part of the money would go to increase faculty salaries by 3 percent.
If approved in the new fiscal budget, the faculty salary increase ASCSU is against would stop a three-year halt the university has had on faculty salaries.
Between 1995 and 2008, teachers enjoyed on average about a 3.5 percent raise each academic year. But from 2009 to 2012, they received no increases at all.
CSU ranks 23rd  in the nation for average faculty salary, according to EducationNews.org.
The proposed tuition increase would be 9 percent for resident undergraduates, 3 percent for out-of-state students and 5 percent for graduate students.
ASCSU wants to be a part of discussions about tuition increases. As the student government resolution notes, resident undergraduate tuition has risen 136 percent in the past ten years.
"We really are pushing for tuition to be as low as possible," said ASCSU President Regina Martel in a presentation to a variety of university staff at yesterday's budgeting retreat.
On the issue of raising tuition rates, Frank said this is one of the most important topics facing public universities. But it is a problem with no easy solutions.
"I don't think there are any silver bullets right now," Frank said in his presentation.
Provost Rick Miranda made clear that the proposed budget for CSU is still being adjusted. He mentioned at the budget retreat — where campus officials talked to college deans and community members Wednesday — that there has been no final decision on tuition rate.
According to Frank, the fiscal budget won't be fully decided until April.
"Between now and then everything is potentially on the table," he said.
Given that Frank was the one who proposed the first initial draft of the fiscal budget, he did express that, if left to him, the budget may not change much.
"It stands to reason that this isn't too far off from my choice," Frank said.
Encompassing this fact, Resolution 4206 includes a therefore clause demanding ASCSU's Tuition Task Force, who wrote the resolution, to assess it later on this spring semester.