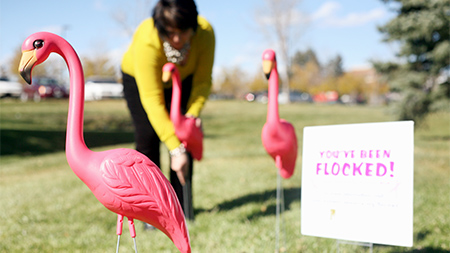 Erin Mross
Bright pink flamingos have overtaken Larimer County business fronts, lawns and streets to fight breast cancer.
The Women's Resource Center (WRC)'s Flamingo Flocking Fundraiser has been going on through the month of October to raise awareness about breast cancer. Throughout the month, anyone in Northern Colorado could send a flock of 20 plastic pink flamingos to someone's yard for a day.
The flamingos are a fun way to promote the work of WRC, according to Jennifer Hahnke, volunteer coordinator and head of public relations for WRC.
"When people are out around town, they can have a discussion about what the flamingos are and the flamingos can open a discussion so people can learn about the programs and life-saving services we provide to women in Larimer County," Hahnke said.
The WRC is a 501c3 private grassroots nonprofit organization that helps educate women about health awareness, prevention and affordable health services. Along with outreach and educational programs, WRC brings women across Larimer County affordable mammogram screenings, dental care and connects them with affordable doctors if they require further care.
Businesses and individuals alike have purchased a $30 "flock" during WRC's Flamingo Flocking Fundraiser. Through the month of October, "flocking" has raised between $2,500 and $3,000 for the organization.
"It's a very affordable fundraiser," Hahnke said.
According to Hahnke, the WRC found a base of businesses that support their work and will continue to be a part of the Flamingo Flocking Fundraiser in years to come. Individuals purchased flocks for birthday celebrations, children's parties and sent them to breast cancer fighters and survivors.
"All the money we raise goes right back into providing service to the women of Larimer County," Hahnke said.
WRC has been focusing on a new outreach program targeting high school and college students in an attempt to promote volunteering and philanthropy among future leaders.
"If you (groups on CSU's campus) are going to be a philanthropist, we want to help you be philanthropic. If you come and volunteer with our groups, we, in turn, want to advertise and promote your events," Hahnke said. "It helps us get into the college campuses and we can reach a larger audiences college students have yet to penetrate."
Betsy Hill, a CSU masters student studying public health with a concentration in global health and health disparities, has been working in WRC's outreach department since June.
Hill and her outreach partner teach in-home workshops and small group educational workshops.
"Our base objective with outreach is the trickle down effect," Hill said. "As students, all of us know someone who is uninsured or underinsured, so the idea is that if one person knows about our services we hope they will share it with other people and we can more effectively reach our target population."
In her work promoting women's health with WRC, Hill has noticed an intergenerational impact and how women's health can affect entire families.
When Hill was working the Mammogram Van, a 70-year-old mother and her 40-year-old daughter came for a screening. The women brought their children, husbands and brothers. According to Hill, the entire family came.
"Women's health is a family issue. It's a family investment," Hill said.
Hill said she started working with WRC because the work they do is right up her alley — providing health care to underprivileged people.
"I was aware of all the marginalization in our society, but (working at WRC) has reinforced the importance of removing barriers to healthcare," Hill said. "As a small nonprofit in town we aren't able to change the whole healthcare system, so our contribution is just to increase access to care and remove barriers like cost and language."
Student Life Beat Reporter Kate Simmons can be reached at news@collegian.com.